The skies were grey and the event was Blue but guests at the annual Riverkeeper fundraiser were feeling neither as they mingled on the pool deck of the Empire Hotel to support the charity that has been protecting the Hudson river for over forty years.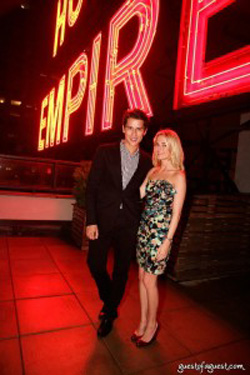 Luigi Tadini and Amanda Hearst
Amanda Hearst and Luigi Tadini are the co-founders and chair of the Riverkeeper's Junior Council, who along with eight of their close friends, represent the bright and promising next generation of Riverkeepers. Five years ago Amanda and Luigi were at a Riverkeeper event in the Hamptons and thought to themselves, why not bring this to New York City? The following year they organized the Junior Council, with this event marking their third year holding a fundraising soiree.
I asked Luigi what he thought about criticisms of New York City's charity circuits and the young elite navigating them, eager to hear how this junior council set themselves apart. He was quick to agree that lots of parties and party-goers use and abuse fundraisers for personal gain and social ascendancy, but assured me that this close knit council was both passionate and committed to their cause. That's why they kept the council small he said, and even had an overhead for this year's fundraiser, which suffered from a tough economic climate. Luigi told me it was imperative that every single dollar raised went to the charity -- a real sign of dedication.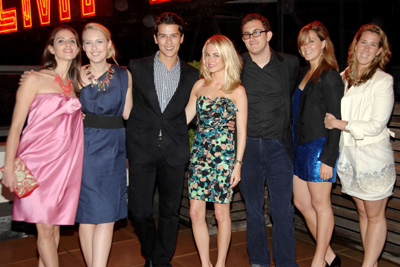 Dalia Oberlander, Lisa Salzer, Luigi Tadini, Amanda Hearst, Nick Raynes, Annie Berkery & Theresa Berkery (photo by Ben Gabbe for PMc)
I met with Brian Wiley, Director of Development, who was a fountain of information, indefatigably knowledgeable about Riverkeeper and its remarkable history of protecting the Hudson and its tributaries. Founded in 1966, the organization now focuses on three main problems plaguing the river: restoration of the Hudson's ecosystem, protecting New York City's drinking water supply and improving public access to the Hudson River.
Robert F. Kennedy Jr. is Vice Chair and Chief Prosecuting Attorney for Riverkeeper and Chairman of Waterkeeper Alliance, who Time magazine heralded as a "Hero for the Planet" due to his success with the organization. Taking legal action against polluters is a paramount priority for Riverkeeper; they go after large, notorious polluters like Mobil, General Electric, MTA and the City of New York. And they win.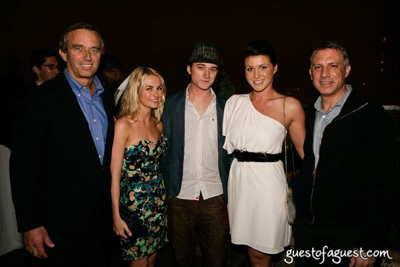 Robert Kennedy Jr., Amanda Hearst, Bobby Kennedy III, Marissa Bronfman and Brian Wiley
Riverkeeper has been such a paragon of success that it has inspired "waterkeepers" on more than 180 different waterways around the world and is responsible for New York's reputation of having some of the world's finest tap water. The event on Thursday proved that a new, young and enthusiastic generation is prepared to carry on the storied tradition of river protection, ushering in a movement that's sure to add a whole lot of blue to going green.
Click here to find out more about Riverkeeper and how you can take part.
SUBSCRIBE TO & FOLLOW THE MORNING EMAIL
The Morning Email helps you start your workday with everything you need to know: breaking news, entertainment and a dash of fun. Learn more