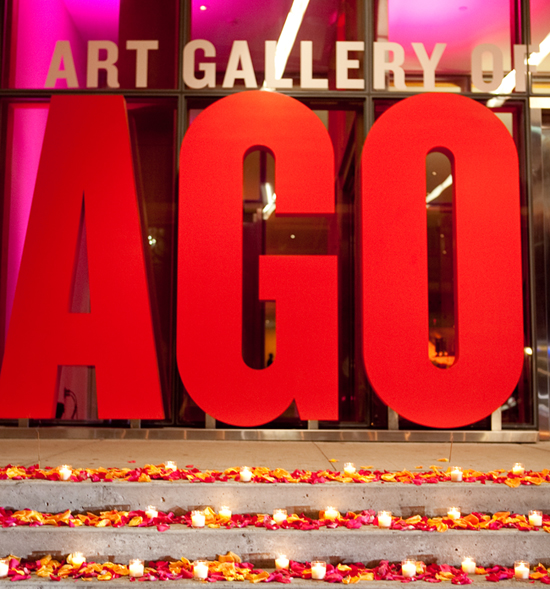 The Art Gallery of Ontario decorated for the Maharaja Gala. Christina Gapic, AGO Photographer.
It is an opulent celebration of a dazzling period in Indian history but don't let the Art Gallery of Ontario's latest exhibit, Maharaja: The Splendor of India's Royal Courts, fool you into thinking the finery is frivolous, for despite their glamorous excess, it's the Maharajas of India who have dutifully kept these priceless artifacts so that future generations may learn about an incredibly fascinating and infinitely important piece of history.

Sir Bhupindra Singh, Maharaja of Patiala. National Portrait Gallery, London.
Organized in collaboration with the Victoria and Albert Museum in London, where the exhibit was first shown, Maharaja features over 200 spectacular objects spanning a period from the beginning of the eighteenth century to the mid-twentieth century, including magnificent jewelry, ornate ceremonial weapons, impressive paintings and photographs, rare black and white film footage and the exhibit's highlights, the Cartier Patiala Necklace and The Star of India Rolls Royce.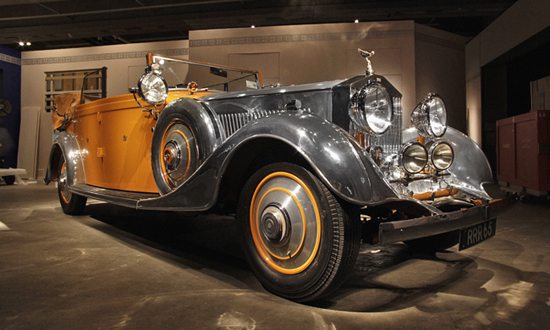 The Star of India Rolls Royce 40/50 HP Phantom II All-Weather Cabriolet Chassis 188PY
Engine ZN15 Courtesy of RM Auctions. Photo: Craig Boyko, AGO.
His Majesty Yuvraj Saheb Mandhatasinhji of Rajkot, the region's present day Maharaja, came to the AGO to speak about the importance of having his great grandfather's Rolls Royce, known as The Star of India, in the Maharaja exhibit. After what he playfully describes as the car's "42 years in exile" -- the time during which it was owned by a handful of British and German collectors -- Mandhatasinhji had the opportunity to reclaim The Star of India at auction this year. His passionate determination to restore ownership of the car is a "direct reflection of how important an artifact could be in its original place where the history, heritage and culture is associated," he says. Indeed, the Rajkot Rolls Royce is more than just a luxury vehicle, it's a symbol of the state and the state's commitment to its people. The car's doors and windows feature the Rajkot state monogram bearing the motto "Ranje Dharmi Praja Raja" -- "the first duty of the Ruler is to serve its citizens," while the glorious saffron color of the paint and interior represents Hinduism. It's been used in many of Rajkot's celebrations, and has transported the Father of the Nation, Mahatma Gandhi, the Queen of England, as well as many other dignitaries. When the exhibit closes in April The Star of India will return to its rightful home in Rajkot, where it will be featured in a new museum Mandhatasinhji is building to honor to the state's heritage.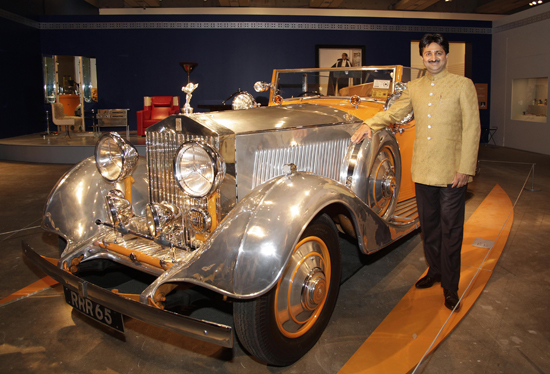 His Majesty Yuvraj Saheb Mandhatasinhji of Rajkot with The Star of India. Sean Weaver, AGO Photographer
Such an extraordinary exhibit naturally deserves an extraordinary celebration so the AGO threw a Maharaja-themed Gala and asked Laura Rapp and acclaimed Indo-Canadian film director and screenwriter Deepa Mehta to co-chair the event -- two women who has never met but who quickly developed the kind of relationship this exhibit seeks to forge. "I grew up around the floors and galleries of the AGO", says Rapp, who is a passionate fundraising force in Toronto, but before signing on to the Maharaja exhibit she had never been involved with the Indian community. Mehta, one of Canada's most respected Indo-Canadians, says she has "always loved the AGO and [had] great respect for it" but she is better known for her critiques of Indian society rather than celebrations of it. Despite their differences, these two women forged a fast friendship and agreed that it was time to have some fun with this exhibit and its Gala, while connecting over the importance of this unique exhibit, not just for Indians and Indo-Canadians, but for all of Canada and her visitors. "I think it's important for anybody... because Canada is the mosaic that we call it, it is multicultural," says Mehta, stressing the value of learning from one another. "It's indicative of a time, of an excess," she says of the exhibit, "but that has its place in history... and therefore is extremely valuable." And on that note, after being asked what their favorite pieces in the exhibit are, the women begin to joke about fighting over the 1928 Patiala necklace, Cartier's largest single commission in history. But joking aside, the real jem in the exhibit for Rapp are the black and white films, "just to have a little piece of moving history from that time, it's pretty incredible," she says.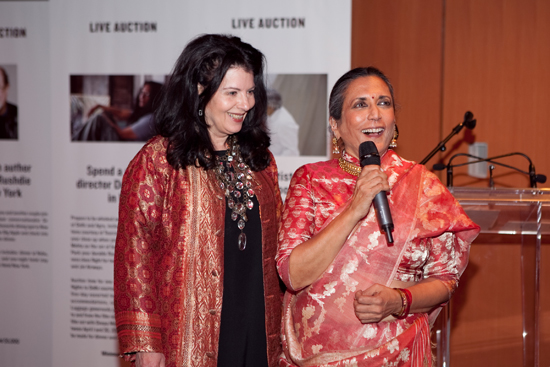 Laura Rapp and Deepa Mehta at the Maharaja Gala. Christina Gapic, AGO Photographer
Every object in Maharaja: The Splendor of India's Royal Courts is a jewel in its own right but the AGO hopes the exhibit will get beneath the jewelry to tell a captivating story about a fascinating time in history. With more than half of Canada's South Asian community residing in Ontario, the AGO is the perfect home for Maharaja, and it's a home that will be welcoming everyone under the age of 25 to view the exhibit for free, thanks to generous donations from four prominent Canadian companies. Mandhatasinhji says Maharaja "brings to life the beauty and aesthetics of a bygone era," and he couldn't be more right -- one walk through this exhibit will make you feel like Royalty, even if only for a day.
See more pictures from my interviews with His Highness Yuvraj Saheb Mandhatasinhji of Rajkot, Deepa Mehta and Laura Rapp on my blog.
SUBSCRIBE AND FOLLOW
Get top stories and blog posts emailed to me each day. Newsletters may offer personalized content or advertisements.
Learn more