THE BLOG
Shopping and Safari Chic in Rajasthan
The October issue of Conde Nast Traveller celebrates "A World of Style" with shopping articles from fashionable cities in such lust worthy destinations as Italy, Morroco and India, and I was inspired to share my stylish stories from my time in India here. From the wilds of Rajasthan to the majesty of the Himalayas, there was a bevy of beautiful and interesting things on offer at every stop I made.
The state of Rajasthan is known for it's dusty landscapes and vibrantly dressed women, shining silver accoutrements and rainbow colored jems; my first stop in Ranthambore, made famous by the magnificent tigers roaming Ranthambore National Park, brought me to a small craft cooperative teeming with brightly printed fabrics stamped and sewn on site.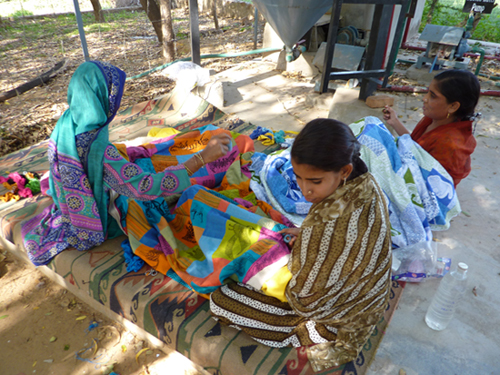 The Dastkari Kendra Craft Community Centre at Ranthambore was founded nearly 20 years ago to help the village craftspeople generate income in a sustainable way and to help improve the lives of women in the area through the production of beautiful crafts that could be sold at markets and in the Dastkari store. I was amazed at the beautiful kurtas for sale in an impressive array of colors, necklines sparkling with sequins and beadwork, and picked up half a dozen in light weight material to wear during my journey throughout northern India this past spring, when summer was already on it's way and temperatures were high. Although I was tempted to buy bed linens, blankets and tablecloths printed and sewn with charming images of Ranthambore tigers, I didn't think I had the room to pack them and it's a decision I still regret as they would have made fantastic gifts for friends and family (and been worth buying an extra suitcase for.) Great big scarves tie-dyed in bright colors and hand-stiched with tiny mirrors did come home with me however; the happy yellow one is now draped across my couch and never fails to cheer me up. Shopping at Dastkari Kendra helps support local craftspeople learn new skills, save necessary funds and forge relationships along castes and religions - and everything is beautiful and made with care!
Learn more about Dastkar and the Dastkari Kendra here.
Click to see my video of the Dastkari Kendra Craft Community Centre at Ranthambore.

I spent the rest of the day in an open jeep touring The Old City near Ranthambore, where dozens of teeny shops in the main thoroughfare boast silversmiths, cobblers, food sellers and other specialty vendors. Whether you buy anything or not, this bustling area is a certainly a sight worth seeing (but no doubt something will catch your eye!) Eager to buy bangles from a local stand instead of a commercial store, I stopped at a shop that seemed to have the prettiest ones, flashing every color in the sun. I chose big, burgundy bangles encrusted with silver and colored pieces of glass but wasn't able to comfortably slips them over my western-sized hands. With a wink the shop owner told me to come back a little later and when I did, she had had them enlarged just for me! For only a few hundred rupees I had my own bespoke Indian bangles and I was thrilled.
The next day I was up before the sun, ready for a safari in Ranthambore Park in an outfit that would be comfortable for the jeep ride and in shades that wouldn't stand out in the forest. I wore relaxed jeans, a dark khaki linen shirt, a great big leopard-print scarf to keep me warm until the sun rose and a brown leather bag to store my camera and camcorder. It was a bit of a bumpy ride and alas, no tiger sighting, but it was still a gorgeous morning spent driving through the national park sighting a variety of deer, birds, stunning peacocks and precocious monkeys. Round-frame Gandhi-style sunglasses in tortoiseshell completed the look and I wore the same outfit for a peaceful hike up Ranthambore Fort later on, which offers breathtaking views of the Park from the top.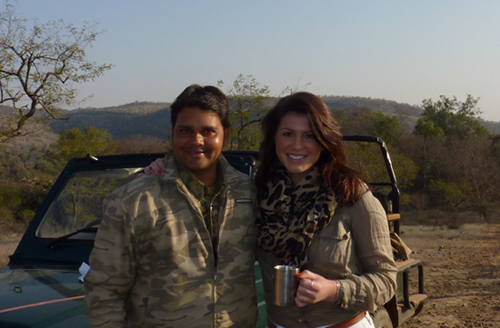 While I only had a couple days to spend in and around Ranthambore I fortunately managed to experience so many wonderful adventures and thankfully, unwind with a heavenly massage at my incredible luxury tented hotel. Read all about it on my blog WWW.MARISSABRONFMAN.COM/BLOG and see dozens of beautiful pictures.
Coming up next? What to wear in Alwar for Holi, India's incredible festival of colors!