THE BLOG
Fleet Foxes: Live in Concert (and in Flannel)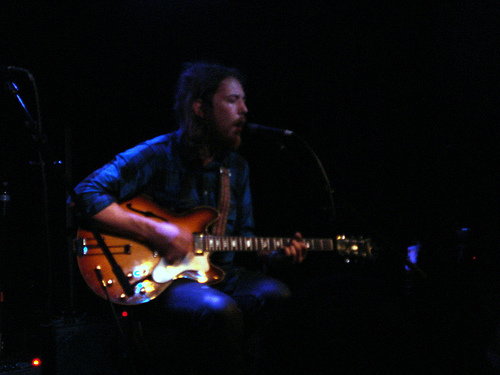 Fleet Foxes' Robin Pecknold at LA's The Echo
If one thing hasn't changed about Sub Pop in the last 20 years, it's the flannel. Cliché, I know, but I as I stood watching last Saturday what was probably one of the most impressively sincere concerts I've seen this year (the Sub Pop-signed Fleet Foxes at LA's The Echo) I took notice of the familiar fabric worn by several of the very talented band members, including lead singer Robin Pecknold. If I was burning up in a lightweight sundress, I certainly felt bad for Fleet Foxes.
But not too bad. I'd heard about the band as part of the indie buzz tidal wave that rolls through the various music blogs every month or so; usually band names are some combination of "The" and an inanimate object (or animate animal). Usually, when I actually listen to the record, I'm uninspired.
The first time I heard Fleet Foxes, I thought the warmth and tangible honestly in the music was due in part to listening to the album on vinyl. When I heard them live soon after, I quickly realized that the warmth and honestly came not from the record player but from the bandmembers themselves -- a familiar yet altogether original gathering of musically talented individuals who draw on classic names (Bob Dylan, The Beach Boys, Joni Mitchell) to create a thoroughly modern sound, not with electronica or synthesized instruments, but in an earnest progression of the art of rock music. When music sounds like this, it makes you realize the difference between that important word--progression--and carbon copies of the past.
People are quick to classify Fleet Foxes as freak folk, but it's not the "freak" we commonly know: they seem demure and gracious on stage, and sing in melodies more indicative of a keen musician's ear than the playfully eerie chants of the likes of Devendra Banhart. So freak, no, but folk, sure--two of the night's songs ("Oliver James" and "Tiger Mountain Peasant Song") are sung by Pecknold alone with a guitar, his voice echoing in the sound hole of the guitar and emerging in a haunting chant. "Dear shadow alive and well / how can the body die / you tell me everything / anything true," he sang, nodding to the crowd as he finished each song, brushing his hair in front of his face, seemingly hiding.
It's impossible not to note one distinctive thing about Fleet Foxes songs: they don't appear to be about love. Not blatantly, anyway. The yearning is there, but it's for things beyond a jilted love affair, and come from--dare I say it--a connection more with nature and folkloric wordplay. On "Sun Giant," as they sing "what a life indeed when that ancient seed / Is a berry watered and plowed," you wonder at first if this isn't a creative interpretation of a traditional hymn or folk tune: the harmonies soulful, the words simple, the effect timeless.
Fleet Foxes are on the Sub Pop label, which is soon approaching its 20th anniversary. Known for signing the likes of Nirvana, Mudhoney and Soundgarden and more recently Band of Horses, Iron and Wine and No Age, they are often credited with giving birth to grunge (hence, my thoughts on flannel earlier). It's quite remarkable to see how many years after we first heard Bleach, Sub Pop is still signing acts that push the boundaries of the ways we think about music, both in subtle and vociferous ways--without scores of gold records or Grammys.
Fleet Foxes, like their historic Sub Pop predecessors, are from Seattle, and were formed not much longer than two years ago (they have released only one EP and one full-length album, Sun Giant EP and Fleet Foxes, respectively). As a result, they maintain a newness without appearing too young or unseasoned. So, freak folk, cosmic folk, baroque rock, freak rock, rock folk: whatever you call it, they do it well. Sure, they're the flavor of the month. Sometimes popularity and buzz is indeed justified.
And they said flannel was a trend...