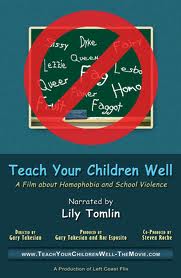 Photo: Kat Kramer
School bullying is sadly an ongoing problem in schools worldwide, and often with tragic consequences. A powerful new documentary short (39 minutes) dealing with this problem, "Teach Your Children Well," narrated by Emmy Award winning actress and comedienne Lily Tomlin, will premiere October 16th in Hollywood. The film has been selected as one of Kat Kramer's Films That Change the World.
The film explores the daily harassment, bullying and violence endured daily by thousands of students who are lesbian, gay, bisexual or trans-gender. The shameful events unfold through interviews with the students themselves as well as with parents, teachers and professionals from gay and lesbian service organizations. Included is a moving recounting of the September 2010 suicide of 13 year old Seth Walsh, by his mother, Wendy Walsh.
The documentary's aim is to shine a spotlight on homophobia and its harmful repercussions, hopefully playing a part in reducing the bullying and violence.
Says Kat Kramer, an actress and daughter of late producer/director Stanley Kramer. "So much bullying happens not just in schools, but on the Internet and in the workplace. I think it is the single most important social issue right now, because of the long-term impact it can have on one's life and self-esteem."
Tomlin agreed to participate in the documentary as a result of her own experiences, others she knows and those of a close family member. "I had a brother who was the object of tremendous harassment and intolerance, and he really suffered as a teenager, because of it," Tomlin added. "I'm proud to be a part of this film. I hope it will educate people to, as the title says, 'teach your children well,' and maybe eradicate this kind of prejudice."
"Teach Your Children Well" was written and co-produced by Steven Roche, associate produced by Paul Belsito and John Machado, and executive produced by Robin Voss ("For the Bible Tells Me So").
Kat Kramer's Films That Change the World was founded in 2009 to highlight films that raise awareness about important social or environmental issues. Previous films in the series have included "Yentl," "The Cove" and "Elephants and Man: A Litany of Tragedy." NewFilmmakers Los Angeles, which is co-presenting "Teach Your Children Well," is a nonprofit organization that showcases innovative works by emerging filmmakers.
"Teach Your Children Well" will premiere at Sunset Gower Studios in Los Angeles on October 16. Admission is by invitation only. The documentary will also be screened at the Indianapolis LGBT Film Festival, November 11-13.
SUBSCRIBE TO & FOLLOW ENTERTAINMENT
HuffPost Entertainment is your one-stop shop for celebrity news, hilarious late-night bits, industry and awards coverage and more — sent right to your inbox six days a week. Learn more