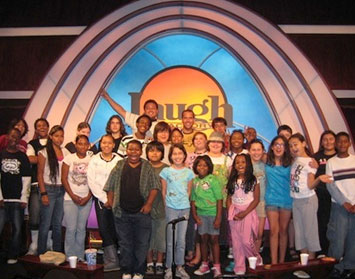 Is there a future Robin Williams or Chris Rock here?
Image courtesy of www.laughfactory.com
Ever seen a nine-year-old underprivileged kid perform stand-up comedy before a live, nightclub audience? No, that's not some out-take scene from a David Lynch movie. Jamie Masada saw it first in his mind and then proceeded to make it happen.
Masada, a long-time humanitarian and owner of the Laugh Factory comedy clubs in Hollywood and Long Beach, California, works extensively with underprivileged children and the homeless, feeding and entertaining those in need, and is a staunch supporter of struggling artists.

Every year since 1979, Masada has opened his Hollywood club for Thanksgiving and Christmas, dishing up free dinners to the homeless and up-and-coming artists, as well as providing some much-needed comic relief. Additionally, Masada sponsors free services during Judaism's High Holy Days.
More recent comedy fundraiser events have included Cops for Causes, Comics Without Borders, Wounded Warriors, Middle Eastern Comedy Fest, Stand Up for Pakistan, and a 80-hour stand-up comedy show called Toy to the World.

For his humanitarian efforts, Masada has been recognized with numerous awards, including the NAACP Freedom Award, The Ellis Island Medal of Honor, and the ACLU Freedom of Speech Award, to name a few. Most recently, in Spring 2011, Masada was presented with an award for being a Comedy Innovator and Humanitarian by Didi Hirsch Mental Health Services.
Masada has also established an annual Comedy Camp for disadvantaged children, ages 9-16, from single-parent families, social services, and/or lower-income neighborhoods. He refers to the children participating as "my kids," has maintained a relationship with many of them throughout the years and is a "Hebrew Kris Kringle" during the holidays. "Laughter heals and gives my kids the self-esteem to overcome obstacles that many of us don't have to face, and to accomplish whatever they set their hearts and minds to," says Masada.
Says Catherine Clinch, whose son, Matthew, attended: "Like most deaf people, Matthew was very literal in his expressive and receptive language. Since comedy requires a tangential thought process, he was able to significantly expand his communication skills. The following June, he gave a commencement speech at his middle school graduation. He received a standing ovation from more than 2000 people! I don't think he could have accomplished that if he hadn't had such an excellent experience at Comedy Camp."
For the past 26 years, the Laugh Factory Comedy Camp has helped over a thousand children in need build self-confidence by developing their humor and creativity through the healing power of laughter. The camp provides a safe haven for these children, inspiring them to transform negative energy into something positive.
One just doesn't step onto a stage and turn into Robin Williams, however. Even Robin Williams had years of training and practice before he became Robin Williams. So, how to transform these kids, many of whom are already lacking confidence, into relaxed, confident joke-tellers? During the ten week program, the campers are coached by professional comedians. In previous years, instructors have included comics Richard Pryor, Jim Carrey, Chris Rock, Bob Saget, Paul Rodriguez, Dave Chappelle, Jon Lovitz, Damon Wayans, Adam Sandler, George Lopez, Chris Tucker, and Dane Cook, to name a few.
At the camp, the kids are trained to take their frustrations, anger, and hurt to the stage and use stand up comedy as a way to inspire confidence and hope, proving that laughter truly is the best medicine. All the aspiring young comedians are interviewed and evaluated based on their desire to perform stand up comedy. The program is free of charge for those chosen, and a graduation ceremony is held at the end of the 10 week camp where each child performs a 6 minute comedy set on stage in front of friends and family.
Tryouts for Comedy Camp 2011 details:
On Saturday June 25, 2011, the Laugh Factory will hold tryouts for its annual Comedy Camp. Tryouts are open to disadvantaged children from single parent families, social services, and/or lower-income neighborhoods between nine and sixteen years of age.
11AM - 3PM
Laugh Factory - Hollywood
8001 Sunset Blvd.
Hollywood, CA 90046
(323) 656-1336 ext. 1
RSVP: comedycamp@laughfactory.com
Comedy Camp Dates: Every Saturday starting July 9th for 8 - 10 weeks
A Comedy Camp is being planned for Chicago for next year, in conjunction with the opening of a Laugh Factory Chicago comedy club there in the former home of the Lakeshore Theater.
The Laugh Factory Comedy Camp was featured in a PBS documentary, "Standup: A Summer at Comedy Camp," which aired nationally. For more details and videos of Comedy Camp, and to watch it being streamed live for the first time, visit:
http://www.laughfactory.com/content/ComedyCamp.html

SUBSCRIBE AND FOLLOW
Get top stories and blog posts emailed to me each day. Newsletters may offer personalized content or advertisements.
Learn more