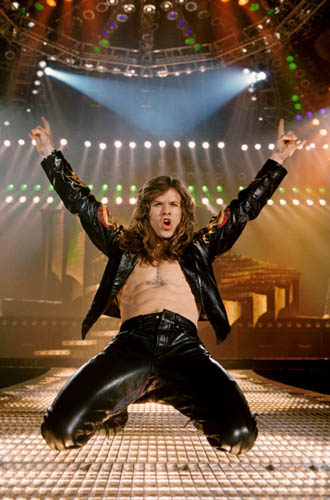 Image courtesy of www.metal-rules.com
One thing I've learned as a graduate student at D.U. (Dating Univeristy) is that women respond really well to guys who have one or more of the following traits: a job, a car, a personality, a penis, a sense of humor, hair, a waistline, dancing ability, and fairly decent personal hygiene habits. Still, even having all of these traits is no guarantee the two of you will hit it off. If I wanted that kind of guarantee, I'd need to become a rock star, which would be extremely challenging since I can't sing, play a musical instrument, and am pretty much old enough to be the father of a rock star. No, I'd have to find some other way to inspire women to provide me with the level of passion and devotion shown by rock star groupies.
But a while back, I got to thinking, as I do approximately two or three times a year. And my thought was, what if, as the ancient wisdom puts it, instead of studying, training, or practicing to become a rock star, I would simply just be the rock star? After all, women do admire confidence. I could simply approach my dates with rock star chutzpah. And despite my voice, I could even sing to them, if I did it with enough confidence - the serenade being yet another tried and true, ancient romantic technique. After three such dates, I am filing the following report:
Date #1: I swaggered in to Starbucks like I owned the place. I gazed at Cheryl like I owned her. Naturally, under the spell of my James Dean-esque look, Cheryl immediately weakened, softened, and became extremely vulnerable. At least, that's how I saw it. I gave the briefest hint of a smile. It was time. I strapped on my air guitar and launched into my version of the Beatles' "With A Little Help From My Friends":
What would you do if I cooked you a meal,
Would you sit down and eat it with me?
Lend me your pen; I'll give you my address
And I swear I'll cook low-calorie,
Oh, I cook Thai when seducing my friends,
Oh, you will sigh when our hot evening ends...
As Cheryl dashed out of Starbucks, she actually left a smoke trail behind her. I was both impressed and depressed.
Date #2: I entered Louise's Trattoria with enough rock star confidence for three women, but tonight it would be just myself and Beverly, who appeared to be a classy woman. So I quickly decided on my own version of a timeless Broadway song, "Wouldn't It Be Loverly?" from My Fair Lady:
All I want is a girlfriend who
Is cute, funny, and Jewish, too,
Prefers blintzes to pork stew,
Oh, could she please be Beverly?
Beverly excused herself, suddenly remembering her 7:30 p.m. hair appointment, and dashed out. I was impressed that a hair salon stayed open so late on a Sunday night.
Date #3: Obviously, I needed to be more current in my song selections. So when I met Joan for a glass of wine at the M Bar, I slid next to her, smooth as Kanye West, took her hand, and sensually whisper-sang into her ear my version of the rap or hip-hop (like I would know the difference) song that won an Oscar, "It's Hard Out Here For a Pimp":

You know it's hard out here for a Jew,
When he's tryin' to find a woman who'll be true,
For the restaurant and Starbucks money spent,
I now don't have enough to pay my rent...
Joan vanished so quickly, I didn't even notice her leaving. Must have used some kind of futuristic, Matrix-like technology. But life is a learning experience and I learned from my latest adventures at D.U. to stop trying to be something I'm not. As much as it pains me to admit it, I am not a rock star and most likely will never be one. I'm not even a Polka star. And if I really want the kind of passion and devotion shown by groupies to their rock stars, I will simply have to earn it by being the very best me I can be. Now there's a challenge.

SUBSCRIBE TO & FOLLOW ENTERTAINMENT
HuffPost Entertainment is your one-stop shop for celebrity news, hilarious late-night bits, industry and awards coverage and more — sent right to your inbox six days a week. Learn more