Yesterday we found out our formerly homeless friend died in his apartment. I can honestly say I love Joe. I am still trying to process this, as we all are. When he first came to us he had maggots in his leg. Joe was homeless for close to ten years and was in really bad shape.
We were able to get him admitted to a hospital. I remember it was my day off and I could not get my mind off him sitting in a hospital room alone so I drove to the hospital to visit him. I walked into Joseph's room and respectfully asked if he would mind me visiting. In his low sulky voice he responded, "you'll be the only one." That still wrecks me!
I told Joe to stay there as long as he could. He had a place to stay, food, and nurses waiting on him. Being honest I didn't think he was going to make it, meaning I didn't think he would get out of homelessness.
A co-worker found some loophole in a grant so we were able to find Joe housing. As fate would have it I was asked to pick Joe up at the shelter and drive him to his new apartment. Because I once lived on the streets I know the hard battle starts when he walks into his new life. I drove my SUV to pick him up and I remember he commented on the digital clock in the dashboard. "When'd we get those," he said, surprised. It had been a long time since he was in a car. We had to follow the bus route since those were the only directions he knew. I asked when was the last time he ate at a restaurant, what was the last movie he saw. It was at that moment I made a commitment to visit him as often as I could.
This photo is my favorite photo of all time.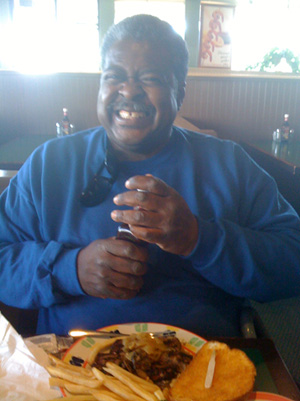 Joseph said this was the first time he'd eaten steak in 13 years. I was lucky enough to take Joe to Sizzler a few times. He loved the place. I once took him to Bob's Big Boy for a hamburger and although he would let me take his photo, he would never smile like he did here. I asked him why. Joe simply said, "you didn't buy me steak!" We both laughed. I never did get around to taking him to the movies. I tried a few times; he just didn't want to go. Life can be scary after being on the streets that long. I did get him a TV with a DVD player he totally loved.
I will forever remember his smile that first day at Sizzler.
Today we learned that if Joseph's body is not claimed in 45 days the coroner will have it cremated. At the end of the year the ashes of all the unclaimed bodies are placed in a pit.
A co-worker wrote this poem:
Finally Home by Trevor Goldstein
Joe walked into the office one rainy day
Turned out to be his birthday
He told me his story
Mom died after high school
It was over 30 years ago
Sounded like yesterday
No family, no friends to speak of
Unless you count the homeless services workers
At BTAC and PATH Achieve
Joe told me about the broken ankle
The job loss
The bad luck
But never did he say
Poor me
Or life sucks
No, Joe just chuckled
He told me how he kept the ants away
From the bench he slept on
I told him there's a vacancy in the housing program
Joe just smiled, shrugged, and said,
"Okay, whatever you say"
After a hospital stay
Some time at a shelter
And cutting through red tape
Joe finally had a key to his own apartment
First time in ten years
Maria, the apartment manager, welcomed Joe
Made him feel like he belonged
He sure was grateful to have a place indoors
No more cold nights on the bench
No, Joe had a bed and a roof over his head
Joe never asked for anything
But he was grateful to all the folks who helped
He graciously accepted all the donated stuff
The bed, the table, the DVD player
When Joe stopped by the office
He was treated like a VIP
We all like success stories
Joe gave us hope
A yes in a land of no
Jenny and Cammie gave warm greetings
LaViva joked around
Nancy poured a cup of coffee
And Jutta got a bag of canned food ready
Those outreach guys
Stephan and Mark
They took Joe out for meals
They waited patiently
As Joe told them stories
Stories they'd heard a dozen times
But it was Joe
It's hard to describe Joe
A big guy
With expressive eyes
He could light up a room
Turning a furrowed brow into a smile
And chucking over something or other
Joe loved his mom
And from what I could tell
Mereline was a remarkable woman
She raised a decent man
And even though fate dealt him a difficult hand
He played it with dignity
I'm grateful Joe walked into the office that rainy day
And even though I only knew him for a year
It's good to know he had a place to call his own
The last year of this dusty life
Now Joe has returned to his real home
A home built without hands
This Blogger's Books and Other Items from...