Almost 12 months ago Danny Brown had an idea. The idea was simple: for 12 months, pick one charity each month and raise $12,000 (or more) for that charity. And thus, the 12for12k Challenge was born. I believe 12for12K Challenge is one of 2009's most brilliant ideas.
But this month, instead of just giving money, Danny is asking that we all join together to do something a little different, a little risky, a little dirty. What that means is this month we are going to take real, tangible action to support our local homeless services. That's right, the organizations in your town that are helping people get off the streets by providing health services, housing and jobs!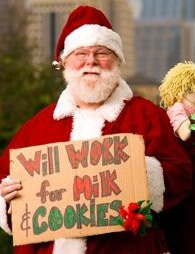 I am not a numbers person because the numbers are always off. It is nearly impossible to have an accurate point-in-time count of the homeless population. Plus, many people living in hotels or 'couch surfing' are never counted. What I can tell you is that hundreds of thousands of people slept outside last night and even more slept inside our shelter systems. Very large percentages are families with small children.
For many, something as simple as a pair of clean socks or a hot cup of coffee to keep warm is all they want this holiday season. Of course, they need so much more. Which is why we are asking you to join the 12for12k Community in supporting the people who are fighting homelessness in your home town.
The 12 Days of Christmas Homeless Push is rather simple. We've come up with a starter list themed around the 12 Days of Christmas, only this is the 12for12k version. Please feel free to come up with your own list. And I encourage homeless service organizations to publish their own lists either on the 12for12k blog, 12for12k Community, or on their Web sites.
It's up to you which ones you choose, although obviously choosing all 12 will make the biggest impact. And whatever you decide to do, record it. Photographs, videos, blogs, social networks -- your choice. Sharing can only make more people aware and encourage more help -- and that's always a good thing. 12for12k will share your stories on our community, so please consider joining if you haven't already.
So... on with the 12 suggestions.
Day 1. Contact your local homeless shelter(s) and ask what they need. Make a list and work from there.
Day 2. Gather 10 friends each (family, friends, colleagues) in preparation for Helping Day.
Day 3. Challenge these friends to a bake-off. Cook a bunch of homemade goodness -- soup, stews, cookies, etc -- ready for Helping Day.
Day 4. Clean out your closet (especially your husband's, 12for12k wives!), and pack up all the old clothes that you find. Coats, socks, underwear, shoes, jeans -- anything and everything.
Day 5. Go through your linen closet and think of what blankets, sleeping bags, duvets, etc, that you no longer need.
Day 6. Check your pantry - do you really need all these tins of soup or canned stew? Collect and store.
Day 7. Invite a homeless person for coffee. Go to a Starbucks or McDonald's, buy a combo, sit and talk. Get to know the person behind the story.
Day 8. Go grocery shopping. Find 2-for-1 deals and buy what you can afford. Save the second item for Helping Day.
Day 9. Kids are homeless too. Collect all your children's unwanted toys and them box up. This includes books as well
Day 10. Go to your local fast food/coffee house and buy a bunch of gift cards ready for handing out.
Day 11. This one's an easy one -- share with your networks what's happening and get them involved.
Day 12. This is Helping Day. Go to a shelter, take everything you and your friends/family have collected, and help. One hour; six hours; all day -- it doesn't matter. Help serve food, give out packages, talk to people, befriend someone. Simply put: be human to another human being.
For you party animals, maybe holding a 12for12k Holiday Party to support a homeless shelter is more your style. By all means make it happen! See what people did in Lowell, Massachusetts.
Be creative, have fun, and let's really get dirty this holiday season to help our friends and neighbors who don't have a home. If you have any questions or are having trouble finding a homeless services organization ask the 12for12k Community or holler at me on Twitter.
Here are a few resources that may help:
SUBSCRIBE TO & FOLLOW TRUMP'S FIRST 100 DAYS
How will Donald Trump's first 100 days impact YOU? Subscribe, choose the community that you most identify with or want to learn more about and we'll send you the news that matters most once a week throughout Trump's first 100 days in office. Learn more