This is part 4 in a 4 part series.
Leaving the Zagros, the terrain hung in a sort of limbo.  In the late evenings as I searched for a suitable campsite I would lose all feeling in my fingers as the bitterly cold wind howled.  Tasks requiring fine motor skills became a battle.  Overnight my tent would become encased in a thick frost.  With no time to waste in the mornings to dry it out, I would scrape off the worst, stuff it into my pack and get moving. A wet tent in the evenings was the result.  Midday walking was now hot and exhausting as perspiration dripped off my nose.  I carried up to six liters of water on my back to offset the loss.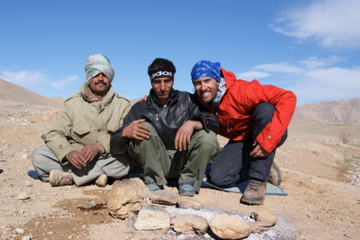 The road signs mocked me by ever so slowly counting down the kilometres to both Borazjan and Bushehr on the Gulf coast. I passed Luri nomadic encampments - small shantytowns with shelters built from a combination of wood, plastic, metal and basically anything to plug the holes. Some are right next to large industrial plants, sitting on a harsh, hot and dusty plain. It was difficult walking, but better than the high and bitterly cold Zagros. My destination, Bushehr on the Persian Gulf, was only 60km away.
A final camp in the soggy desert, between a brick factory and the busy Persian Gulf Highway saw me more than ready to make a triumphant march into the city of Bushehr, which touches the Persian Gulf. As I walked into town I saw a billboard with a Dubai-esque skyline proudly advertising the city - not quite an accurate portrayal. After another few kilometers I passed beneath an archway featuring portraits of two of Iran's most famous sons, Khomeini and Khamenei, the first, second and only two Supreme Leaders of the Islamic Republic.  I walked slowly past half-built skyscrapers, the graphic of their completed vision in comic contrast to their present state.  In the distance I saw giant container ships that lay ready to be unloaded of containers of imported Chinese goods. Where there's boats there's water.  The Gulf was close.  It felt just like another day of hard walking.  People went about their lives around me without looking up.  I felt no sense of triumph or achievement and was unsure if I ever would.
I wandered through the old town, down narrow, winding, unpaved streets, often dead ends, but most with a mobile phone shop or convenience store along them.  Emerging in a park I finally saw the water.  It was not yet midday and there was a hazy sunlight filtering through the clouds.  I stood on a concrete wall, my heavy pack by my side, looking out over the gulf. I now stood on the opposite side of the country to where I had started from.  Relief washed over me.  All of a sudden I was very tired, both emotionally and physically.  Not far away was Dubai proper and the other oil states.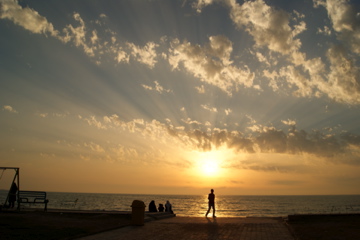 I came to Iran to learn more about a country much maligned in the West.  I was positive that we were not being given a clear picture of this place.  Turns out I was right.  The people of Iran are the most genuinely hospitable and generous I have ever met, regardless of their political leanings or social position. The country itself is so diverse in it's geography and offers some of the best climbing, trekking and adventure sports locations on the planet.  Iran is a nation that has so much to offer the world if it were just given a chance to do so.  Sanctions are not the answer, targeted or otherwise.  Is the aim to make life so intolerable for Iranian citizens that they would choose potential death through demonstration than continue to suffer their lives as they have become? I make no excuses or apologies for those in power, but a country must be viewed through it's people, not it's government.  
The American hikers still jailed in Tehran's notorious Evin Prison?  I do not have an answer for their incarceration.  Did they enter the country illegally? Yes.  Are they spies for the US government?  I cannot say.  My experience showed me that, like anywhere the closer the contact I had with the those in power the more difficulties I had.  I crossed the entire country on foot from north to south with nary a bad word said against me.  Maybe I got lucky.  I would also like to think that my open and honest intentions to view the country through its people, as far away from a political context as possible helped in some way.
This is part 4 in a 4 part series.

SUBSCRIBE TO & FOLLOW LIFESTYLE
HuffPost Lifestyle is a daily newsletter that will make you happier and healthier — one email at a time. Learn more