We kicked off the day with an early morning trip from Rwanda's capital city to a small farming village in Rin Kwavu, eastern Rwanda. Chelsea Clinton and members of his delegation, including Ted Danson, Joe Wilson, and Iowa Governor Tom Vilsack, all touched down via helicopter to check up on some Clinton Foundation projects here.
This part of the country was particularly devastated by the genocide in 1994. During the 1960s and 70s, the Rwandan government re-located minority Tutsis in the eastern region of the country, not far from the Tanzanian border. In 1994, 800,000 Rwandans were killed--the vast majority of which were Tutsi. Those Tutsis who were not killed in Rin Kwavu were forced to flee.
When the survivors here returned to rebuild their homes and lively hoods after the war, they were hit once again. The staple crop of the region, Kasssava, was being wiped out by a vicious disease. By 2003, the crop had been nearly completely destroyed, threatening the lives and livelihoods of villagers who live on less than two dollars a day.
The president came here to show us one of his Foundation's first projects in Rwanda. In 2005, the Clinton Foundation began to introduce a resistant Kassava plant to Rin Kwavu. Visiting the area today, there is Kassava as far as the eyes can see. As he chatted up the local farmers, the president announced plans to open a processing plant to grind the Kassava root into flour.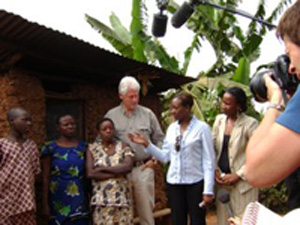 Our next stop took us a few miles down the road to the home of Jean-Pierre, a fourteen-year-old HIV patient. Jean-Pierre lives far enough from the local health center that keeping up with his daily regimen of drugs would be impossible if he were forced to go there regularly. To make matters worse, his only familial support is his 19 year-old sister, who stunted her own childhood to take care of her younger brother.
So, rather than make the long trip to the hospital, the hospital comes to him. A community health worker from a Foundation-supported health center visits Jean-Pierre twice a day every day to deliver his medicine and check up on him. Jean-Pierre told the president he's back in school and "feeling good."
After this visit, the President left the press for a private lunch with Rwandan president Paul Kagame. This gave me time to explore the small town of Butaro, the President's next stop where he broke ground on a new hospital. Thousands of people -- mostly children -- lined the hilltops overlooking the soccer field turned helicopter landing pad. They screamed when he touched down. A women's choir awaited him a song, the lyrics of which we later learned were "Thank you for building us a hospital! Thank you for bringing us doctors!"
The president worked the crowd like it was 1999. It might as well have been. He's clearly in his element here.
Next stop: Liberia. Stay posted.
SUBSCRIBE AND FOLLOW
Get top stories and blog posts emailed to me each day. Newsletters may offer personalized content or advertisements.
Learn more