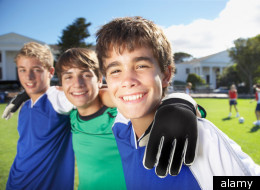 The day I started collecting data for my book The Declining Significance of Homophobia: How Teenage Boys Are Redefining Masculinity and Heterosexuality, I was nervous about how I would experience the next year of my life. I was about to spend the next 12 months in schools, hanging out with and getting to know 16- to 18-year-old male students. Socializing with straight guys wasn't something I had found particularly easy when I was a closeted, geeky teenager 10 years ago. Back then, teenage boys were homophobic, misogynistic, and aggressive. They distanced themselves from anything deemed gay or feminine. Imagine my surprise, then, when I found out that these teenage boys today have adopted a new, softer version of masculinity. Collecting data with hundreds of male students across three high schools in the south of England, I found a new generation of young men had redefined masculinity in ways unrecognizable to their fathers. Here are 10 of my favorite differences:
10 Surprising Facts About Straight Teenage Boys
While homophobia was a central tenet of masculinity in the 1980s and 1990s, overt forms of homophobia were absent from these schools. Homophobic words were not used by these boys, and several boys equated homophobia with racism. All the boys I interviewed disavowed homophobia. And evidencing the normalcy of these attitudes, several boys didn't have any explicit reason for this. Nic, for example, said, "Well, why wouldn't you support gay rights?" (Photo by vauvau on Flickr.com)

Not only did my participants condemn homophobia, but they openly supported gay rights. For example, Colin said, "I believe in equality for gays. I mean you wouldn't treat them any differently, would you?" Jack also maintained unequivocal support of gay rights. "Gay people should be equal in society. Anything else is wrong," he said. And in addition to this, some of the boys labeled the privileging of heterosexuality as homophobic -- citing the absence of openly gay teachers and the lack of gay content in the curriculum as evidence that their school was homophobic. (Photo by -Marlith- on Flickr.com)

While male friends have always been able to maintain deep emotional bonds, the radical change among my participants is how freely and openly they talk about loving their friends. Many of the boys talked about loving their friends and how deeply they valued their friendship. Ben said, "Eli's my best mate, and I love him. I can trust him with what's important." When I asked whether he has ever told Eli this, Ben replied, "Yeah, I've told him how important he is to me. He's my best friend, after all." Tim said, "I love my friends, and I could rely on them if I needed to." And in everyday life, several straight boys ironically call their best friend "boyfriend" and "lover."

In the year I spent socializing with male students at three different schools, just one fight occurred. Students at both schools attributed this to the view that fighting was no longer part of "being a man." Sam said, "It just wouldn't be cool. Fighting sucks." Jack agreed, saying, "Guys are now more laid back -- they depend on their wit rather than strength." I suggest that boys do not have to present themselves as aggressive and violent because they do not fear being homosexualized in these settings. (Photo by snow0810 on Flickr.com)

The boys at these schools want to look good. They dye and gel their hair and argue about the best type of conditioner. Their t-shirts, a size too small, are worn to highlight their physiques, while low-slung trousers reveal their underwear -- stylish fashion accessories with designer labels on show. And the boys are happy talking about their looks, too: When discussing an audition for a television show, Kai said, "They'll just see my style and know they've got to have me. I mean, who could turn this down!" With homophobia no longer serving as a policing mechanism of gendered behaviors, these boys are able to dress and style themselves as they want. (Photo by JoeInSouthernCA on Flickr.com)

The fear of being seen as feminine or gay has eroded to such an extent among these boys that the song "Barbie Girl" had been adopted as the unofficial anthem at one school. A camp 1990s song that imagines life as a Barbie doll ("I'm a Barbie girl in a Barbie world / Life in plastic, it's fantastic"), students would regularly play it. One time, Rob danced to the song, one hand in the air, the other pulling his t-shirt up his torso. The students were aware that the song has gay associations. Sam said, "It's brilliant. It's pretty gay, too!" Jack added, "I guess we grew up with it, so it's always been a song everyone likes. Then it was in an episode of Family Guy, which was funny because, you know, we were already playing it." When I commented that the song is viewed as gay in the wider culture, Jack smiled, saying, "Yeah, so what? Who cares if it's gay?"

While the boys don't care if they are occasionally perceived as gay, they identify and want to be recognized as heterosexual. However, they refuse to use homophobia to preserve their self-image. In place of homophobia, these boys joke about maintaining same-sex desire --something I call "ironic heterosexual recuperation." One day in the common room, Adi was giving Ryan a back massage. Ryan said, "That's so good." Adi smiled, saying, "I know how to please a man." Ryan laughed and said, "Go harder. Harder." By ironically mimicking same-sex sex, these boys consolidated their heterosexual standing while engaging in tactile behaviors.

Just as boys have redefined what it means to them to be a guy, the meanings of their language have also changed. At one of the schools, many boys would frequently use the term "that's so gay." When they were set homework, or if they missed the bus, they would comment "that's so gay" in frustration. Yet these students also insisted it wasn't homophobic, arguing it meant "rubbish" in that context. Crucially, this was supported by openly gay and lesbian students in the school, who also used the phrase. Indeed, gay students even used similar phrases as a way of bonding with straight students, for example shouting on occasion, "You're gayer than me." (Photo by knittymarie on Flickr.com)

The young men in my study are still interested in sex. Very interested in sex. And they still talk about sex in explicit ways. Yet the misogyny that used to accompany such talk is not evident. Girls who had several sexual partners were not labeled "sluts" or "whores" like older research shows, and the boys did not use other misogynistic language about women in their own conversations.

Because these boys no longer have to put on a show of aggressive and hard masculinity, they open up to their friends and admit their fears and worries. This includes breakups with girlfriends and family problems, but also less serious anxieties. For example, Steve, Kai, Grant, and Colin discussed being scared of dogs. Kai said, "I love all dogs; the big ones are the best." Colin disagreed, saying, "No, I hate them. They're just too demanding, and when they lick you, yuck!" Steve discussed an incident with a dog that was traumatic for him as a child: "When I was really young, I was in this park, and I was chased around by this big dog. I was, like, running around the park, screaming." Concerned, Grant asked him whether he was bitten. Steve said, "No, no, I think it just licked me actually." The boys all laughed at this, including Steve. Grant then said, while giving Steve an exuberant hug, "You've got me now, mate. I'll protect you!"