It's a dramatic week in the world of celebrity weeklies. From Brad Pitt and Jennifer Aniston having a secret meeting to Jon Gosselin's alleged affair, to Kirstie Allie's weight gain, readers have a wide variety to choose from when they visit newsstands this week.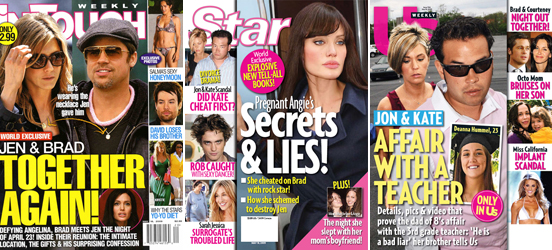 In Touch Weekly is reporting that Brad and Jen had a secret meeting on April 23rd. That's big news and the magazine must believe that the meeting happened or they would not have been as specific with the date! The cover also shows a photo of Brad wearing a necklace that was given to him by Jen. Could it be possible that Brad sill longs for Jen? That's what In Touch wants you to think! And, readers are still buying the fairytale that they will one day get back together.
Meanwhile, Star Magazine features an explosive story on Angelina Jolie. It stems from an alleged tell-all book that claims Jolie cheated on Brad with a rock star, plotted to destroy Jennifer Aniston and even slept with her mom's boyfriend. Talk about a scandal! Will it sell? The magazine used a picture of Angelina that was shot on the set of her movie, which makes this cover look fake. Plus, she's not that recognizable. Simply using the wrong photo could spell disaster for Star on the newsstand.
Us Weekly is all over Jon Gosselin, the dad from Jon & Kate Plus 8, and his alleged affair. This week the magazine identifies the other woman as 23 year-old teach Deanna Hummel. If Jon thought Us was going to leave him alone after featuring his alleged infidelity last week, he was wrong. Why? Us clearly had a big sale and that's why you're seeing it as a main cover AGAIN. The magazine clearly put its entire news operation on this story. How do I know? The details on this cover are extensive. There are pictures, videos and even a confession from Deanna Hummel's brother! Sequels don't always do as well as the original but this cover will secure above average sales for Us!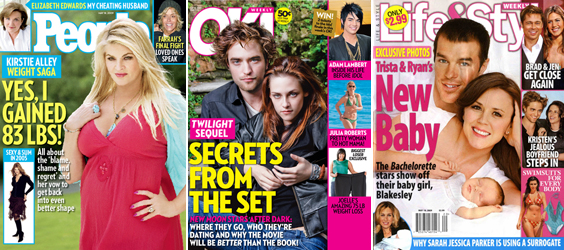 Kirstie Allie's explosive weight gain is the cover of People Magazine. She admits to gaining 83 LBS. I find it hard to believe that Kirstie still merits a full-cover. What has she done lately? Part of me believes that she gained the weight on purpose so that she could get a ton of publicity. Next, she'll lose the weight again and get even more press. On a positive note, the cover is well done despite my criticism of selecting Kirstie Alley. The before picture, which is key, shows the dramatic difference between Kirstie from four years ago. The after picture demonstrates Kirstie's weight gain but not in a way that's insulting. I think she actually looks very pretty.
OK! Magazine jumps on the Robert Pattinson train and promises to bring readers "secrets from the set." Overall, this cover story feels like a story you would read in Variety - not in a celebrity weekly. The details, e.g. "why the movie will be better than the book" lacks emotion. Plus, you can tell that OK! was trying to make the readers believe they're getting a Pattinson/Stewart relationship story by featuring a romantic shot of the duo. The magazine's only shot at a big sale? That's if newsstand buyers don't read the cover!
Trista and Ryan Sutter's new baby girl Blakesly makes the full cover of Life & Style Weekly. While we all know babies sell, I can't understand why Trista and Ryan are still a topic being considered for cover stories in the weekly space. There is simply no heat on this couple. It's also a strange choice by a magazine like Life & Style Weekly that has made some bold choices recently by featuring new stars like Twilight's Robert Pattinson and Internet star Kim Kardashian.
My winning cover of the week? That's an easy one. In Touch's cover story featuring Brad and Jen's secret meeting. Readers will eat this one up!
For more in-depth celebrity cover critiques, visit CoverAwards.com.

SUBSCRIBE TO & FOLLOW THE MORNING EMAIL
Start your workday the right way with the news that matters most. Learn more