It's a crazy week in the world of celebrity weekly covers. Here's the quick rundown: Sarah Palin is getting divorced. Britney Spears rocks her new body. The Jolie-Pitts are in trouble or not? Bachelorette Jillian Harris is sticking by alleged cheater Ed Swiderski. And, Twilight fans rejoice! Robert Pattinson is back on with Kristen Stewart.
Let's take a closer look!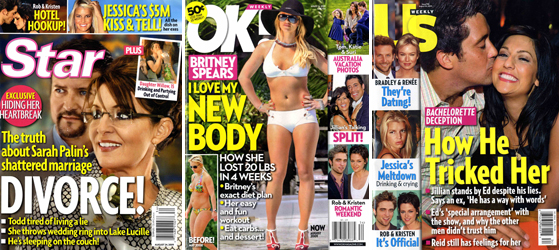 The biggest surprise of the week goes to Star Magazine - which is reporting Sarah Palin is getting divorced from husband Todd, who is tired of living a lie. Timing on this one feels off - but it could be a surprise winner on the newsstand. I can't wait to see Sarah Palin's response!
Meanwhile, OK! Magazine* features Britney's hot new body photo and provides all the details on how she did it. (Good news - it only takes four weeks if you want to follow her routine!)
Us strikes again with its Bachelorette cheating scandal. Last week - Ed Swiderski was accused of betraying poor Jillian Harris and this week we learn how he tricked her! The juicy scandal continues!
Visit CoverAwards for full-sized cover images - plus a look at this week's UK celebrity weeklies.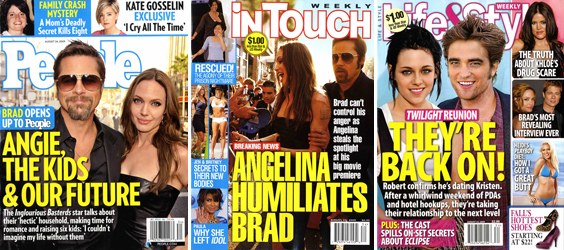 People Magazine and In Touch Weekly face-off this week with competing Brangelina covers. People goes the traditional route and appears to interview Brad Pitt about Angie, the kids and their future. Meanwhile, In Touch is reporting on a Jolie-Pitt red carpet scandal. Brad Pitt brought Angelina to his BIG movie premiere - and what does she do to thank him? According to In Touch - she humiliates him!
Finally, Life & Style ** taps Robert Pattinson & Kristen Stewart for its latest cover effort. It's back on says the mag - but do Twilight fans believe it was ever off?
Visit CoverAwards for full-sized cover images - plus a look at this week's UK celebrity weeklies.
Mark Pasetsky is the editorial director of CoverAwards.com, *an editorial consultant for OK! Magazine, and *the former editor in chief of Life & Style Weekly.
SUBSCRIBE AND FOLLOW
Get top stories and blog posts emailed to me each day. Newsletters may offer personalized content or advertisements.
Learn more