Diets, weddings and big fights!
The all new celebrity weeklies hit newsstands today -- and there is something for everybody.
Which is your favorite cover of the week? The worst?
Sound off below in the comments section!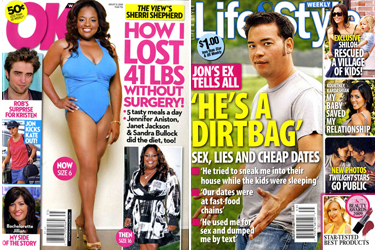 We kick it off with OK! Magazine* - which features Sherri Shepherd's dramatic weight loss. The View star shows off her new bathing suit body. She lost 41lbs and went from a size 16 to a 6. Plus, she did it without surgery!
In other news, Jon Gosselin's ex is calling him a dirtbag, according to Life & Style**. Apparently, Jon took this mystery ex out on cheap dates to fast-food restaurants and used her for sex. Making matters worse? He dumped her by text - which is so 2009.
In happier couple news, Alyssa Milano tied the knot this weekend -- and her striking wedding photo is the cover of People Magazine.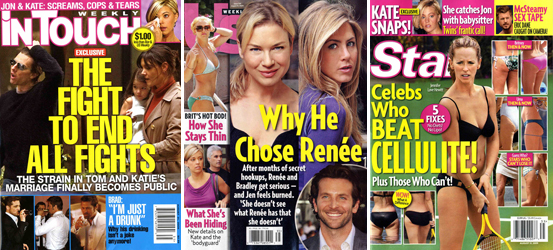 Making a return to the celebrity weekly cover spotlight? It's Tom Cruise and Katie Holmes on InTouch Weekly, which is reporting the once happy couple is happy no more. They're even fighting in public.
Meanwhile, the latest Us Weekly cover is good news and bad news for Jennifer Aniston. The good news? Angelina Jolie is not on this cover. The bad news? Renee Zellweger is -- and even she is now capable of stealing Jen's boyfriends. Poor Jen. She can't catch a break.
Star Magazine's latest effort features Jennifer Love Hewitt and other stars who beat cellulite. The tab is serving up 5 fixes and says you don't have to diet or go through lipo. (I still don't get why anybody would play tennis in a bikini.)
Mark Pasetsky is the editorial director of CoverAwards, which is best known for featuring the latest magazine covers from the U.S. and around the world.
*Mark Pasetsky is an editorial consultant for OK! Magazine and **the former Editor in Chief of Life & Style Weekly.
SUBSCRIBE AND FOLLOW
Get top stories and blog posts emailed to me each day. Newsletters may offer personalized content or advertisements.
Learn more