Recently, we have seen a huge upswing in the trend of vintage-inspired weddings. Brides are going for a vintage look which is showing up everywhere from their wedding dresses (lots of lace detailing) to their bouquets (adorned with antique broaches) and their photos (sepia toned -- remember the old brown and white pictures?)
Opting for a vintage-themed wedding is a great way to get involved in your wedding day by taking on all kinds of cool Design-it-Yourself (DIY) projects. These projects are simple to do and many of the items needed are easily found at your local dollar store. Plus, they're also a great way to get your bridal party involved. Your crew can cut twine to tie around your guest's napkins, help bake individual apple pies for your wedding dessert and even help to create simple flower arrangements for your tables.
There are lots of ways to describe the vintage look. Whether you go for lacy fabrics, a pale cream and taupe color palette, handpicked wildflowers in old world glass jars, mini quiches, mismatched cake stands or tea stained invitations, you can create a vintage vibe with just a few simple and easy touches to really pull off a swanky look. Follow along with us as we show you how to create simple ideas to give your wedding this oh-so-cool look.
Turn Mini Flower Arrangements Into Guest Giveaways
From the dollar store, buy small votive holders and wrap with inexpensive lace ribbons to make each votive holder look different. Add 2 to 3 stems of white flowers in each vase and cluster these on a glass cake stand in the middle of the table. This look is so soft and pretty, and the best part is that you can double duty these as giveaways for each guest at the end of the night. If you have 80 guests, purchase 80 votive holders, if you have 200 guests then purchase 200 votive holders and so on.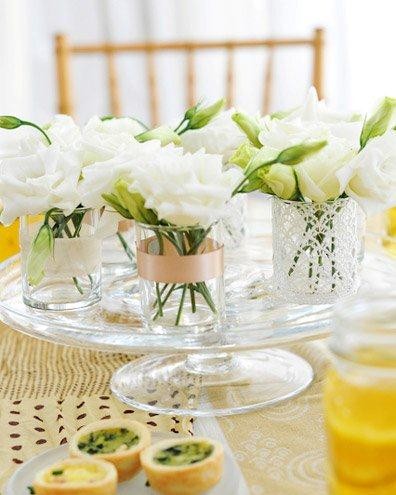 Create a Cozy Inspired Cake Table
We actually iced a fake styrofoam cake (that cost a whole $6 for the frame) added simple cognac colored ribbons around the base of both layers of the cake and topped it off with faux ice pick peony flowers. Voila, instant vintage glam. To bump up the look, flank the cake with glass hurricanes and add candles for an even warmer feel. The trend for wedding cakes is decreasing and taking its place are candy stations and sweet tables. A fake cake is great when you want that "one" photo of the cake for your wedding album, but don't want to spend the money for a real cake that you are not going to serve. This look works as well if you opt for a real cake, too, that you will be serving to your guests for dessert.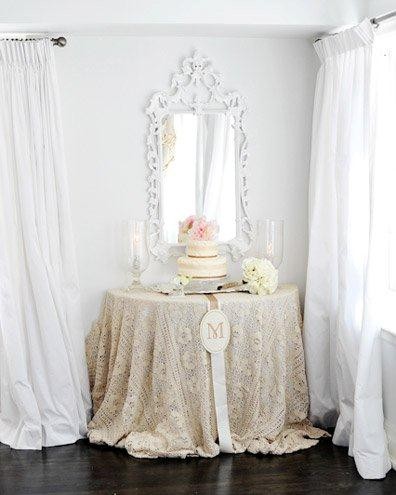 Use Mismatched Dollar Store Scarves for Table Linens
Create that cool vintage vibe by draping mismatched scarves over your guest tables. The scarves don't have to match, making it easy to find a whole bunch at once. The scarves actually look better mismatched. Just keep them in the same hue of colours and keep it neutral. We paired this look with simple white linens to the floor, then draped the scarves over the top.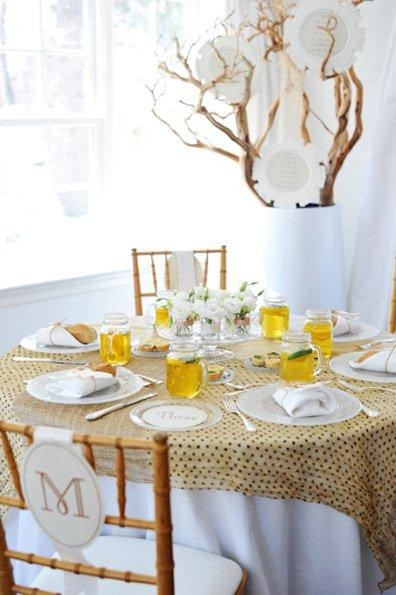 Monograms Create a Great Finishing Touch
Adding personalized printed pieces to your decor will finish off your vintage look. Add a monogram to the back of your chairs with a little bit of ribbon. If you keep your maiden name, then put the two letters of your last names together. We found what looked like tea-stained cardstock from a business supply store and printed them out on card stock and hand cut these out. Printable downloads and instructions.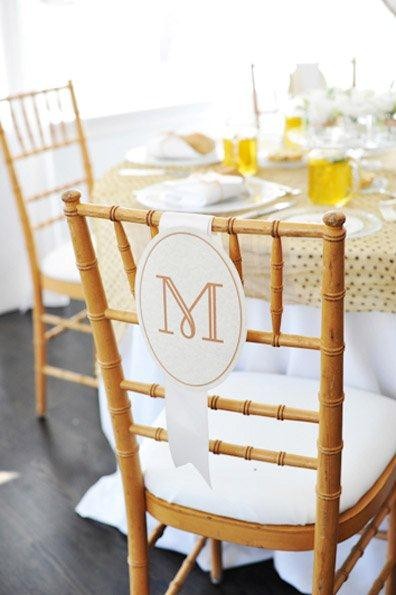 Use Food to Continue Your Vintage Look
We took crisp white cotton napkins and wrapped small rustic breads inside at each place setting. Then we tied the napkins with everyday string, made a handwritten name card, inserted a small butter knife under the tag -- and you have an easy idea that all your guests will love.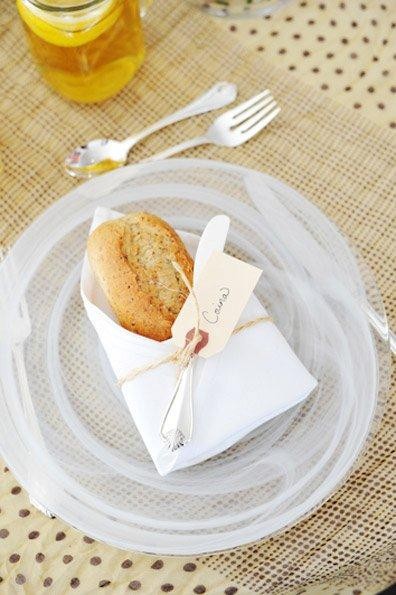 Design a Signature Drink to Match Your Decor
This is really fun to do! We made big batches of lemon tea and served it chilled in these mason jar mugs with wedges of sliced lemon and sprigs of mint. It is super refreshing and oh so tasty. This pop of color around the table completed the color scheme to a "tea" and we were able to use these mason jar mugs as glassware instead of the typical flower vase.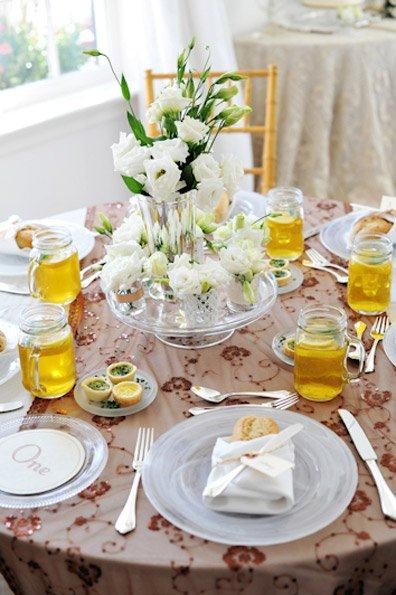 SUBSCRIBE TO & FOLLOW LIFESTYLE
HuffPost Lifestyle is a daily newsletter that will make you happier and healthier — one email at a time. Learn more