12 Tips to Clean Up, De-Clutter and Revamp Your Home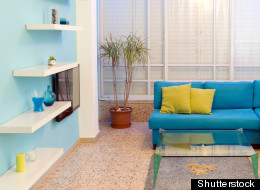 After all the clutter of the holidays -- presents opened, guests and family departed -- what's a better way to start the new year than by clearing things out, getting everything back in order and making a few changes to freshen up your home. Away with 2012. It's 2013!
Our friend Maxwell Gillingham-Ryan from Apartment Therapy gave us some great ideas how to organize and de-clutter, how to use color to develop your style and a few simple cleaning tips to keep everything fresh.
These are simple steps you can take today that will make a world of difference regardless of whether you live a tiny apartment or a great big house.
12 Tips for a Stylish Home
That's right! A grapefruit is the key to a clean tub that will smell oh-so-amazing. Just get one grapefruit and a quarter cup of kosher salt. Halve the grapefruit and sprinkle it liberally with salt. Sprinkle the remaining salt in the tub, wet all the surfaces and get scrubbing. One large grapefruit will do the whole bath plus fixtures. Then just rinse thoroughly and your tub will be squeaky clean and smell fantastic.

Renew the bathroom by cleaning the grout inside your shower until its white again. For the best results, use a toothbrush and a good, bleach based scrubbing cleanser. Then, when you're finished apply a grout sealer for longer lasting protection.

Windows captures the most dirt and most curtains can be machine washed and then hung to dry.

Place a box in an out-of-the-way place, behind a door or in a corner, and start to fill it with the items you don't need, don't love or just aren't sure about. Let it sit for a week so you become fully detached, and then you'll know whether to toss it, donate it or give it away.

To keep stuff from coming into your home, create a space by the front door where you can drop your stuff and sort your mail when you come home. It needs a landing surface, a mirror, hooks for coats and hats, and most importantly a waste basket. That way you can sort your mail as soon as you arrive home and toss the junk mail and catalogs right away.

This is an old trick but it really works. If you have a lot of stuff cluttering up your floors -- at the end of your bed or next to a sofa or in corners -- get it off the floor and onto shelves. Most homes – big or small -- have lot of vertical space left unused, so add some shelves or storage options that take advantage of those high walls and keep the floors clear.

When painting an accent wall or adding real color to a room, an easy rule of thumb is to use your stronger color on 20 percent of the room and let the rest of the room be painted in softer or more neutral shades. This will keep it from becoming overwhelming.

The two main families are "warm" colors (red, orange, yellow, etc.) and "cool" colors (blue, green, purple, etc.) Generally speaking, you want to stay within one family as crossing lines can be really jarring and awkward if not done well. So, if you have a red sofa, for example, look for warmer tones and colors when choosing rugs, art, chairs, etc.

Warm colors are very stimulating and therefore are best used in social areas of the home. Cool colors are more calming and supportive of mental health and so should be used for quieter rooms.

Your sense of style is totally personal, but as you develop your own, I think that it's totally fine to copy that of others. With design, imitation is still an excellent way to learn your vocabulary and drawing from other people's homes, magazines and blogs is a great way to develop your expertise. With time, you will find yourself getting adventurous and creating a home that is totally unique and personal.

A style box will help you decide on a style direction. Go through magazines, books and catalogs and pull your favorite "looks" and keep them in the box. Then, at the end of the month, look through all the images and see what style is most common. Style often comes under one of four broad categories – eclectic, modern, traditional or minimalist.

Style is fluid and can be changed as with your personality. So don't be paralyzed by indecision because you think you'll have to live with your choice forever. You won't. You can always try something else.
Follow Marlo Thomas on Twitter: www.twitter.com/MarloThomas