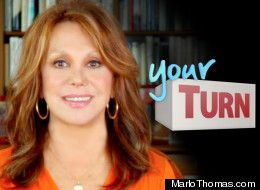 A week before my sister-in-law turned 50 years old, her daughters (my nieces), surprised her with what they'd gotten her for the big five-oh.
"We're taking you skydiving," the girls excitedly told her.
"Skydiving?!" their mother asked. "Why would I go skydiving?"
"Because if you don't do it now," they countered, "you'll never do it."
The kids knew what they were talking about. Their mom was about to enter a new chapter of her life, and they wanted to remind her that age is just a number. And guess what? They all went skydiving on her fiftieth birthday. They boarded a plane. They jumped from its door. And they all soared... including the birthday girl!
I love that story because it so perfectly captures everything I believe about life. Why should we pin ourselves behind our desks, or chained to our mortgages, or even tucked into bed and hiding from the world when there's always a giant blue sky to sail through. It doesn't matter where you are in life, or what your age is, or if you're going through a job-switch, or even if you're dealing with a crisis -- like a divorce -- that sky is always up there.
There are so many people -- too many people, actually -- who tell us, "Face the facts -- you can't do that!" or "You can't have that" or, worst of all, "You shouldn't try that?" My philosophy is simply, "Never face the facts. Because if you face the facts, you'll never get out of bed in the morning."
I continue to be inspired by those who venture into the unknown, fight back against their fears, and don't spend an ounce of thought on how someone else might be judging them. Whether you know it or not, these heroes are all around us. Like Japan's Tamae Watanabe, who at 63 became the oldest woman to scale Mount Everest, then repeated that remarkable feat at 73. Or Bobbie Weiner, who, divorced and broke at 46, parlayed her natural talent for cosmetics into a blazing career as a Hollywood makeup artist, including work on the blockbuster Titanic. Or Tennessee native, Joel Alsup, 32, who lost his arm to cancer at the age of seven, fought back and, today, plays golf one-handed, and has become a fundraising athlete and employee of St. Jude Children's Research Hospital, the hospital that saved his life.
And then, of course, there are those familiar faces who continue to astound us, each in their own way. Like 41st President George H. W. Bush, who parachuted from an airplane on his 75th and 80th birthday, and plans to do it again on his 90th. And white-hot comedian and Daily Show regular Lewis Black, who'd spent years screaming at the world as a playwright, and then at age 50, began screaming into a TV camera and instantly shot to stardom.
These are the people who continue to prove to me -- and, I hope, to you -- that each day is a new adventure, and it's up to us to write our own storyline. Or, as Groucho Marx once said (so perfectly, of course), "I intend to live forever -- or die trying!"
Take a look!
Tamae Watanabe is certainly not afraid of heights. At 63 years old, she became the oldest woman to climb to the top of Mount Everest. This year, 10 years after her first climb, she took to the mountain again. Tamae climbed all night with a group of four others, making it to the top of the mountain in the wee morning hours, proving that nothing can stop you if you really want to do it!

President George Bush Sr. sure has an interesting way of celebrating his birthdays! For his 85th, Bush Sr. made a tandem jump from 10,500 feet. It was actually the 41st president's sixth time skydiving. Bush Sr. made his first jump as a Navy pilot and he's been hooked ever since. Look to the skies on Bush Sr.'s 90th birthday next June - he plans to jump again!

When he was seven years old, Joel Alsup of Chatanooga, Tennessee, developed a cancerous bone tumor in his right arm. He was admitted to St. Jude Children's Research Hospital, and though his cancer was cured, his arm had to be amputated. Undeterred by this debilitating loss, Joel played baseball, he swam, and he even learned to play golf. Asked if there was anything he couldn't do, he smiled and said, "I can't clap." When Joel grew up, he returned to St. Jude to work in fundraising in its communications department. Now at 32, he has also competed as a fundraising athlete for St. Jude in three triathlons, finishing second in the para-triathlete division of one of them. "People choose how things affect them," Joel says. "I have never let cancer define who I am."

This woman must be in her 20s, right? Nope! Though she always dreamed of becoming a bodybuilder, Rosie Battista only began to transform her body at the age of 50, when she was 35 pounds overweight. And look at the results! Through sweat, tears and hard work, Rosie is now a bodybuilding competitor, weight loss specialist and a nutrition and lifestyle coach. See her full story on MarloThomas.com

Bobbie Weiner was a doctor's wife who lived the good life - until she found herself divorced and broke at 46, with no way of earning a decent income. On her last visit to the hair salon, the stylists convinced her she'd do great as a makeup artist. Those girls sure knew how to spot talent! Bobbie enrolled in makeup school and began a vibrant career in film - she was nicknamed "Bloody Mary" for her work on horror films. But her big break came in 1996 when she was asked to do makeup for box office giant "Titanic". Since then, she has launched a novelty makeup line that has exceeded $3 million in sales this year.

Self-described "couch potato and workaholic" Donald Arthur had his world turned upside down when he discovered that he needed a heart transplant. At 52, he was told that if he didn't have a donor within six months, he wouldn't live. Luckily, Donald was given a chance to modify his lifestyle when he received a new heart. He set out to run a marathon in each of the 50 states in order to promote organ and tissue donation - what an ambitious goal! Donald has even achieved Olympic fame - here he is pictured running with the Olympic torch through Queens on its way to the Salt Lake City Games in 2002.

Look at those abs! Ernestine Shepherd didn't start exercising until her mid-50s, and it wasn't until she turned 71 that she first took up the sport of bodybuilding. Although the health benefits and awards are great, Ernestine's main mission is to inspire other mid-lifers to get up off the couch and kick their fitness routine into high gear. This year, at the age of 74, she was awarded the Guinness World Record of oldest female bodybuilder.

A traumatic bike accident left Mark Stephan paralyzed at 49, but it didn't break his spirit. Doctors told Mark he may never walk again, but that just wasn't an option for the active biking enthusiast. Two years after the accident, he climbed to the top of the Willis Tower and in April 2012, Mark began the Stephan Challenge, in which he biked across the southern United States on a recumbent tricycle to raise money for the Rehabilitation Institute of Chicago, which is conducting research on curing spinal cord injuries.

Lewis Black has always been shouting about something, but now he has an audience. This hilarious comedian didn't even begin his career until he was 40. He started as a playwright working on musicals and one-act plays. Lewis dabbled in comedy during this time, but didn't star in his first comedy special until he was 50. Today, he's hot on the comedy circuit making people laugh with his political witticisms, sarcastic comments and over-the-top anger.

What do you do when you can't sleep? Sarah Baldwin dreams up business propositions. After her husband was laid off from his lucrative position, Sarah, then 52, laid in bed wide awake night after night. Searching for solutions on the Internet led Sarah to a pajama company called Goodnighties. Sarah liked the product, but noticed its marketing strategy desperately needed updating. The enterprising woman took cues from her former career in advertising and soon, after pitching her ideas to the founders, she and her husband were investing their savings to found their own marketing company. Thankfully their plan worked - in 2011, Sarah and her husband have increased sales of Goodnighties by 69 percent.

THE CHAMP! This 101-year-old marathon runner didn't start running until the age of 63, when his wife and son passed away. Fauja is proof that you can start something new at any age - in fact, he broke his own record at the London Marathon this year, finishing the race 30 minutes faster than his last attempt in Toronto. Later this month he will impress us again by participating in the 2012 London Olympic Games torch relay. If he doesn't motivate you, nothing will!
Follow Marlo Thomas on Twitter: www.twitter.com/MarloThomas