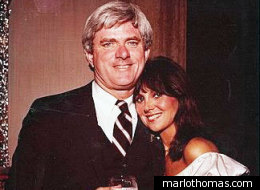 When Phil and I were dating, we took a trip down the Mississippi on the Delta Queen. On board was a small band of elderly men playing Dixieland Jazz. They were all very good, but the clarinet player was in his own world -- completely consumed by the music.
"Are you watching the clarinet player?" Phil whispered to me. I whispered back, "I can't take my eyes off of him!" And to this day, that remains a little code for us: Whenever we see someone who is truly in the zone -- in the moment -- we say to each other "He's a real clarinet player."
Today, Phil and I will celebrate 32 years of our own duet on the clarinet. And all these years later, I'm happy to say, we're still in the zone.


May 21st is our anniversary date, and it's hard to believe that so many years have flown by. It's especially surprising for me since I was very wary of marriage when I was younger. I always thought of it as a confining place for women -- a place where only one person could reach for their dreams, while the other was a kind of support system. But then I met someone who showed me that marriage could be a roomy place for two people -- and, more important, two people's dreams.
And here we are, Phil and me, celebrating more than three decades of love, trust and friendship.

Of course, every marriage has its waves of ups and downs -- and ours is no different. And it's not made any easier when there are two careers in the family. Then throw in living in the public eye -- that just adds to the challenge.
But every couple has their own unique set of challenges, and all of them have to find their own way to keep their marriage strong and the romance alive. I can't speak for anyone else, but I can tell you that for Phil and me, the most important thing is making time for each other -- and of course, keeping the laughter coming. Laughter is the cushion of life -- and certainly of a marriage.
I'm a big believer in romance and I think it has its best chance of surviving if both people are invested in keeping it alive. Like the tango, it takes two. So in celebration of romance and commitment, here's a look at some of Phil's and my personal photos, as well as a collection of celebrity couples who have defied the odds and stayed in the zone.
Celebrity Couples Who've Defied The Odds
Here we are on our honeymoon at the legendary Acropolis in Athens. We'd chosen Greece because neither of us had ever been there and we both wanted to see it. Three islands in two weeks -- it was paradise!

This is one of my favorite photos -- from a trip Phil and I took to Rome the year before we got married. It was a wonderful, romantic, and funny vacation. On this particular day we took a spin through Rome the way the Romans do -- on a motorbike -- and got hopelessly lost. I ended up hopping a cab back to the hotel, and telling the driver, "Don't lose the guy on the Vespa!"

Phil and I celebrated our first anniversary with my Mom and Dad at their home in Beverly Hills -- in the same room where we were married. Do my parents look happy, or what?

Here's another one of Phil's and my anniversary vacations, on the beautiful isle of Capri. We rented a car and drove along the famed Amalfi coast. The view of the water from the road was so stunning that we pulled over, got out of the car and took this picture.

We celebrated our 15th Anniversary on the beautiful island of St Croix . A paradise of flowers. My brother, Tony, and his wife came with us.

Often we go out on the "Mugsy" just the two of us, for weeks at a time. Here we are returning after a few weeks - Phil has the beard to prove it! It was a rough, wet trip - note the yellow slickers and my hair!

Snuggling on our boat the "Mugsy." Phil has such a cute look on his face -- I love this picture.

Here are some other couples that are standing the test of time: With 16 years of marriage and a family of three little girls, Faith and Tim seem to have an everlasting love. The sparks first flew between these two country superstars when they first met on the "Spontaneous Combustion" tour, and the fire hasn't ceased since.

Brad and Angelina first met on the set of "Mr. & Mrs. Smith" in 2005, and as their romance took off, a tabloid sensation was born. Although the couple has been together for over six years and have six children together, in the past the two have stated that they plan to marry "when everyone else in the country who wants to be married is legally able". But they surprised everybody by getting engaged last month and wedding bells will be ringing soon.

These two have withstood the grueling tests of public scrutiny through Obama's campaign and presidency, and still they don't seem phased. Michelle and Barack first met as co-workers at their law firm when she was assigned to mentor him as a summer associate, and what started as a business relationship soon turned into more. They were married in 1992, making their union 20 years strong.

These two tied the knot 24 years ago in 1988, and haven't looked back since. They first met on the set of Tom's television show, "Bosom Buddies", and later their relationship blossomed on the set of their film "Volunteers".

Kevin and Kyra first met on the set of a PBS version of the play "Lemon Sky" and were married in 1988. With a marriage 24 years strong, these two seem to have mastered the art of the celebrity marriage.

Felicity may have been William's student when they first met at the Atlantic Theater Company in New York City, but these two soon sparked a relationship that has lasted. In, 1997, not long after they met, they tied the knot, making their romance nearly two decades strong.

These two lovebirds--who've been in a relationship for 29 years--prove marriage isn't a must. Kurt and Goldie have been together since they met on the set of "Swing Shift" in 1983, and raised their four children together as a family.

Steven and Kate first met when Steven cast her to play Wilhelmina "Willie" Scott in "Indiana Jones and the Temple of Doom" in 1984. Their relationship quickly went from professional to personal, and in 1991 the two tied the knot.

Introduced by Danny DeVito, Catherine and Michael first met at the Deauville Film Festival in France in 1998, and less than a year later they began dating. Catherine often jokes that when they met, Michael said: "I'd like to father your child". In 2000 the couple tied the knot and later that year Catherine gave birth to their son, followed by a daughter in 2003.

Barbara and James first met through a mutual friend at a party in 1996, where he reportedly told Barbara, "I'm taking you home with me". Whether she left with him that night or not, James did something right, because two years after that party the couple tied the knot.

Sir Elton and David first met in 1993, and early on they knew they were meant to be together. In 2005, Elton proposed to David at a dinner party with friends and family, and they entered into a civil partnership later that year--the first day it became legal in England.

A long-time couple, albeit secret, Beyonce and Jay-Z announced their marriage in 2008 after almost a decade of dating. And four years after making it official, the two gave birth to their first child this year.

For these two, who were set up on a blind date by their hairdresser, it was love at first sight. Brought together by a mutual connection in 1990, it didn't take long after their first meeting for David and Iman to exchanged vows in 1992.

Victoria first met David at a charity soccer match in 1997. Although Posh Spice admitted she didn't really know who David was when she first met him, less than a year later the two were engaged and married by the summer of 1999. Today, the couple is Brit-pop royalty, they have four children together and fifteen years of marriage to celebrate.

For these two it was a third party that brought them together--one of Sarah's brothers--at the 'Naked Angeles' theater company in New York where both Sarah and Matthew performed at the time. The two exchanged vows in 1997 and soon after started a family together. Here pictured with their son James Wilkie, the couple also have twin daughters.

Traveling in the same circles, Gwen and Gavin first met in 1995 when their bands, No Doubt and Bush (respectively) were on tour together. Seven years after the flames first began, Gwen and Gavin were married in 2002.

These two first met while shooting "Two Much" in May of 1995. Soon after first meeting, the started a relationship and were married a year later. Together they have a daughter, Stella, who has appeared with Antonio and Melanie in their film "Crazy in Alabama," which Melanie starred in and Antonio directed.
Follow Marlo Thomas on Twitter: www.twitter.com/MarloThomas