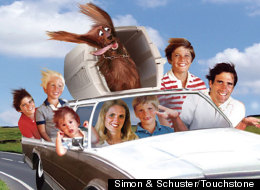 As someone who grew up around comedians, I learned a lot about which topics were surefire winners with audiences (marriage, dating, mothers-in-law), and which ones were edgier (religion, sex and politics). There are tons of laughs to be mined from the latter, but comics are always careful to walk a fine line between being funny and offensive -- and the best ones know how to walk it perfectly.
And nothing toes that line like politics. Every four years, our nation becomes divided, often pretty evenly, when it's time to elect (or re-elect) our president. This is a good thing, because it shows us that our democracy is alive and well, as Americans line up behind the candidate of their choice.


But the comedian's first thought isn't about who to vote for. Rather, they line up behind the candidate who will give them the most fertile ground for humor. As David Letterman recently commented on Piers Morgan Tonight, it doesn't matter which party or candidate a comedian might favor politically -- Nixon, Clinton, Bush, Obama -- it's all about who's going to give us the best laughs. "You go where the material takes you," Letterman explained. "It's not driven by anything more serious than who's easier to make fun of."
Politics and laughter have been happy bedfellows since the days of Ben Franklin, Mark Twain and Will Rogers. But it wasn't until this modern era that comedians began to hone the art form to perfection. In 1975, Saturday Night Live scored a big win when it lampooned President Ford's alleged clumsiness (Chevy Chase's weekly pratfalls made it fun to watch the real Gerald Ford -- and wait for a stumble), and from there it's been one bullseye after another: Dan Aykroyd's hilarious depiction of Jimmy Carter as our hip, lust-in-his-heart Prez; Johnny Carson's doddering Ronald Reagan, polished down to the head-bobbing detail; Will Ferrell's childlike, dim-eyed George W. Bush, who Ferrell somehow managed to make both clueless and endearing; Jon Stewart and Stephen Colbert's arrival as late night's twin-engine masters of razor-sharp satire; and, of course, Tina Fey's pitch-perfect channeling of Sarah Palin in the 2008 presidential election.
And the tradition continues. This week, my good friends, satirists Bruce Kluger and David Slavin, will release their new book, Dog on the Roof! On the Road With Mitt and the Mutt, a faux-children's book that pokes fun at the infamous 1983 cross-country car trip that presidential candidate Mitt Romney took with his wife and five boys -- with the family's beloved Irish Setter, Seamus, inside a kennel that was strapped to the roof of the car. Although nearly 30 years old, the story continues to live on during this election season, in late-night monologues, on the cover of The New Yorker, and in more than 50 op-ed columns written by Gail Collins of The New York Times.
I read the book early on, and it made me laugh a lot -- but it also made me wonder: With all the calamity of this year's election -- from Rick Perry's missteps to Rick Santorum's sweater vest -- why go with a 30-year-old story of a dog on a roof?
"The big story of the year is obviously Mitt Romney," Bruce told me recently, "and how could any satirist resist a scenario as juicy and bizarre -- and potentially funny -- as an Irish Setter whipping down the highway on the roof of a car? It took David and me about two seconds to decide that this is where we found the funny this year."
As a special treat, I thought I'd give you a sneak peek of Dog on the Roof!, along with a slide show of some memorable moments in political satire from years past. We may have had our own favorite candidates from year to year, but I think you'll agree that these were the ones that -- party affiliation aside -- made us cast our vote for laughter.
Bruce Kluger and David Slavin's satirical children's book, "Dog on the Roof: On the Road With Mitt & the Mutt" (illustrated by Colleen Clapp) recalls the real-life road trip taken by the Romneys in 1983 -- with the family's beloved Irish Setter, Seamus, strapped to the roof of the car.

Happily relaxing in the back yard, Seamus is shocked to overhear where his master Mitt plans to put him for the cross-country adventure.

First stop on the family vacation? Mount Rushmore National Park in South Dakota. Upon seeing the monument, Mitt proclaims to his children: "The glory of Rushmore, it's got me to thinkin' / ol' Dad should be up there with Teddy and Lincoln!"

When the Romney family arrives in San Francisco, they are unexpectedly swept into a gay pride parade. Clearly out of his element, Mitt tells his children: "Now boys, close your eyes, for we've hit the rock bottom / a city that's ruled by Gomorrah and Sodom / Don't mean to be prissy, don't want to disparage / they're free to cut hair but they'll never have marriage!"

In 1962, nightclub comic Vaughn Meader released a record called The First Family, which wickedly lampooned the backstairs lives of President John F. Kennedy and his family, complete with dead-ringer impersonations. The LP was an instant hit and is often regarded as the godfather of modern day political satire.

Stanley Kubrick's 1964 dark comedy about a crazed U.S. Air Force general who orders a nuclear strike on the Soviet Union lampoons the tension of geopolitical diplomacy and warfare with razor-sharp accuracy and smartly delivered performances. Peter Sellers soars in multiple roles, notably his depiction of the hapless American President, Merkin Muffley.

Impressionist David Frye lent wry laughter to the turbulent Sixties and Seventies with a parade of political impersonations, none more famous than his furrow-browed, hunch-shouldered Richard M. Nixon. Despite numerous TV appearances and popular LPs, his star faded after Nixon resigned from office. Dan Aykroyd would ultimately resurrect the 37th President with his own glowering interpretation on Saturday Night Live.

Although, in real life, he was a fine athlete, President Gerald Ford became known for taking more than a few stumbles and falls during his brief stint in the White House. That was all that was needed by Saturday Night Live's Chevy Chase, whose weekly pratfalls as Ford would quickly become must-see TV for political satire fans from coast to coast.

Fortieth president Ronald Reagan was an easy mark for many comedians of the 1980s, including spot-on impressionist Jim Morris and SNL's Phil Hartman. But it was late night king Johnny Carson who would become the Great Communicator impersonator to beat, perfectly aping Reagan's bobbing head, whispery cadence and signature line, "Well, you know..."

Jovial, dorky, and ever admonishing himself to be "prudent," Dana Carvey's George H. W. Bush was at once hilarious and endearing, down to the dancing fingers and hands that punctuated his every word. Carvey's Bush would become so beloved that it eventually led to friendly meetings between the comedian and real life President.

The relative peace and prosperity of the Bill Clinton administration erupted with a bang when the President confessed to having an affair with 23-year-old White House intern Monica Lewinsky. The scandal instantly became the top target for satirists worldwide, including the gang at Saturday Night Live, where actor John Goodman memorably stood in for Lewinsky friend and betrayer, Linda Tripp.

Political satire was not limited to the small screen at the end of the last century. American movie audiences laughed (and gasped) through Barry Levinson's "Wag the Dog," which told the tale of a spin-doctor and Hollywood producer who conjure a war to distract from a sex scandal; and Tim Robbins' "Bob Roberts," a sharply shot chronicle of a folksinger-turned-politico who runs a shady campaign.

SNL's Darrell Hammond injected such side-splitting nuance into his embodiment of President Bill Clinton, it was almost impossible to watch the real guy without bursting into laughter. From his thumbs-up gestures to his squinty-eyed lip-biting to his crackly southern drawl, Hammond lent the perfect blend of sex appeal and folksiness to the Man from Hope.

The late Steve Bridges didn't just sound like George W. Bush -- he moved like him, laughed like him and jabbed the air like him, ultimately capturing Bush's Texas spirit in a full-body twang. Later, SNL's Will Ferrell would give Bridges a run for the money with his own childlike spin on the 43rd president.

Even before he was elected president, George W. Bush became so famous for his word-jumbling, tongue-fumbling syntax, that Slate magazine's Jacob Weisberg compiled the best of them in book form -- titled Bushisms -- which immediately became a hit series. Among W's most memorable misspeaks: "I know how hard it is for you to put food on your family," "The human being and fish can coexist peacefully," and, of course, his signature fumfer: "They misunderestimated me."

Within minutes of being selected as John McCain's Vice Presidential running mate in 2008, Alaska's hard-charging, moose-hunting governor, Sarah Palin, became the go-to gal for satirists everywhere. But no one hit the Palin bullseye like Saturday Night Live alum Tina Fey, whose dead-ringer hairdo, wardrobe, winks and "you betcha's" landed her four ratings-crushing appearances on SNL during the election's home stretch.

In June of 2008, candidate Barack Obama and his wife Michelle shared an on-camera fist-bump during a campaign rally in St. Paul, Minnesota. Six weeks later, The New Yorker parodied the incident with a cover illustration (by Barry Blitt) depicting Obama as a robed Muslim and his wife as a machine gun-toting terrorist. Like the best satire, the image instantly earned condemnation from some quarters, applause from others and, ultimately, its place in publishing history.

What began in 1988 as a slim humor tabloid in Madison, Wisconsin, has become the nation's preeminent source of satire, with a national newspaper, coffee table books, a popular website and even a video news network. Warped, wily and achingly funny, its brand of headline humor defies formula -- from the newsy ("Busy Romney Sorry He Missed Nation's Piano Recital") to the silly ("Kamikaze Swimmers Finally Reach Pearl Harbor") to the simply bizarre ("Scientists Discover Delicious New Species").

When historians look back on political satire of the 21st Century, Comedy Central's Jon Stewart and Stephen Colbert will undoubtedly be considered the era's Founding Fathers. Their back-to-back, double-dose of biting commentary and goofball antics -- featuring Stewart as a faux news anchor, and Colbert as a faux conservative blowhard -- has rewritten the rulebook about the art of poking fun at our nation. In 2012, they continue to make us laugh -- and think.
Follow Marlo Thomas on Twitter: www.twitter.com/MarloThomas