Uh-oh -- it's that time of year again, when we orphans have to close our eyes every time we walk by a card rack. Because there they all are:
"To the Best Father in the World!"
"Dad, You're the Greatest!"
And, of course, "Happy Father's Day, Daddy. I love you!"
I hadn't realized until both of my parents were gone just how hard Father's Day and Mother's Day could be for all of us who loved our parents and, for most of our lives, made those annual shopping trips to celebrate their day. On Father's day -- a 50-cent tie clip, a drugstore bottle of Tweed cologne. My brother once wrapped up a treasure he had found in the park, a pretty good-looking baseball. Dad was delighted by them all. So while I'm happy for all those families that are celebrating today -- as they should be -- I can't help but be a little melancholy. And, okay, a little jealous.
But whether your Dad is here or gone, the stories about them are carved in our hearts. I'd love to hear yours. Here are a few of mine:
I was riding in the car with my father when I was around seven or eight when we passed a bunch of boys beating up on another little boy. Dad stopped the car and got out. I was scared and jumped into the back seat to look out the rear window. I saw him pull the boys apart and give them a talking to. Then we drove home the boy who had been bullied. After we dropped him off, Dad was quiet for a while.
"I hate a bully," he finally said, almost to himself. That memory is indelible to me. Interesting how our dads teach us.
And he was funny. Although he was a comedian by trade, his sense of humor was not something he left on the stage. I was with him once when I was just a little thing, standing by his side in a crowded elevator. I was intimidated by all the tall adults looming over me, so I clung to his leg. He looked down at me and said, "Please, madam, I'm a married man!" Everyone in the elevator laughed. The laughter made the world seem like a small and friendly place.
When I was thirteen -- a flat-chested, skinny little 13 (Wow! Where do those girls get those bodies today?) -- my mom and I picked out a dress for me to wear to a school dance. When I got it home, I realized that it really made clear how there was nothing upstairs. So when the day of the dance arrived, I climbed into bed and pretended I was sick.
When my dad came home, he asked me, "What kind of sick?" I explained that I had a stomach ache and my head hurt and so did my leg and I was getting a cold...
He looked at me and said, "What's really wrong?" When I tearfully told him, he said, "Get in the car," and we took back the dress and we scoured the store until we found one that had a lot of ruffles down the front. I'll never forget how I felt -- or the look on his face -- when I saw how that dress made everything I was worried about just go away.
But he was a comedian -- the famous storyteller Danny Thomas -- so there was always the chance that something that happened at home would end up in his act. I'll never forget when he went on the Johnny Carson show and described my "training" bra -- that's what they called those little cotton triangles (no cups) in those days. I don't know what I was in training for. I guess for the day when I would actually need a bra. His vivid description of it on the Carson show had the audience howling. I didn't leave my house for a week. But it was funny.
I think when you have a dad like that, it's what you look for in the choice of a mate. A guy who listens, who notices when someone else is hurting, who lightens the mood when things seem scary, who makes you laugh.
And I found one. I wonder if it's because they both were raised in towns on Lake Erie -- Dad from Toledo, Phil from Cleveland. Maybe it's in the water -- but both of them are devoted fathers. I remember when I first moved in with Phil and his four sons, and we had gone to bed for the night, I would suddenly be awakened by Phil's voice.
"Is that you, Kevin?" he'd call out. And then a bit later, "Michael, is that you?" And then, Jimmy, and then Danny. And he didn't really fall asleep until he had heard them all, climbing the stairs, safely home. Even though he awakened me night after night, I couldn't help but smile at this man who knew the footfall of each of his boys.
I know there are a lot of dads who are not great at it. Some of them are doing the best they can; some aren't even trying. And I'm sorry for the kids who grow up deprived of a daddy's love. But this is the time to celebrate the men who, day in and day out, are watchful of what's going on in the lives of their children. Who encourage them to follow their dreams. Who truly enjoy their company. And who, when they are gone, leave their children with memories to last a lifetime.
Happy Father's Day to your dad. And to mine, too.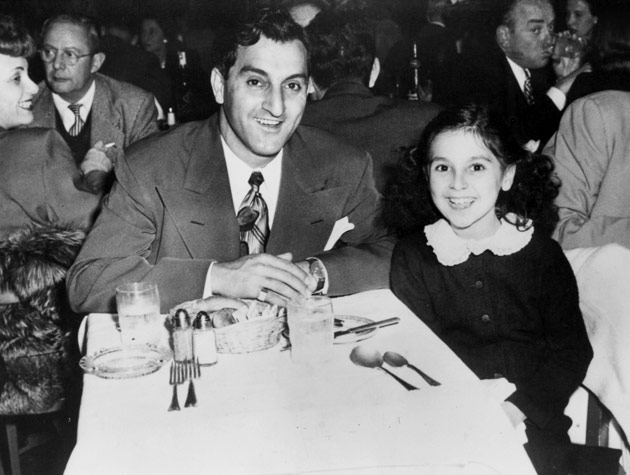 SUBSCRIBE TO & FOLLOW TRUMP'S FIRST 100 DAYS
How will Donald Trump's first 100 days impact YOU? Subscribe, choose the community that you most identify with or want to learn more about and we'll send you the news that matters most once a week throughout Trump's first 100 days in office. Learn more