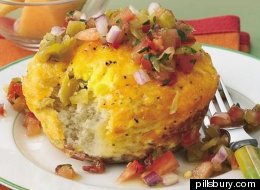 During the holiday season, huge amounts of planning and effort go into the big holiday dinners that we all love so much. But what do you do in the morning when you've got a house full of friends and family? A special holiday breakfast or brunch can be a great way to celebrate the season and indulge in some fabulous comfort food.
Of course, when you're entertaining, it always helps to be able to plan ahead, so we've rustled up a dozen delicious recipes, many of which can be prepared in advance. That way, you can spend more time having fun with your family and friends and still give everyone a wonderful holiday morning treat.
Remember, those New Year's resolutions are just around the corner, so this is the perfect time to indulge in some wonderfully comforting holiday foods! Enjoy!
Ham N' Egg Biscuit Bake" width="52" height="52"/>

This super-easy recipe uses readily available ingredients to put together a gourmet-looking dish with little effort. The ham can easily be substituted with what's in your refrigerator. Add in extras like onions, peppers or other veggies and suit to your family's tastes. See the recipe.

Baked Almond French Toast" width="52" height="52"/>

Try a new spin on an old favorite with this almond French toast. Almonds add flavorful crunch, while fresh berries provide extra sweetness. It can be assembled up to a day before and thrown into the oven before brunch. See the recipe.

Breakfast Biscuit Sandwiches" width="52" height="52"/>

Skip the drive-thru and make your own breakfast sandwiches for all the flavor without the hassle. Replace regular bacon with Canadian bacon or your favorite type of breakfast sausage to give these portable sandwiches an extra kick. See the recipe.

Blueberry Oatmeal Streusel French Toast With Warm Maple Rum Sauce" width="52" height="52"/>

A combination of blueberries, French toast and warm maple rum make this a deliciously decadent brunch treat. Your taste buds will thank you. See the recipe. Recipe from The Art of Breakfast by Dana Moos/Down East, 2011.

Ham, Swiss And Cheddar Breakfast Pizza" width="52" height="52"/>

Pizza for breakfast? After trying this recipe, you might want it for every meal. Using biscuits makes creating individual pizzas a snap and the mustard-mayonnaise spread gives it a unique taste. See the recipe.

Parmesan Spinach Cakes" width="52" height="52"/>

This insanely easy recipe uses ingredients you probably have on hand. It comes together in minutes for a tasty breakfast treat. See the recipe.

Shrimp Biscuit Tostadas" width="52" height="52"/>

This recipe uses both shrimp and avocado to add a different zest to your brunch menu. No shrimp lovers in your home? Add cooked chicken instead or top with extra veggies and cheese for a meat-free version. See the recipe.

Savory Prosciutto Muffins" width="52" height="52"/>

These stuffed muffins are a great starter when you're feeding a crowd. Onions and savory prosciutto are blended with rosemary and baked into perfect portions. Add in the fact that it can be prepared a day ahead, and what's not to love? See the recipe.

Blueberry-Pistachio Biscuits For Two" width="52" height="52"/>

Why save dessert for dinnertime? Enjoy this gooey treat with a special friend. Your sweet tooth will give thanks for these yummy biscuits smothered in fruit, caramel and pistachios. See the recipe.

Spicy Shrimp and Grits" width="52" height="52"/>

This southern-style dish replicates the tastes of New Orleans without the travel time. To save time, prepare the grits a day before. Serve with a baguette or biscuits to round out the meal. See the recipe. Recipe courtesy of Sunday Brunch: Simple, Delicious Recipes for Leisurely Mornings by Betty Rosbottom/Chronicle Books, 2012.

Breakfast Biscuit Cups With Green Chile Salsa" width="52" height="52"/>

Bacon-wrapped biscuits are loaded with green chiles, cheese and homemade salsa in this deliciously indulgent south-of-the-border breakfast. See the recipe.

Moroccan Baked Eggs With Red Peppers And Spinach" width="52" height="52"/>

Add some international flavor with this crowd-pleasing dish. Spinach, red peppers and eggs are baked with spicy harissa sauce and crumbled goat cheese for a Moroccan breakfast without the travel. See the recipe.

Jam-Stuffed Biscuits" width="52" height="52"/>

What's better than a biscuit? A stuffed biscuit, of course. This easy recipes packs raspberry jam into a fluffy biscuit that's perfect on a cold winter morning. Play around with your family's favorite jam flavors -- or add in peanut butter -- for a unique spin. See the recipe.
Follow Marlo Thomas on Twitter: www.twitter.com/MarloThomas