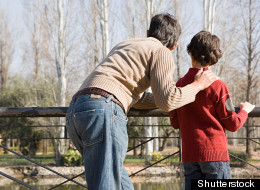 I usually spend a lot of time in this space talking about women. Women's rights and the women's movement have been my passion for more than forty years, and there's still a lot to discuss. But today I want to talk about men -- specifically dads.
I'd like to take a poll: How many fathers right now have a screen shot of their kids on their iPhone or desktop? How many Dads change diapers or babysit while Mom goes out to see a movie or have dinner with her girlfriends? How many pull their hair out trying to remember the basics of Algebra so they can help their children with their homework? And for you guys with daughters, how many of you have sat on the edge of your seat on Parents Day at ballet class, your attention more rapt than when you're watching the final seconds of a football game?
If any of the above sounds familiar to you, you're a member of a new generation of dads -- fathers who embrace their parenting role with heart and passion and aren't ashamed to admit it. In fact, from what I've seen, your faces light up with pride and joy whenever the conversation turns to your kids.
Times have changed. Used to be that that too many dads were stoic and distant figures who returned home from work just long enough to kiss their kids goodnight, then retire to their easy chairs to read the paper and have a scotch. But today's gender roles are melting into one another, and the modern family is evolving -- from an increase in households with two working parents, to a surge of at-home offices and flex-time schedules. And leading this evolution is the newly involved dad.
This is not to say that it's gotten easier to raise kids. In many ways it's much more difficult. Even with two parents at the helm, it's hard to keep up with how fast kids grow up these days, thanks to new technology, stacks of homework and the busy hive of Facebook and other social networks. To that end, the arrival of the new dad couldn't have come one second too soon.
Still, it's a joy to witness the transformation. One only need look at the TV screen -- often a decent reflection of our culture -- to see just how three-dimensional the father's role has become. Back when television was new, dads were pretty much stock characters: pipe-smoking, cardigan wearing purveyors of advice -- like Robert Young in "Father Knows Best," and Ozzie Nelson in "Ozzie and Harriet."
But not anymore. Today we have fun dads, gay dads, stay-at-home dads, outrageous dads, crazy dads -- and, almost always, thoroughly engaged dads. I personally can't wait to start tuning in this fall to the new series "Guys With Kids," which, according to the clips I've seen, features my very favorite kind of dad -- because it's the kind I had: funny dads!
So I put together this slide show for you -- from old-time dads to new-time dads -- and I'm sure that most of you fathers will recognize yourselves somewhere in this paternal pack. I hope you like it!
Neil Patrick Harris and partner David Burtka are wild about their twins, who compose half of their modern-day family unit. Gideon Scott and Harper Grace, who were born via surrogate in 2010, weren't conceived on a whim -- their birth involved a lot of deliberation and planning and it shows. Neil and David are loving parents who seem to make the twins their number one priority.

Matthew McConaughey is often seen as an eccentric free spirit on screen, and although some of this may spill over into his real-life persona, it doesn't mean that he's not a vigilant father to son Levi and daughter Vida. Often seen romping at the beach or strolling down the street with his kids on his arm, it's a good thing McConaughey is a good dad -- his third child with wife Camila is on the way!

George Clooney's character Matt King referred to himself as the "back-up parent" in the 2011 film "The Descendants," but all of that changed when his wife was rendered comatose in an accident. This film depicts a man reconnecting with his teenage daughters under the most difficult of circumstances. The film offered a new take on the infinite complexities of parenting and fatherhood.

While other presidents may have been more stoic when it came to their roles as fathers, Barack Obama has been determined not to let the presidency get in the way of his relationship to daughters Sasha and Malia. Whether he's attending school functions or goofing around on the White House lawn with the girls, President Obama doesn't shy away from public displays of father-daughter bonding.

The hit sitcom, Modern Family, is aptly named and its extended family serves up three distinctly different takes on fathering. Patriarch Jay struggles to bond with the son of his second wife, Gloria, while his son-in-law Phil and wife Claire haplessly juggle their responsibilities parenting three kids. And Jay's son Mitchell and his partner Cam only add to the laughter as they try their best to raise their adopted daughter, Lily.

Three thirty-something men take fatherhood by the reins in the upcoming TV series "Guys with Kids," created by Jimmy Fallon. The progressive comedy is set to reflect the changing dynamics of fatherhood -- not only are these guys actively involved in their toddler's lives, they're often the primary caretakers. We expect lots of laughs from this one!

In Hollywood today, no one exemplifies modern fatherhood and its infinite possibilities like Brad Pitt. With his partner Angelina Jolie, Pitt has built an international army of kids hailing from all parts of the world. His three adopted children -- Maddox from Cambodia, Zahara from Sudan and Pax from Vietnam - have been joined by his three biological children with Jolie - Shiloh, Knox and Vivienne - all of whom were also born in far-flung corners of the world. It's the Brady Bunch for the 21st Century!

Elton John and partner David Furnish are doting fathers to son Zachary Jackson Levon Furnish-John, who was born to a surrogate in 2010. The couple is loving their little family so much that they're already focusing on adopting a sibling for Zach.

In 2008, Ricky Martin made headlines when he announced the birth of his twin boys Mateo and Valentino, who were conceived by a surrogate. And although Ricky brings his twin boys on tour with him, he makes sure that they aren't livin' la vida loca. Ricky strives to provide them with structure and stability, and has said he'd be open to expanding his family through adoption. Talk about a super dad!

In 1993, "Mrs. Doubtfire" showed that some dads will do anything to be close to their kids. Robin Williams' character Daniel Hillard has limited visitation rights, so he hatches an elaborate scheme to see his children every day. Risking embarrassment, legal trouble and the rage of his ex-wife, Daniel suits up as Mrs. Doubtfire, displaying the infinite nature of a father's love.

In "Full House," which ran from 1987 - 1995, widow Danny Tanner enlists the help of his rock star brother-in-law and comedian best friend to help raise his three girls. Although Danny has some child-rearing skills, the other two male role models struggle to guide the girls, often leading to comical mishaps. But the show also had its fair share of emotional moments between the girls, their father, Uncle Jesse and Uncle Joey. Ultimately, this full house morphed into one loving family unit.

Based on a popular French film, this 1987 film depicted three bachelors banding together to raise a child left behind by one of their girlfriends. At the time, it was still very funny business to see men changing diapers and attempting to cope with babies. Though the situation was played for laughs, the characters did evolve - just as our definitions of the modern man were evolving too.

From 1984 to 1992, a new type of TV dad emerged. Bill Cosby played Dr. Heathcliff Huxtable, who along with his lawyer wife, Claire, co-parented a family of five kids with his trademark humor and patience. Cosby was a master at playing off of kids, and his character allowed his children to make mistakes and learn their lessons, though he never let them stray too far off course. He brought humor into the equation, along with trust, patience and a long, slow giggle.

As evidenced by "Mr. Mom," comedies also reflected the social changes underway. In 1983, the idea of a hapless father handling kids, laundry, shopping and housework while his wife works outside the home was still considered rich comic fodder. Michael Keaton's slapstick performance was very funny, but it's also an interesting example of the social changes underway in the early '80s.

In the late 1970s, "perfect" families were giving way to a new realism, especially in cinema. The 1979 film, Kramer vs. Kramer, won five Academy Awards for its heartbreaking portrayal of divorce and custody battles. When Meryl Streep's character decides to leave her marriage, Dustin Hoffman's character finds himself struggling to cope as a single dad. But just when everything starts to click, the ex-wife shows up and demands custody. It was a beautifully acted depiction of the complexities of parenting, and it challenged the long-standing assumption that custody almost always reverts to the mother in divorce.

As the head of America's favorite blended family, father of three Mike Brady welcomed a lot more estrogen into his house after marrying Carol, who was raising three very lovely girls on "The Brady Bunch". As the family adjusts to its new dynamic, Mike reigns in the kids and helps them deal with everyday dilemmas. In one episode, he's even named "Father of the Year," after stepdaughter Marcia submits an essay to the local newspaper.

From 1960 to 1972, Fred MacMurray portrayed widowed father, Steve Douglas, who was struggling to raise his three sons with the help of his father-in-law. Though the show was lighthearted and fairly innocent, it offered a new glimpse into the evolving role of fathers, and the new family dynamics that were emerging in the 1960s.

Nightclub singer Danny Williams (played by my dad, Danny Thomas) tried to balance his life as an entertainer with family duties in "Make Room for Daddy," which ran from 1953 - 1964. In the show, Danny Williams didn't always have a lot of time for his family, which caused frustration for his wife. Luckily, this wasn't the case in real life!

From 1954 to 1960, "Father Knows Best" portrayed America's ideal of a wholesome Midwestern family. Jim Anderson was the strong, wise leader of the household, who doled out useful advice after coming home from work. Jim certainly wasn't changing diapers, but he did reveal a softer side to fatherhood that wasn't exactly prevalent in the '50s.
Follow Marlo Thomas on Twitter: www.twitter.com/MarloThomas