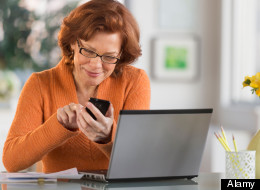 Poor April -- how envious it must be of its monthly neighbors! March gets to have St. Patty's Day and May gets to have, well, May Day -- but April? All the crocuses in the world couldn't make us forget that most unlikely -- and unlikable -- day of the year: Tax Day.
If you're an upstanding, tax-paying citizen (and if you're not, I don't want to know about it), right now you're probably staring at spreadsheets, number-crunching your finances and forecasting your upcoming fiscal year. It's never fun, of course, but we've gotta do what we've gotta do in order to stay on track. What's important to know, however -- especially for those of us who don't have a degree in accounting -- is that there are many creative ways to save, invest and maximize our incomes.
Last year, Time magazine reported that more than a third of American women are now the family breadwinner, yet still "lag behind men in actions crucial to building wealth and security, such as investing and having a long-term money plan." That's not very cheerful news. When it comes to financial matters, it is vital that we empower ourselves to take control and take advantage of every opportunity to make our money work for us. And the great thing is, it's not so hard to do this, provided you ask the right questions from someone in the know. Sometimes a little advice can go a very long way.
That's why we've put together a dozen wonderful tips and recommendations from some of our most prominent financial experts. We've been lucky enough to have a few of these terrific women as guests on Mondays With Marlo, and they've never failed to encourage, educate and inspire us.
So, take a moment to find out what Suze Orman, Maria Bartiromo, Alexa Von Tobel and others have to say about keeping your finances sound and secure. Their ideas, suggestions and advice are worth their weight in gold.
And cheer up. May is only two weeks away.
12 Things Every Woman Should Know About Money
Diversify Your Investments "Don't put all your eggs in one basket" can be applied to investing. Spread your money to minimize your risks if a company doesn't perform as well as expected. This way, you're also exposed to different assets and will get more gains for your future. Watch.

Make Small Changes To See Big Results One of the biggest money hurdles is getting in control of your money. Instead of making drastic changes -- and falling off the wagon -- track your spending and incorporate new habits slowly. Do you go to the movies once a week? Try going every two weeks. Grab a coffee at Starbucks each morning? Brew your own twice a week. The small savings will add up. Watch.

Know How Much To Save And How Much To Invest If you're ready to get your feet wet into the stock market, start slow and keep building. You want to be able to put your money into an account and not have to withdraw it. Forget rock-bottom savings account rates for all your money -- put 20 percent into a savings account and the other 80 percent into the stock market. As you get closer to retirement age -- and less willing to take risks with your retirement money -- the percentages will become 50/50. Watch.

Take Advantage Of Compounding Interest Too often, women forget about the power of compounding interest. The earlier you start saving, the less you'll have to save in your 40s and 50s for retirement. It's not magic, just math. Watch.

Negotiate A Higher Salary It's critical to negotiate your salary -- no one else is going to do it for you. Research what people in similar industries and job roles are making, and present it to your supervisor. If your company can't provide you with more money, you can still negotiate: can they provide you with more vacation days or allow you to work from home once a week? These extra perks might offset a lower paycheck. Watch.

Forget About Cashing In Your 401k If you think of the money sitting in your 401k as an emergency fund or savings account, think again. Withdrawing money early will result in paying taxes just like you would your normal paycheck. Additionally, you will pay both a 10-percent federal tax penalty and a state tax penalty. Watch.

Save Money On Your Online Shopping Make saving money when shopping online a breeze with Bodge's favorite app, Invisible Hands. This handy program does the price-checking research for you, and will alert you when a different site has a better price -- or let you know that you've found the best deal. Watch.

Avoid Financial Rip-Offs When choosing what to invest your money in, if it looks too good to be true, it probably is. Remember that you're investing and saving for the long term, not to get rich overnight. Watch.

Decide Whether To Rent Or Buy Buying a home is not only an investment, but a permanent tie to a location. More importantly, it can limit job opportunities by making you location dependent. If you're uncertain about whether you'll be in the same city in 5-8 years, it's best to rent. Watch.

Cut Back On What You Want, Not What You Need Identifying what you need versus what you want is an easy way to cut back on spending. You need food -- but ordering out instead of eating the leftovers in your fridge is a want. By being honest with yourself about what you actually need to spend money on, you can start to save. Watch.

Don't Pay Down Debt With More Debt If you're trying to pay down debt, avoid taking on more debt -- forget taking out a loan or getting a new credit card to pay another off. Instead, keep paying off debt as your priority, and with each paycheck, add a few extra dollars to your payments. There are no shortcuts, but making on-time payments above the minimum will help you pay your balances as soon as possible. Watch.

Save At The Grocery Store When you're shopping for groceries, look at the unit price, not just the price per item. While that box of cereal might be $1 cheaper than the other brand, it might also contain less. Use this strategy for boxed items, meats and cheeses -- you'll save more than by just looking at size differences or brand. Watch.
Follow Marlo Thomas on Twitter: www.twitter.com/MarloThomas