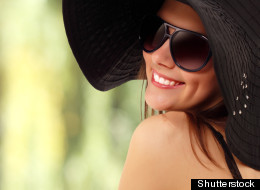 For most of us, Memorial Day signals the beginning of the summer season and that means lots of fun in the sun and a calendar full of outdoor activities. For me, summer conjures up images of sailing, baseball games, outdoor concerts and weddings. Of course, all those activities mean lots of different outfits and different style dilemmas, and that's where the experts come in!
We've had some wonderful guests on Mondays With Marlo -- from Tim Gunn to Bobbie Thomas, and Jill Martin to Bobbi Brown -- and they never fail to surprise me with their advice, tips and clever ideas on how to express your personal style. So, now that summer is here, we decided to compile some of our favorite tips and think about how those tips apply to the summer activities we all enjoy so much.
Whether you need to conceal those tan lines for a backyard wedding, or you want to wear the season's hottest colors for that picnic in the park, we've got you covered. After all, there's a lot more to summer style than pulling out those white shoes.
Take a look.
Style Tips For Summer Activities
If you're thinking about donning a tank top or a sleeveless shirt to an outdoor café, consider swapping out your regular bra for a bandeau. Kelly Cutrone, Owner and CEO of The People's Revolution says that a patterned bandeau can put an interesting spin on any look. See more.

Whether you're near the ocean or going out for a night on the town, summer is the season for beachy waves. TODAY Show fashion guru Bobbie Thomas says that dry shampoo can give you the full, bouncy hair you desire. Just spray the dry shampoo on your roots instead of teasing it – the dry shampoo will give your hair support at the crown, and won't cause damage. Watch.

Don't worry about baring it all while you're hanging out poolside -- you can look slimmer with the right swimsuit. A little black one piece is the swimwear equivalent of the little black dress, according to Bobbie Thomas. Try to avoid a high neck, and look for something with a keyhole, plunge or another vertical element to elongate your midsection. Watch.

Is makeup with sunscreen enough to protect your face? While built-in SPF can be beneficial on its own, stay on the safe side by doubling up on coverage for a day at the beach. Makeup artist Bobbi Brown explains that first and foremost, you must cover your entire face with sunscreen and then add foundation on top for extra protection. Watch.

Nothing can ruin a gorgeous outfit like tan lines – they're so distracting! For really obvious tan lines, Bobbie Thomas recommends Dermablend, a formula developed to cover tattoos. If your tan lines aren't quite so glaring, use a self-tanner like Jergen's Natural Glow Express. Blend it into the tan line to even out your skin tone. Watch.

Summer is primetime for oily skin to rear its ugly head. Luckily, Bobbie Thomas has a few tricks to eliminate that unwanted shine. If you're using foundation, apply a primer beforehand. You may also want to try one of the new BB creams or CC creams on the market – they combine cleanser, primer, foundation, moisturizer and SPF all in one. Make sure to reapply throughout the day to protect your skin and see the best results. Watch.

Summertime often means that you'll be soaking in some serious sun, especially if you're out combing flea markets for antique treasures. You know to slather on SPF, but make sure your eyes are protected too. Kelly Cutrone is a big fan of vintage shades – they help you stand out from the crowd. Search for the perfect pair at estate and yard sales in your neighborhood. When you find them, take your specs to a local optician and have them put in tinted lenses. See more.

You don't want to be glued to your seat when your team hit a home run, so dress for comfort and style when attending a summer sporting event. Jill Martin insists that jeans are always appropriate – they make it look like you're trying, but not too hard. Flat boots or ballet flats are ideal footwear for running to grab a hot dog between innings. And don't forget your messenger bag – you'll want to be hands-free for clapping! Watch.

Fans of vibrant color rejoice! This summer anything goes, according to Bobbie Thomas. For the daring among us, neons are still on-trend, and if you feel like keeping things more conservative, you can opt for pastels and sherbet colors, like mint and peach. White is also coming back in a big way, so try out a white bag, white shoes or a pair of white jeans – just be careful not to spill anything on yourself. Watch.

If you want to look trendy for summer dates, but you're short on cash, Bobbie Thomas says that you can get the biggest bang for your buck by investing in cost-per-wear accessories. Save up for summer essentials like a really great bag that you'll wear every day and comfortable sandals that won't give you blisters. And don't underestimate the versatility of the scarf – these inexpensive accessories allow you to try out a color or trend on the cheap and can be transformed into a sarong, a head wrap and a statement necklace, just to name a few. Watch.

Though you may be attached to your capri pants, it might be time to let them go. Fashion therapist and author Tim Gunn says that for many women, it's simply not a flattering shape. Capris cut you off at the widest part of your calf and make most women look shorter. The cargo capri pant is the ultimate offender – they make you look shorter and wider. Instead, venture into the wild wearing traditional pants – you'll avoid poison ivy and look much better. Watch.

Get away from the drab colors of winter by introducing some color into your work wardrobe. Fashion designer Isaac Mizrahi recommends that you use accessories to brighten up your look. Buying a bright pair of shoes, a handbag or a scarf will allow you to test out a color and start thinking about adding it into your wardrobe in a bigger way. Watch.
Follow Marlo Thomas on Twitter: www.twitter.com/MarloThomas