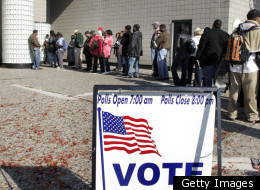 The economy may be sagging, the unemployment rate may be dispiriting, and the presidential candidates may be at each other's throats -- but here's the good news:
Women are in position to decide the fate of the nation.
U.S. News and World Report calls us "the key voting bloc." Political commentator Julie Menin has declared us "the New Majority." And Stephanie Schriock, the president of EMILY's List, laid it all on the line:
"Women are watching," she told the Christian Science Monitor. "They're definitely not sitting this one out quietly."
Granted, this election year has been a pretty noisy one. But why all the sudden attention on women? Because pollsters and pundits have begun to catch on: We vote in bigger numbers and, this year in particular, we've got a few scores to settle.
It began in February, when Rush Limbaugh called women's activist Sandra Fluke a "slut" and a "prostitute" after she testified before a House committee about the importance of insurance plans covering birth control. Even women who didn't agree with Fluke took offense. Then Rep. Todd Akin joined the fray, coining the phrase "legitimate rape," and dumbfounding millions with his bizarre theory that women can actually stop conception from happening.
Is it any wonder that there's a growing concern about an actual "war on women?"
And it's not just hype. Who would have thought that in 2012 we would be discussing whether or not a woman in America should have free access to contraception? "I've never seen a presidential election where women's access to birth control is practically on the ballot," Planned Parenthood's Cecile Richards, told the Washington Post.
But the numbers are on our side. Women are an increasingly powerful coalition. Since 1980, we have been a consistently larger voting bloc than men, and statistics point out that we return more frequently to the polls. In the 2008 presidential race, women outvoted men by 9 million.
Maybe this is because we really fought for the vote, having won the right to it only 92 years ago. Measured against the age of our country, that's practically yesterday. And in that time we have paid hard attention to the issues that matter most to us, always keeping an eye on tomorrow for our daughters. I'd like to believe that women have been the secret weapon behind some of our country's most historic strides, supporting leaders who dared to tackle our greatest challenges -- from civil rights, to environmental protection, to ending gun violence, to raising their voices about the futility of war.
We cannot take this power -- and privilege -- for granted. The word on the street is that many will stay home on Election Day this year. That's why both campaigns are working harder than ever to get out the vote. This may be the one issue on which we all agree.
Optimist that I am, I'm assuming that women will come out in record numbers again on November 6. But it will take an extra commitment on our part to get everyone else out on that day, too. That means your reluctant aunt or uncle; your grouchy neighbor next door, or a homebound senior who needs a lift.
I know I'm leaving myself open to those who might scoff at my flag-waving. But the fact is, a lot of men and women in other countries have fought and died for the right to vote. We've got it. Let's use it.
So whichever way you are voting, to psych you up for Election Day, here's a slide show that looks back at the American woman's noble march to the right to vote. It's worth remembering.
It's hard to believe there was a time in our history when women weren't allowed to vote. But thanks to some courageous women who stood up and fought for the right, today we enjoy the freedom we deserve. It was leading women like Kenyon Hayden Rector, left, Mary Dubrow, center, and Alice Paul, right, who demanded the government pass the 19th Amendment. Here, they stand in protest outside of the 1920 Republican Convention in Chicago with a banner boasting a quote from the famous feminist, Susan B. Anthony.

Women suffragists across the country rallied together and demanded the federal government grant everyone the right to vote, regardless of sex. Here, members of the Nation Woman's Party, the first to picket for women's rights, hold a protest in front of the White House in 1917.

Women had first started to demand their rights in 1848, when 68 women and 32 men signed the Declaration of Sentiments. But, it wasn't until after the Civil War that women really started to take to the streets and demand change. Here, women at a booth implore passers-by to vote 'yes' on women's suffrage at a vote to be held on October 19, in New Jersey in 1915.

Women all over the country worked to ratify the 19th Amendment in their states, by marching through the streets and demonstrating for equality. Here, women in New York City walk in the Suffrage Parade of 1912.

Although the Women's Suffrage movement gained a great deal of support from both men and women, there were just as many people opposed to giving women the right to vote. Here, a picture of the headquarters of the National Association Opposed To Woman Suffrage, shows the movement was met with some resistance.

This political cartoon depicting the Women's Suffrage movement shows that it was hard to stop. In the image, four women supporting the right to vote drive a steam roller of "progress" over the rocks of "opposition".

It was the undying efforts of Woman Suffrage Headquarters all across the country that helped steamroll the movement's opposition. Here, the scene outside headquarters in Cleveland, Ohio shows how hard these women worked to convince their communities of the need for equality.

On March 3, 1913, the day before President Woodrow Wilson's inaurguation, more than 5,000 marchers led the Suffrage Parade down Pennsylvania Avenue in Washington D.C. Despite opposition from the nearly 2,000 people in the crowd -- mostly men who tried to trip, jeer and obstruct the procession from continuing -- the show went on. Here, German actress Hedwig Reicher performs in a pageant in front of the Treasury Building, one of the many stops along the parade route.

A major player in the movement, Alice Paul not only organized the march on Washington D.C., but she was also one of the women arrested for protesting outside of the White House in 1917. Here, Alice raises her glass to the Women's Suffrage banner.

In 1918, after continued pressure from women's suffrage groups all across the country, President Wilson strongly urged Congress to pass the 19th Amendment. Although the vote was close, coming down to one state, Tennessee, the legislation finally passed in 1920. Here, Alice Paul, at the National Women's Party headquarters, sews stars onto a banner just after the amendment was passed.

Here, women stand and cheer outside of the National Women's Party headquarters as Alice Paul unfurls the banner in celebration of the passing of the 19th Amendment, which finally guaranteed women the right to vote.

It wasn't long after the amendment passed that women surged to the polls. Here, three unidentified women in San Francisco, California make history by becoming the first of their sex to vote in an election just after the 19th Amendment was passed.

Even as some women rushed to exercise their hard-fought right to vote after the 19th Amendment passed, the Women's Suffrage movement was far from over. Here, one suffragette stands in the rain, and urges women to get out and vote.

Here, surrounded by signs in both English and Yiddish, women in support of Franklin D. Roosevelt and Herbert H. Lehman teach other women how to vote in 1935.

Fifty years after the passage of the 19th Amendment, women were still fighting for women's equality in America. Here is feminist Betty Freidan, at a march honoring the 50th anniversary of women's suffrage. The sign behind Betty tells you all you need to know about the passion at that rally.
Follow Marlo Thomas on Twitter: www.twitter.com/MarloThomas