Politics is everywhere -- we have witnessed ongoing partisan mud-slinging in Washington, resulting in a near shutdown of our federal government, the increasingly ugly run-up to the 2012 presidential race, and the frenzied media cycle following whether New Jersey governor Chris Christie would jump into the 2012 race.
The timing may be just right for George Clooney's probing tale, The Ides of March (based on Beau Willimon's play, "Farragut North"), which Sony Pictures is positioning as a political thriller, but actually comes across more as a political fable. Certainly moral lessons are to be learned, and all the key elements of politics are present and accounted for: greed, betrayal, revenge, loyalty, sex and so on.
"I suppose if you're a Democrat you'll like the beginning of the movie best," Clooney says, "and if you're a Republican you'll like the end best. It walks that line of picking on everybody."
Ryan Gosling -- who is having quite a moment right now with strong reviews in this film and in Drive, also in wide release -- stars as Stephen Meyers, a young, idealistic press attaché to Ohio governor Mike Morris, played by Clooney (who also serves as director, producer and co-screenwriter of the film). Morris comes off as a down-to-earth, plain-spoken everyman who connects with the common man on the street, and with his young, hopeful staff -- including Meyers. Phillip Seymour Hoffman plays Morris' gruff, experienced campaign manager, Paul Zara, a friend and mentor to Meyers.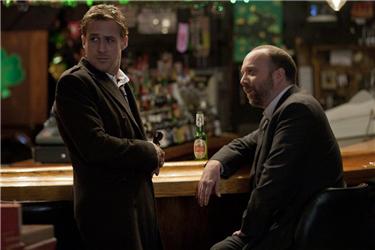 Duffy (Paul Giamatti, right) asks Stephen (Ryan Gosling) to jump over to the Pullman campaign in Columbia Pictures' The Ides of March. Photo: Saeed Adyani
When the opposition's campaign manager, Tom Duffy (Paul Giamatti, in one of the film's strongest performances), tries to convince Meyers to bring his increasingly sharp political skills to the other side, a rapid chain of events is set into motion, during which the young PR operative will learn how the real game of politics is played, in all of its intense, back-stabbing glory. Wedged into Meyers' unfolding drama is his entanglement with Molly Stearns (Evan Rachel Wood), a campaign intern comprised of equal parts youth dew, flirtation and ambition. Stearns' father happens to be head of the Democratic Party, but that doesn't change the fact that her union with Meyers comes to an unfortunate end.
While watching this film, I couldn't help thinking of the recent best-seller Game Change, John Heileman and Mark Halperin's sweeping account of the behind-the-scenes dramas of the historic 2008 presidential campaign. Although I don't follow politics, perhaps, as much as I should, I thoroughly enjoyed the book, which is currently being adapted by HBO. Truth, indeed, is sometimes stranger than fiction.
The Ides of March, which was shot in Ohio, Kentucky and Detroit, does a good job of highlighting the flat, faded colors of a campaign on the road, complete with its makeshift offices and generic hotel suites. There are, however, some fine visual touches in the film. The Shepard Fairey-like posters of Clooney that hang throughout the Morris campaign office add an air of hipness and bring to mind the iconic Barack Obama campaign image. After a heated exchange between Zara and Meyers, Zara stalks off, leaving his protégé standing alone, shell-shocked and dwarfed by a huge American flag. The long shot, all the more powerful on the big screen, speaks volumes about Meyers' own ambitions, and how the political process -- and the ornery, deceitful players that drive it -- are all much bigger than he is.
At one point in the film, Meyers says, "Politics is my life." In another visual and dramatic high point, as he challenges Governor Morris, Clooney literally emerges from the shadows, with his figurative fangs showing. It is then that Meyers finally sees what the man he idolizes is really made of. A brutally honest life lesson learned. By the end of the film, Meyers has taken his punches and emerged victorious but bruised, and with an air of cold, robotic political polish. You get the sense he will never again be someone's fool.
The Ides of March opens nationwide on October 7.