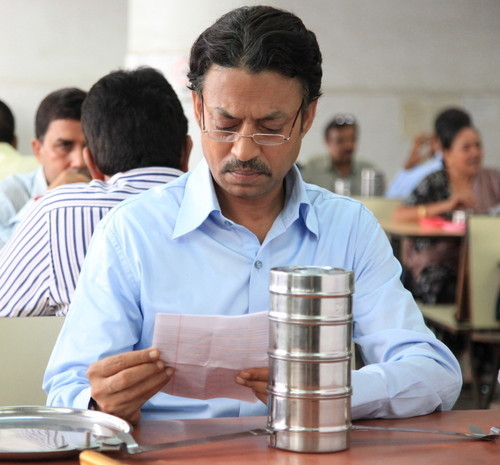 Another strong day at the Dubai International Film Festival kicked off for me with a morning press screening of a film I'd tried to see at the Karlovy Vary International Film Festival this past summer but was denied because of a breakdown in the subtitle technology.
Ritesh Batra's The Lunchbox has toured the film festival circuit since then and will open in February 2014 in the U.S. It's a soulful, thought-provoking tale featuring two central performances that can't help but stir you.
Nimrat Kaur plays Ila, a Mumbai housewife who dutifully cooks her husband a lavish, multicourse lunch, which she packs in a metal tiffin box. Then a courier picks it up and delivers it by train to the office where her husband works.
(The film's opening is a brief but fascinating short-course in an incredibly complex lunch-delivery system in Mumbai that somehow seems to work, despite what seems like a dependence on old technology and systems.)
But on this day, her careful preparation of curry, rice and more goes astray -- and lands on the desk of a soon-to-retire insurance-claims examiner, Saajan, played by the amazing Irrfan Khan (best known to American audiences for his work in The Namesake, Slumdog Millionaire and Life of Pi). He'd contracted with a diner near his apartment for lunch for years -- but this food was significantly better. So he eats it all.
This surprises Ila because, apparently, her husband never sends the used lunchbox back looking as though it's been licked clean, the way Saajan did. She puts a note in with the chapatti bread the next day -- and Saajan responds. Before long, they've struck up a correspondence, which deepens into an epistolary relationship, though they've never met.
The film is a marvel of understatement and intelligence, exploring the loneliness and regret two people are able to express to each other, perhaps because they are strangers. The correspondence changes their outlook, makes them a little more aware of their regrets -- and of what they can do to get rid of those regrets and make a fresh start. As one character notes, "Sometimes the wrong train takes you to the right station." These character studies make The Lunchbox a movie to be keenly anticipated by American audiences.
Louise Archambault's Gabrielle had the potential to be something cloying and awful, given its focus on a mentally challenged couple, their romance and the objections of the young man's mother. Archambault cast Gabrielle Marion-Rivard, a young woman with Williams' syndrome, in the title role -- and she delivers a real performance (as does actor Alexandre Landry as Martin, the young man she's in love with).
This commentary continues on my website.