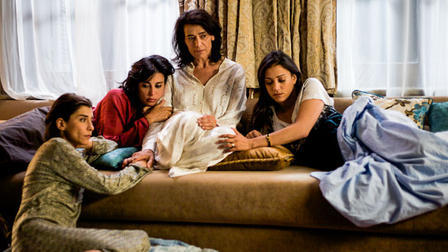 A film festival is one of the few places where you can take a trip around the world in the course of a day, without ever leaving a mall multiplex.
That's what my day was like Thursday, as the Dubai International Film Festival begins to wind down. My film-going schedule started in Japan, moved on to Belgium and the Swiss Alps, then to Mumbai, before finishing up in Tangier (actually, the third film I've seen this week set in that dazzlingly picturesque Moroccan city).
It was definitely worth the trip.
The day began with Unforgiven, a Japanese remake of the Oscar-winning 1992 Clint Eastwood film. Starring Ken Watanabe, Lee Sang-il's sweeping, gripping film adapts David Webb Peoples' script to 1880 Japan. Instead of a reformed gunfighter, the central character, Jubei (Watanabe), is a former samurai with a fierce reputation for killing. He disappeared a dozen years earlier after the return of the emperor, when the samurais who fought for the shoguns were mostly eliminated.
He now lives on the unforgivingly harsh northern island of Hokkaido. A widower, he has given up the sword to be a farmer, after making a promise to his late wife. But he's not very good at it - so when an old samurai pal shows up, offering a chance at some easy money, he's reluctantly tempted to go.
The money is a reward being offered by prostitutes in a small town on the mountainous island. A customer has sliced the face of one of the girls, and the town's boss refuses to punish the offenders, beyond forcing them to surrender some horses to the brothel keeper who'd paid to bring the girl in. If you've seen the Eastwood film, you know the story; Lee adapts it beautifully to a country and period where samurai swords coexist with rifles, six-shooters and older firearms.
Watanabe has the same world-weary rasp that Eastwood brought to the role in one of his best films. Yet this film is its own animal: violent, thoughtful and awash in regret. Here's hoping it makes it into American theaters.
The trip to Tangier came courtesy of Laila Marrakchi's outstanding Rock the Casbah. Featuring a pan-Arabian cast of talented actresses, it could almost be seen as a Moroccan version of August: Osage County, without quite as much acidic humor.
The film is actually narrated by the dead patriarch (a playful Omar Sharif), whose sudden death brings his three daughters together for the first time in a while for the funeral. Inevitably, old resentments and secrets begin to surface in fascinating ways. There's even that little unexpected splash of incest, just like in Tracy Letts' Pulitzer-winning play.
The cast is superb, led by Hiam Abbass as the mother and including Lubna Azabal, Nadine Labaki and Morjana Alaoui as the daughters. The writing is sharp, witty and perceptive about the ways sisters deal with each other. Even as it's specific to its culture, it is universal in its story of family tensions exacerbated by a death in the family.

This commentary continues on my website.
This Blogger's Books and Other Items from...
SUBSCRIBE AND FOLLOW
Get top stories and blog posts emailed to me each day. Newsletters may offer personalized content or advertisements.
Learn more