This refers to a 1963 robbery that was at that time the largest-ever British heist. 2.6 million pounds sterling. And two and a half million pounds was, at the then-prevailing exchange rate, some 7.5 million US dollars. Adjusted for inflation that would be the equivalent today of over US $65 million In one night. Nearly as much as the average Enron or Haliburton rip-off. Though these blue-collar villains used their actual hands to lift the loot.
Biggs was one of the gang, arrested and sentenced to a staggering 30 years in prison - - but within 15 months he'd daringly busted out of jail and spent the next 36 years living the high life on the lam during which time he flouted British authority by swanning around as a feted resident of Rio, recorded songs with the Sex Pistols and became a bad-boy folk-hero - begrudgingly admired even by his principal nemesis -- his Javert... his Gerard... -- one Police Superintendent Jack "Slipper Of The Yard" Slipper.
Apart from the dented pride of the British authorities -- this audacious crime was virtually victim-less. The train driver was regrettably 'coshed' during the heist but such was the notoriety of this literally Grand Theft Train-o -- that when some seven years later the driver sadly passed on -- of leukemia (and not anything to do with the train heist) -- his family and the pompous British establishment still blamed the satanic Great Train Robbers for his death! As though the truly dreadful curse of leukemia could be visited upon a 61-year-old man by a brief 30-minute encounter with a few working-class lags seven years before his death -- and not by the Great British True-Blue Conservative God-in-His-Home-Counties-Heaven that they all affect to believe in.
If you are not of a certain age -- all this may be Greek to you.
The person who can explain this best to you is my dear, departed friend -- the late Peter Cook. In the show Beyond The Fringe he appeared as a senior police chief from Scotland Yard -- answering questions about the robbery. Never was the incompetence and pomposity of the British establishment better portrayed.
A few sample lines just to whet your appetite: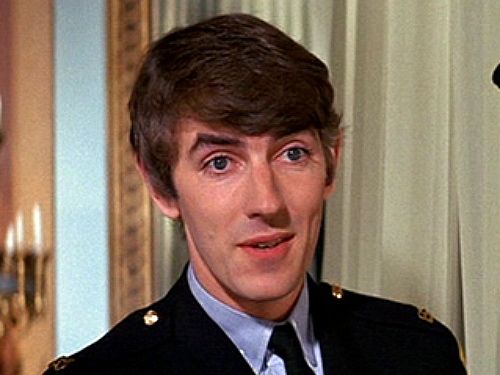 Interviewer: "I'm going to ask you a few questions about the train robbery if I may"

Police Chief: "When you speak of a train robbery, this in fact involved no loss of train. It was merely the contents of the train that were pilfered"
Interviewer: "Who do you think may have perpetrated this awful crime?"
Police Chief: "We believe this to be the work of thieves"

Interviewer: "Who do you think is behind the criminals?"
Police Chief: "We are. Considerably. Many days - indeed months and years behind them..."
SUBSCRIBE TO & FOLLOW ENTERTAINMENT
HuffPost Entertainment is your one-stop shop for celebrity news, hilarious late-night bits, industry and awards coverage and more — sent right to your inbox six days a week. Learn more