Summer is no time to be a slave to your oven. The grill will handle the bulk of the work for outdoor cooking, but what can you do about dessert?
That's easy if you think of cool, no bake desserts you can make ahead with little fuss. My favorite has always been aunt Jenny's ice box cake. She was wasn't the world's best cook, but she looked like a pastry goddess when it came to her almost homemade desserts. She was never without a box of Nabisco chocolate wafer cookies. From them she could make an ice cream pie or ice cream sandwiches and a delicious cream filled cake.
Here are four no-bake desserts that will get you out of the kitchen and win you cool praises from family and friends.
Aunt Jenny's Strawberry Ice Box Cake
Serves 8-10
This cake is best made when strawberries are in season and especially if they are small and wild because their flavor is exquisite!
1 pint heavy cream
1/4 cup sugar
1 teaspoon strawberry or vanilla extract
2 cups strawberries cut into small pieces plus 4 whole ones for garnish
1 package Nabisco chocolate wafer cookies
Several whole mint sprigs
Whip the cream in the bowl of a mixer until it holds soft peaks. Sprinkle in the sugar and whip another few seconds until the cream holds stiff peaks. Fold in the strawberry or vanilla extract. Fold in the strawberries.

Take 10 cookies, spread one side of each cookie with a small amount of the whipped cream mixture. Stack the wafers together and lay on their sides on a serving platter. Fill in any gaps between the wafers with more cream. Repeat with the remaining wafers until there are 4 total stacks.
Place two stacks next to each other on the serving platter and place the remaining two stacks on top. Make sure they are touching each other with no gaps.

Frost the "cake" generously with the remaining strawberry cream making sure no gaps remain. Refrigerate at least 4 hours or overnight.
When ready to serve, place the whole strawberries on top of the cake with a few sprigs of mint. Slice crosswise to serve.
Peaches and Cream
Pesche e Panna
Serves 6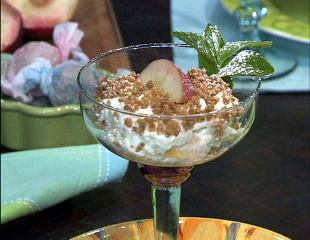 This refreshing no-bake casserole is one of my favorite summertime desserts and it all has to do with heavenly white peaches. For my money, their white flesh and perfumed taste can't be beat. I like to mix them with white nectarines and fold them into slightly sweetened whipped cream. The crunch comes from amaretti di Saronno, those tiny almond cookies from northern Italy.
20 amaretti cookies, crushed to a fine consistency
8 tablespoons melted, and cooled butter
4 large white peaches, peeled , pitted and cut into thin slices
2 large white nectarines, peeled, pitted and cut into thin slices
Juice of 1 large lemon
2 cups whipping cream
1/3 cup sugar
1/4 teaspoon almond extract
Combine the amaretti crumbs in a bowl with the melted butter and mix well to combine. Press half the cookies into an 8 inch square pan and refrigerate. Set the rest aside.
Combine the peaches and nectarines in a separate bowl with the lemon juice and set aside.
Whip the cream in a large bowl on high speed until stiff; stir in the sugar and the almond extract.
Drain the peaches and nectarines in a colander and fold into the whipped cream. Spread the mixture evenly and carefully over the amaretti.
Sprinkle the remaining amaretti over the top.
Refrigerate at least 2 hours or overnight.
Scoop into dessert or parfait dishes to serve.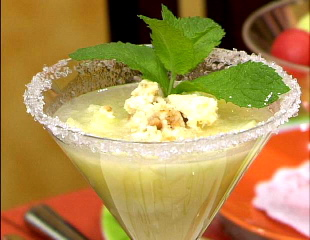 Bellini is an internationally well-known drink cocktail that originated in Italy. It is a mixture of sparkling wine (Prosecco) and peach puree, and is one of Italy's most popular cocktails. Here is a cool and sweet twist on this favorite libation.
Coarse white sugar
1 cup mascarpone cheese at room temperature
2 tablespoons sugar
1/4 cup crushed amaretti cookies
6 ripe white peaches, pitted and peeled
Prosecco wine
Wet the rims of 4 martini glasses and dip each in coarse sugar to coat the rims. Refrigerate the glasses.
Whip the mascarpone with the sugar until light and fluffy; stir in the amaretti cookies set aside.
Puree two of the peaches in a food processor. Transfer to a spouted measuring cup and set aside.
Quarter the remaining peaches; cut into thin slices. Divide and fill each glass with some of the peach slices.
Mix the pureed peaches with the prosecco and pour evenly over the peaches. Add a dollop of the mascarpone over the top and serve immediately.
No Bake Bread "Pudding" with Strawberries and Mascarpone
Serves 8
This unusual dessert Is a take off on bread pudding and is best made a day ahead to let the bread absorb the flavors.
1 pound ripe strawberries, stemmed and cut into slices
1/3 cup sugar
Juice of 1 large lemon
5 cups dry red wine
24 slices of a sweet bread such as brioche (enough to fill a 9 x 13 glass pan to make three layers)
1 cup whipping cream
1/4 cup mascarpone or cream cheese at room temperature
2 tablespoons confectioners sugar
Mint leaves for garnish
Mash the berries in a large bowl with a fork. Stir in the sugar and lemon juice. Pour in the wine and mix well. Cover the bowl and refrigerate the mixture for 3 hours.
Line the pan with 8 bread slices, trimming them if necessary to fit the pan. Cover the slices with some of the wine sauce. Keep making two more alternating layers of bread and sauce ending with the sauce mixture on top. Cover the pan and refrigerate for several hours to allow the bread to absorb all the liquid.
Whip the cream with the mascarpone or cream cheese, and sugar until stiff.
Cut the bread pudding into squares. Place them on individual dessert dishes and top with some of the whipped cream. Add a mint leave for garnish and serve.

This Blogger's Books and Other Items from...
SUBSCRIBE TO & FOLLOW THE MORNING EMAIL
The Morning Email helps you start your workday with everything you need to know: breaking news, entertainment and a dash of fun. Learn more