Now that we are well into the first phase of 2011, all sorts of predictions are on the forefront about what is in and what is out. In the world of food, the predictions are pretty, well, predictable from year to year. Healthy foods always make the list of what's in while fat and salt laden foods continue to get the thumbs down. And well they should. But that does not stop people from making bad choices.
If I had only one food ingredient prediction to make for this year, it would be that Quinoa (pronounced keen-wah) will be the new darling of the healthy food universe.
Quinoa has been around for more than 5,000 years, having been discovered in South America, but is only now getting shelf space in American supermarkets. What is it? It is a species of a grain-like plant grown for its edible seeds. Quinoa was cultivated by the ancient Incas who considered it so important that they called it the "mother grain." It is related to beets, spinach and tumbleweed.
Why should you add it to your diet? Because the National Academy of Sciences says it is, "one of the best sources of protein in the vegetable kingdom." Quinoa provides all the essential amino acids. It has no gluten. It is easy to prepare and easy to digest.
Purchase quinoa in your grocery store in the rice section; look for packages that say pre-washed. Non-washed varieties need to be rinsed otherwise they will retain a soap-like taste. There are three basic color types: cream, red and black and virtually all have a nutty taste. The red and black types are harder to grow and not as readily available as the traditional cream quinoa.
Quinoa is the size of sesame seeds but increases in size and fluffs up when cooked.
There are so many ways to use this super food in your everyday cooking! Add it to soups or serve it as a side instead of starchy potatoes or rice. Use it as a stuffing for sweet peppers, tomatoes or onions. Flavor it with your favorite spices and herbs. Cook it in chicken, vegetable or beef broth. Or just use water.
Quinoa is definitely in and has been for thousands of years.
Quinoa and Pan Cooked Shrimp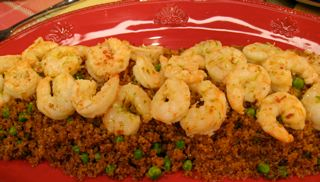 Serves 6
1/3-cup olive oil
2 tablespoons butter
1 leek finely chopped
1 1/2 cups quinoa, rinsed
Salt to taste
Grinding black pepper
2 - 3/4 cups chicken broth
1-cup peas, fresh or frozen
Juice of two limes plus the zest
2 pounds large shrimp, peeled, de-veined and dried
4 cloves garlic, minced
1-teaspoon hot red pepper flakes
1/2 cup white wine
¼ cup minced parsley
Heat half the olive oil and butter in a large sauté pan over medium heat. Stir in the leeks and cook until they soften, then stir in the quinoa and cook stirring until it smells toasty and begins to brown. Stir in the broth and bring the mixture to a boil. Reduce heat to low, cover and simmer until the quinoa is tender, about 10 minutes. Stir in the peas off the heat and transfer the mixture to a platter; cover and keep warm. In the same pan add 1 tablespoon of the remaining oil and place over medium high heat. Add half the shrimp and cook until they begin to turn opaque and pink in color.
Transfer the shrimp to a bowl. Add the remaining oil to the pan and cook the remaining shrimp. Stir in the remaining butter and when melted, add the garlic and red pepper flakes and cook until the garlic softens. Pour in the wine and stir to blend all the ingredients. Return the shrimp and any juices to the pan, stir in the parsley and season with salt and pepper.
Spoon over the warmed quinoa and serve.
This Blogger's Books and Other Items from...
SUBSCRIBE AND FOLLOW
Get top stories and blog posts emailed to me each day. Newsletters may offer personalized content or advertisements.
Learn more