Westport, Conn. -- "I will say it's nice to know that all of his constituents live well, have great views, good food. I had a beer inside, it was very good. Thank you. A number of you I've met, actually. I've met a number of people here I used to work with years and years ago, so it was fun to catch up with some old acquaintances and people I met at the last event for Chris -- and people I will meet again two years from now at the next fundraiser for Chris Shays." New York City Mayor Michael Bloomberg's opening remarks to the laughter and amusement of the crowd at a Westport fundraiser for U.S. Congressman Christopher Shays.
Their friendship did not start off on a good foot. In 2003, Chris Shays Representative of the 4th District of Connecticut warned attendees away from New York City's New Year's Eve Party at Times Square over concerns of terrorism. Bloomberg was livid.
There was reportedly a makeup dinner.
Forward to 2008 and Bloomberg has returned to Connecticut to stump for the last remaining Republican Congressman in New England. Bloomberg did the same stump a year ago for Shays in Greenwich.
The setting of the fundraiser was classic New England: cocktails by the pool overlooking a great expanse of manicured lawn and the Long Island Sound. The attendees supped on a dinner of Grilled Salmon, Lemon Chicken, Roasted Butternut Squash, Orzo Salad and cookies for dessert served to 200 attendees who paid between $250 to $2,300 per person. The Shays camp expects to raise more than $100,000 to help fund its race against the Democratic Candidate Jim Himes.
Two miles away from the event and earlier in the evening, about 30 needy men and woman dined on cold sandwiches and cold pasta salad served by Westport's Gillespie Center Shelter Manager Carol Thomas and resident volunteers. The shelter houses 15 men and 4 women and turns people away every night because the need has increased. They also have a food pantry stocked with donated non-perishables that should last 6 months but will only last a few due to the higher demand. The need is urgent at all soup kitchens and pantries as working families increasingly ask for help while corporate donations lag.
The comparison between the two events is stark, this fundraiser took place in a large contemporary manse behind a gated long driveway at the end of a private lane that was purchased for $9.2 million in 2004.* The host, Barry Asness, a mega-millionaire Hedge Fund Manager is a supporter of Shays and offered his home for the event. The living room and kitchen could fit the entire homeless shelter with room to spare. The shelter diners watched the Cowboys v. Arizona football game. Down the road the well heeled nibbled on their catered meals and watching the moon rise over the water.
A full phalanx of media was let in to watch Shays and Bloomberg speak and after a brief introduction by the hostess, Carol Asness, Christopher Shays and wife Betsy introduced Bloomberg. The mayor welcomed the group and confirmed he is not running for president. He alluded to the 2003 incident as the beginning of their friendship, saying they have since worked together on the Transportation Task Force East of the Hudson River focused on Hi-Speed Ferries from Stamford and rail and subway (MTA) security, post 9/11.
Christopher Shays' judgment is Rock Solid, said Bloomberg. "Chris works across the aisle in a non-partisan way and is well equipped to deal with the financial problems of today. With the Wall Street crisis we will not be able to get out of this crisis easily, it will be hard work and non-partisans have been able to appeal on the facts and reason, instead of partisan politics. Some days I don't always agree with everything that is said or sometimes anything that is said..." Bloomberg waxed philosophical about expecting people to fail. He expects his own employees to fail, and learn, and wants people who are able to take risks. He spoke of Shays not always voting the party line, how Shays looks out for his constituents and voted with Bush only 52% of the time (the Himes Campaign has it more like 80% with Republicans, but who is quibbling with Mike).
Christopher Shays stated that if New York City doesn't do well, Connecticut won't do well either, referring to the Tri-State NYC area that is dependent on the stability of the financial markets. After the podium speeches, the New York press corps asked about Bloomberg's attempt to extend the term limits set by the voters.
This evening had some jarring differences from a press event recently held by Shays' Congressional competitor, Jim Himes. He and US Congressional Speaker of the House Nancy Pelosi hosted an event with a family which was struggling financially with a job loss and high medical bills. They focused on the difficulties of living paycheck to paycheck, and how Obama and Democratic legislators would work in particular for people without health insurance.
At the Bloomberg event, there was no strong Republican messaging other than re-electing Shays to another term. There was little mention of McCain/Palin in any part of the evening, even though Christopher Shays is McCain's Connecticut Co-Chairman. Overlooking the water, you felt the country was doing pretty well, at least for the moment.
---
* Land Transaction records, September 20-24, 2004 www.westportnow.com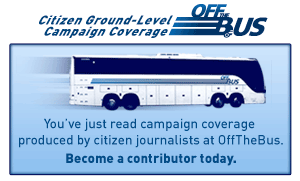 SUBSCRIBE TO & FOLLOW THE MORNING EMAIL
Start your workday the right way with the news that matters most. Learn more