Connecticut U.S. Senate candidate Linda McMahon www.linda2010.com touts her business acumen as the compelling reason voters should put her in office over the 20 year public service career of CT Attorney General, Richard Blumenthal. www.richardblumenthal.com
Linda McMahon did resign in 2009 as CEO of World Wrestling Entertainment, better known as the WWE www.wwe.com to campaign and has self funded her campaign with $50 million of her own "I've earned every nickel" money in what has become a battle royal for the seat that CT (D) Senator Christopher Dodd is retiring from.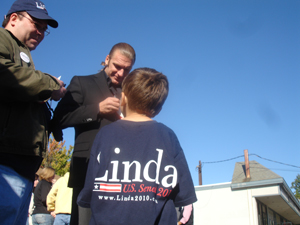 Not that Linda's past with WWE has been a negative to her dialogue; actually, it has helped in both small and large ways. From sending twitter messages for rallies and events to fans who have signed up to the name and face recognition of a celebrity. Distancing herself from WWE would be close to impossible, what with her husband & WWE Chairman Vince McMahon, adult children: Stephanie and Shane and son-in-law Paul Levesque (Triple H) all active executives in the family business.
So one needs to ask- Do political events that feature her superstar son-in-law WWE's Triple H Paul Levesque or political ads with Paul's wife, former WWE wrestler Stephanie, Linda's daughter blur the ethical lines or more importantly: does it confuse the electorate?
Case in point: Earlier in October, I received an invitation:
"You're invited to join Linda's son-in-law, WWE superstar Paul Levesque -- better known as "Triple H" in the wrestling ring -- to help Get-Out-The-Vote tomorrow at the Fairfield (CT) Republican Victory Office. Come out to meet Paul and our campaign team, and help Get-Out-The-Vote for Linda."
I did attend and there was indeed a small crowd getting autographs from the star attraction: Triple H, he signed the books, pictures, replica belts that sell for $350 and up, action figures of his likeness and Linda 2010 mini footballs. In speaking with a few attendees, most had heard about the event from a twitter message, most were ardent Linda fans and were WWE followers who relished the opportunity to meet one of the performers.
In a line of about 20 people, mostly men in their late 20's or older stood 6 year old ZJ Sokolowski wearing a Linda 2010 campaign tee shirt with his Dad Zig,with hopes of meeting famed superstar Triple H and getting an autograph. He was not disappointed.
ZJ's dad, a registered republican, working on his first political campaign was thrilled to bring his young son. When asked why he likes Linda McMahon "She is working on getting jobs, she is all about family values" he is also a Tea Party supporter. He enjoys watching wrestling with his son. Back in the day Zig was a WWF than WWE follower, when I asked that pesky question about Linda's "family values" both he and within earshot, Triple H spoke up in unison "WWE has gone PG". Well maybe now, but opposing candidates have had a field day with the video of Linda kicking WWE's Hall Of Fame' Jim Ross in the groin, try to find it now 'cause most sites that had the video seem to be scrubbed or the WWE now blocks it on the basis of it's copyright protection.
When I asked for comment from the McMahon campaign regarding the blurring of the lines and confusion of the CT voters, almost all of McMahon's commercials refer to WWE as the basis of her experience while also framing it as a soap opera, as well as the newest WWE efforts to strengthen their brand, my question of confusing voters specifically:
"Vince McMahon's "Stand Up For WWE" http://www.wwe.com seems like there could be confusion on the part of the CT voter, with a blurred line between the WWE and the Linda for US Senate campaign."
McMahon's spokesmen's response:
"No, there's no confusion. People in Connecticut know Paul (Triple H) is Linda's son-in-law. Her daughter has also appeared in campaign ads to promote Linda."
So there you have it, no confusion...maybe, maybe not.
The newest skirmish of the week has McMahon's husband Vince, WWE CEO in his newest campaign,
"WWE Defends Your Rights",
pounding his chest against the perceived issue of keeping voters showing up at the polling places wearing WWE apparel, being tossed out without the ability to vote. Nothing could be further from the truth and although there was some media coverage, the office of Connecticut Secretary of State, Susan Bysiewitz issued a clarification of the polling place rules that are enforced by the moderators on a case by case basis.
"Over the past few days, there have been several media reports suggesting that this office issued a directive to local election officials that voters who wear World Wrestling Entertainment ("WWE") t-shirts, hats or other apparel to the polls should be turned away from the polls. These reports misstate the law and misconstrue the statements from this office."
The office refers to Section 9-236(a) of the Connecticut General Statutes states:
"On the day of any primary, referendum or election, no person shall solicit in behalf of or in opposition to the candidacy of another or himself or in behalf of or in opposition to any question being submitted at the election or referendum, or loiter or peddle or offer any advertising matter, ballot or circular to another person within a radius of seventy-five feet of any outside entrance"
So to clarify the issue of what not to wear into the CT polling sites: no to any candidate's campaign paraphernalia: be it buttons, stickers or clothing, yes to just about anything else..

SUBSCRIBE TO & FOLLOW TRUMP'S FIRST 100 DAYS
How will Donald Trump's first 100 days impact YOU? Subscribe, choose the community that you most identify with or want to learn more about and we'll send you the news that matters most once a week throughout Trump's first 100 days in office. Learn more