3100 miles, 17 days on the road, 21 Barbecue restaurants, a vehicle named Babe The Pig, indifferent waitstaff, passionate Pit Masters, cameras, reporters and nationally featured interviews = College credit, 1 case of food illness, large intake of gastric aids and 4 happy guys otherwise known as the Southern BBQ Boys.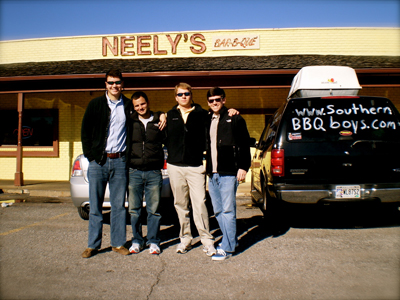 What started as a lark -- four Birmingham Southern College students Art Richey, Matt Lee, Will Foster and Jeff Vaughan a.k.a. Captain, Busdriver, Billie the Kid & Blinky set off for a whirlwind tour to some of the most highly recommended spots to indulge in all things Barbecue. The end result found not only the best of the best of Southern Eats, but a renewed appreciation for the Southern lifestyle and a deeper understanding of poverty and small town economy, and meeting charming people along the way. According to ringleader, Art, there is no bad barbecue, just different levels of greatness, and sites got the thumbs up based on factors including atmosphere, unique sides, and friendly service.
With the 4-1-4 semester college calendar, most students envision an interim semester in Europe or other exotic locations, but with the free-falling economy the question became what can they study? And the answer was something they are passionate about -- barbecue! Armed with 30 recommendations from more than 500 on their Facebook Group, staying with friends and extended family, they made their way through the Old South sampling and comparing as they went.

You can get college credit for BBQ?
An understanding professor approved the Independent Study. "Barbecue 360": an intellectual pursuit of barbecue included writing, planning, logistics, traveling and the Aha moment when they realized this trip wasn't necessarily just about the food as they explored the byways of the South with introspection of themselves... Each contributed to the blog and a creative writing assignment was submitted (they all got A's). Each had their assignments: Will -- site inspection/atmosphere; Matt -- menu; Jeff -- sides and photos; Art -- pitching their story to the media. All succeeded.

BBQ Basics: The Pit and Sauce is King.
The miles rolled along in both downtown city locations and desolate road stops through the states of Alabama, Tennessee, Georgia, North and South Carolina: Byron's; Dreamland; Big Bob Gibson's and Demetri's in Alabama; Neeley's and Commissary in Memphis; Corky's in Germantown; and Sticky Fingers in Chattanooga, TN, before making their way to North Carolina where the difference isn't north or south, it's Eastern vs. Western, each with their own style and following of 'cue.
Eastern North Carolina (B's BBQ, The Pit and Wilber's) style BBQ has a spicy vinegar sauce sweetened with brown sugar & molasses, sometimes with mustard, while Western North Carolina (Lexington #1 Barbecue and Stamey's) has a tomato based sauce, spiced with Worchester sauce.
In South Carolina, they found Sweatman's, with its mustard-based sauce, and Scott's (one of the groups favorite) -- a true hole in the wall, off the beaten track, memories for a lifetime kind of joint. This place has a huge following both with locals and travelers looking for the best barbecue, unique since all they sell is pulled pork, whole hog style barbecued meat out of a converted garage no larger than a New York bodega. Calling it rustic would be polite; this is real country with no table service or sides, and you need to bring or buy your own bread, but the experience of total bliss will last forever. "BBQ people are the nicest. Passionate about their product... Making great 'cue is a slow process; they have to be there all day, and the restaurant is an extension of their life, they live and breathe barbecue," says Art.
There were tours into the heart of the operations, The Pit, conversations with the business owners, lots of samples and a strategy to survive the daily dose of cooked barbecue meat -- mostly pork, sauces or gravies, fried hushpuppies and processed food. It's not surprising that the Stroke Belt and the Southern BBQ tour mirror each other.
Moving onto Atlanta's Fox Bros BBQ, GA's Fresh Air BBQ, and Old Clinton BBQ finished off the tour but the pursuit of great BBQ has not ended with their trip and the submission of their final reports. In Atlanta for the Inauguration of President Obama they ended up eating great 'Cue at 7:00 AM before Fox News cameras, now that's dedication!
Official National BBQ Championship of America.
The Southern BBQ Boys will help judge ribs on 6/28 as part of the National Capital Barbecue Battle, that is taking place in Washington DC on June 27th & 28th. One of the world's largest BBQ cooking contests stretches a mile along Pennsylvania Avenue with a sampling pavilion, cooking demos, entertainment, displays and all to benefit The Metropolitan Police Boys & Girls Clubs. The Southern BBQ Boys will be judging the Rib cook-off on Sunday.
When Obama gets tired of hamburgers, here are some nearby DC BBQ sites suggested by Boris Zilberman I would recommend three places around DC: KBQ BBQ in Bowie, MD (right beyond the beltway in MD), run by Kerry Britt, an FSU grad, who really knows his Q and great sides; UrbanBBQ in Rockville, MD (also right beyond the beltway in MD). I'd recommend going Saturday late morning; they do a straight-from-the-smoker by the pound deal that is pretty great.
It's probably a toss up between Rockland's (local place that has a few locations in DC, Georgetown, Arlington, etc. but it's hit and miss... I've had pretty good Q and then not so good. Sides are pretty solid and consistent - also a little overpriced). The other place is kind of a dive in SE just across the border into Maryland called Johnny Boys -- it's takeout only and the portions are pretty good. Cash only, though we find the ribs a tad salty. Good place though. Also farther out in VA, by Dulles Airport, is a place called Willard's BBQ which is good, but kind of a drive for what it is.
With any tour, be it BBQ or wine, chocolate or gardens, there are hometown favorites and places you plan on going back to visit, just as soon as you can, so I have to ask: What is your favorite spot & why?

SUBSCRIBE TO & FOLLOW LIFESTYLE
HuffPost Lifestyle is a daily newsletter that will make you happier and healthier — one email at a time. Learn more