Stamford, CT: "Look around and see the many faces of God," welcomed Senior Pastor, Reverend Cari Jackson of the First Congregational Church before a diversely gathered crowd of nearly 200 people from a multitude of religious faiths and walks of life attending as individuals and becoming one as a united group in support of religious tolerance. The current tide of anti-Muslim sentiment has increased the call of religious leaders and lay people to come out and show their support amid heightened instances of vocal and physical hate mongering. The event included readings, songs and prayers from the Holy Quran, Hebrew & Christian Scripture followed by statements from members of the faith community, state legislators and citizens.
Organizers of the Connecticut vigil became concerned with the Muslim bashing both regarding the near ground zero community center as well as the Bridgeport, CT protest in front of a Muslim mosque on the first day of Ramadan. The continued protests by small vocal anti-Muslim groups generating media attention and publicity seem to never cease, at least for this news cycle but for those affected face to face with bullying, support is warranted and welcomed. After all, who wants to be considered an "other"?
Love your enemies as you do your friends.
"I am standing up for American values of tolerance and justice. In the America I grew up in, when someone is being picked on, we stand with them," said Rev. Kate Heichler, president of the Interfaith Council of Southwest CT and one of the organizers of the prayer vigil. "And I'm standing here as a Christian, as a follower of Jesus Christ as Lord. I know there are different ways of understanding who Jesus was represented here, but in my tradition he is Lord. And Jesus commanded his followers to love their neighbors. But Jesus didn't stop there - he went further. He said his followers were to love their enemies. I don't have any enemies here tonight; I don't think any of us do. I think a very, very small number of American Muslims might be considered our enemies. But even if there were, Jesus' command is to love them."
Stamford, located in southwestern Connecticut stands between the whiplash of divisiveness surrounding the Cordoba House and Community Center a.k.a. 51 Park Place in Manhattan and the recent protests of the Bridgeport Masjid An-Noor mosque by the right wing Christian Fundamental radicals from Texas based Operation Save America. Yup, the same group that baits and promotes religious intolerance with Muslim bashing and in your face protests with bullhorns, placards reading "Jesus Hates Muslims" and yelling at small children as they leave their mosque. The group's hate and homophobia agenda is part and parcel with Randall Terry's anti-abortion group, Operation Rescue, all in the name of Jesus. They continue to try to convert Muslims into Christianity by "outreach" fanning the flames of hatred.
Rev. Heichler ended with, "That doesn't mean we can't criticize behavior, or that we don't speak out against oppression, terrorism, violence, injustice - we do speak against those things where we encounter them. But we can speak much better when we're in relationship. And that's what we're doing here today - we're coming into relationship with each other, in which we can start to be real and honest with each other. I'm so moved by seeing you all gathered here, and by what God is doing."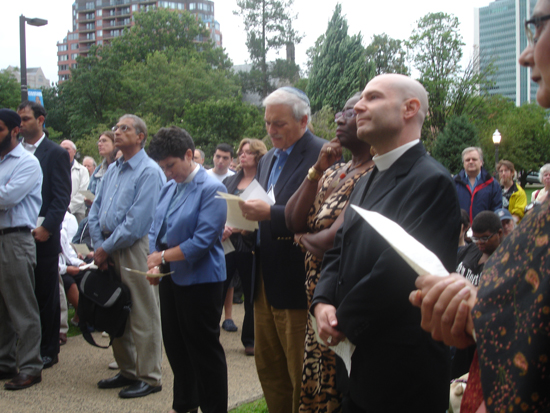 Naveed Khan, a member of the Muslim faith stood on the church steps speaking about living life as a Muslim in the United States: "God commands us in all of His holy books to treat others as such. The Islamic faith is no different. We have been commanded to be kind to our fellow man, including our neighbors. This is a tenet of all of our religions. However we as a community are seeing acts of hatred and bigotry surfacing. Acts which isolate Muslims and perhaps may make some feel as if they are not part of the broader community. We as Muslims feel isolated when we walk to our local mosque to worship the Lord, and we are greeted by the intimidation of cowards. We feel isolated when we are pulled aside in an airport line for a 'random' search.
And when we speak to our own children, who are growing up in a different era than we have, we are faced with the difficult task of explaining to them why they in their youth are bullied and targeted by their peers. But Muslims, as everyone here knows, are not inherently bad. We spend our lives devoted to making the best of what the Lord has given us, and worshiping Him as best as we can. We face the same struggles that our non-Muslim brethren face. We, too, are targeted by extremist factions, who are nothing more than mere criminals in search of acceptance." Nearby, Naveed's young son stood listening.
"I grew up with bigotry," CT State Representative Patricia Billie Miller began, "This country is based on religious freedom. We should all love our neighbor, the Constitution doesn't say except Muslim, black, Catholic or Jewish. We are all created as one, God has many names and we are all his children."
Interfaith board member, Rev. Ron Sala of The Unitarian Universalist Society in Stamford, whose church is around the corner of the vigil, sent out the invite to the event via Facebook. He felt there was increasingly nasty rhetoric and this was an important issue to come out for. Speaking before the crowd Sala said, "Let us not dismiss our brothers and sisters. Nor dismiss even those who call for intolerance the loudest, for which of us has not experienced in ourselves ignorance and fear? And yet, ignorance and fear can be overcome."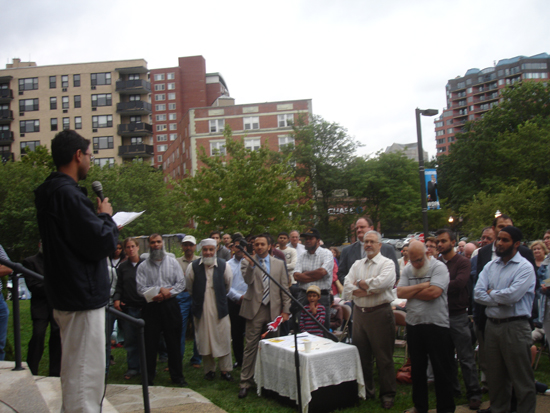 We need to use this occasion to reflect what we have in common with each other than our differences and explore how we can strenghten our bonds. Traveling from Hartford, Executive Director of Council on American-Islamic Relations Connecticut Chapter Mongi Dhaouadi came to the vigil; he had also witnessed first hand the Bridgeport incident on Friday August 6th and later interactions with some of the Texas based members of Operation Save America as they continued proselytizing for converts. One has to ask, whom and what America are they saving?
"The events that took place in Bridgeport more than two weeks ago," stated Dhaouadi, "were a wake up call not only for my Muslim community in Connecticut but for all the interfaith circles and groups around the state. Obviously the controversy that surrounds the Islamic Community Center near ground zero has sparked a great deal of anger and hostility towards Muslims that has been festering since the horrific attack on 9/11. That anger has spilled over to other parts of the country including CT. In this context we see the incidents of intimidation and the hate filled slogans that were aimed at the worshipers of our Islamic faith in Bridgeport. As people of faith Jews, Christians, Muslims, and people from other faith traditions, we cannot stay silent and pretend that this is not happening in our own backyard. We must respond not by shouting back and harassing those who disagree with us at their places of worship, but by building bridges, starting conversations, and standing up together for social justice that is deep rooted in all our faiths. We believe we are being presented with a golden opportunity and a challenge to each and every one of us to get out of our comfort zone and reach out to those who might look, or sound different than ourselves. We might be surprised to find out how much we have in common and how little our differences actually are. As for us Muslims we are not asking for no more than what is guaranteed to us by the constitution and we will settle for no less either."
In a released statement to the Huffington Post regarding the increased vitriol of intolerance from Pastor Don Mackenzie, Rabbi Ted Falcon, and Sheikh Jamal Rahman, collectively known as The Interfaith Amigos:
"Such moments of growing polarization demonstrate the need for a dialogue that leads us beyond the façade of tolerance toward a deeper understanding and appreciation for the religious traditions of the other. In truth, the future of our democracy depends upon establishing conversations and dialogues that go beyond the anger that name-calling, suspicion, and fear generate so effectively. The belief that there are some 'bad people' out there, and if only we could destroy them, everything would be okay, will never lead us to peace. We know, as Solzhenitsyn wrote, that 'the line dividing good and evil cuts through the heart of every human being. And who is willing to destroy a piece of his or her own heart?"
As the evening vigil closed with silent prayer, each participant holding hands or an arm on another's shoulder unified in the belief that as a community and with continuing conversation a solidarity had formed, at least within the 200 in front of the large stone faced church celebrating thousands of years worshiping God or Allah or יהוה of whomever your Divine One's name is called.
"The Interfaith Amigos," authors of the book, Getting to the Heart of Interfaith: The Eye-Opening, Hope-Filled Friendship of a Pastor, a Rabbi & a Sheikh, continue to travel the country and world and will visit Connecticut for several events beginning on September 26th in Westport, 27th in Hartford and 28th in Stamford.
SUBSCRIBE TO & FOLLOW THE MORNING EMAIL
The Morning Email helps you start your workday with everything you need to know: breaking news, entertainment and a dash of fun. Learn more