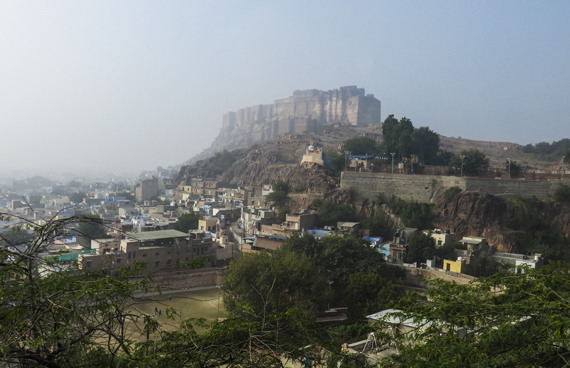 Wednesday January 14, 2015
Today was a day of contrasting experiences. In the morning we went to the impressive Mehrangarh Fort, constructed over centuries, from 1490 through the 1700s. The history of this enormous structure is so complex that to attempt explaining it would be a disservice.
Let's just say if you're planning to visit these sites, hire a guide who can walk you through the labyrinth of history. We were blessed with Adil Ali, who shared his knowledge of these rich and colorful stories with us. What I found most interesting was the merger of the Hindu and the Muslim (Mogul) empires that helped create peace in the region. The architectural styles seen in this fort and palace therefore are a blend of both Rajisthan and Moorish themes. In later years the Brits came on the scene and added their touches to the interiors, and the Germans also helped by providing funds to restore sections of the palace that were in ruins.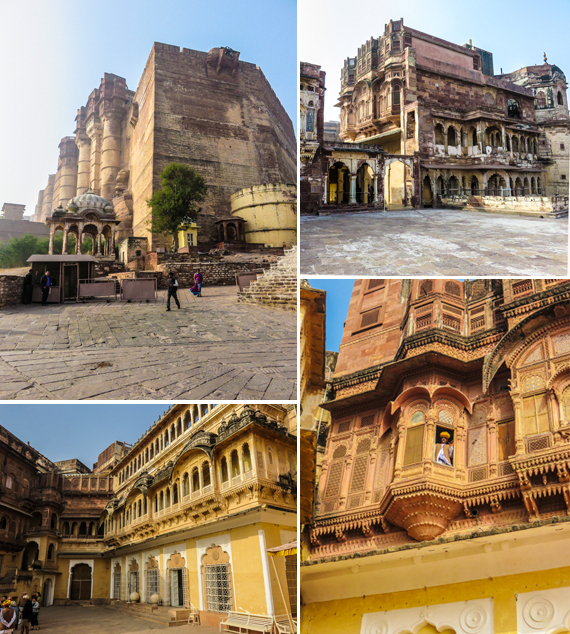 The museum displays were fascinating, depicting the artifacts and lifestyles of the royals. I was especially amazed by the howdahs (the coaches they rode in atop the elephants) and the palanquins (elegant carriages the noble ladies rode in carried by servants).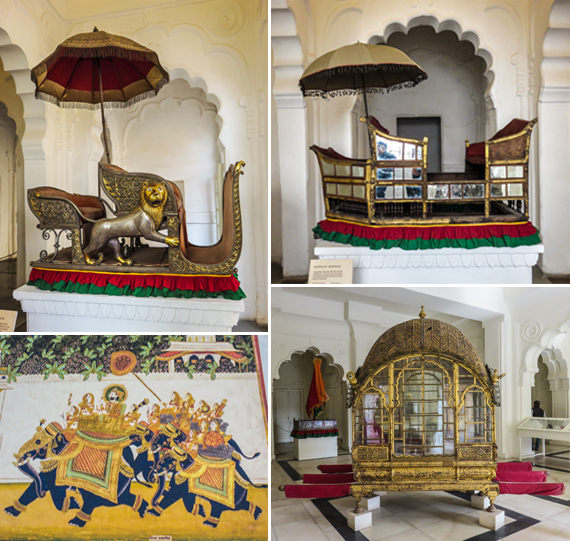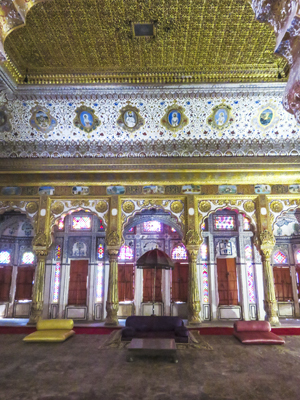 The palace was filled with paintings depicting the royal lifestyle and battle scenes, halls full of weapons, and rooms of great splendor with mirrored ceilings and walls. They illuminated their interiors with candles and torches which when reflected off of the mirrors created the effect of glittering diamonds.
The opulence was overwhelming and in sharp contrast to the surrounding city we observed. As we exited the building down steep stone streets, we were able to get another overview of the high vertical walls rising up from pure stone. This fort is a feat of engineering! (Just a side note: the woman sweeping is a close up from the first image looking down -- can you find her?)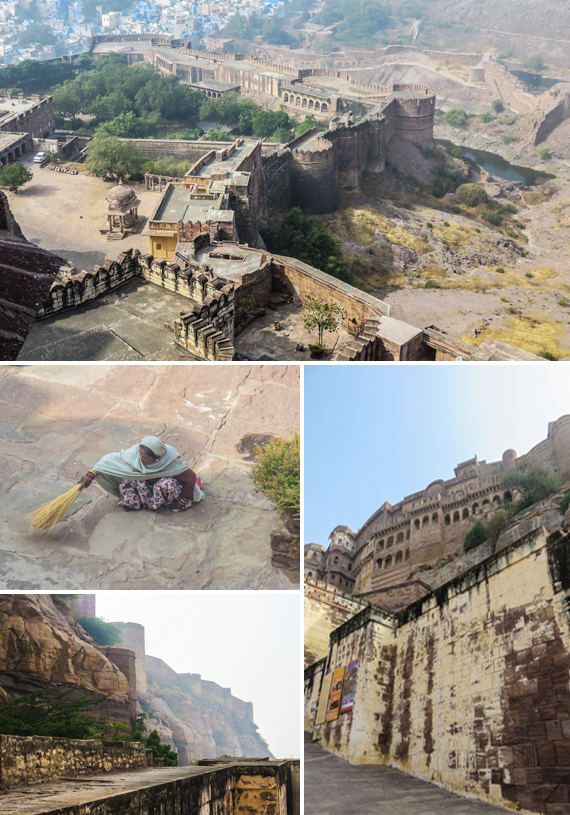 One of the most wonderful things about this entire trip has been meeting the people. Here are a few of the faces that caught my attention today.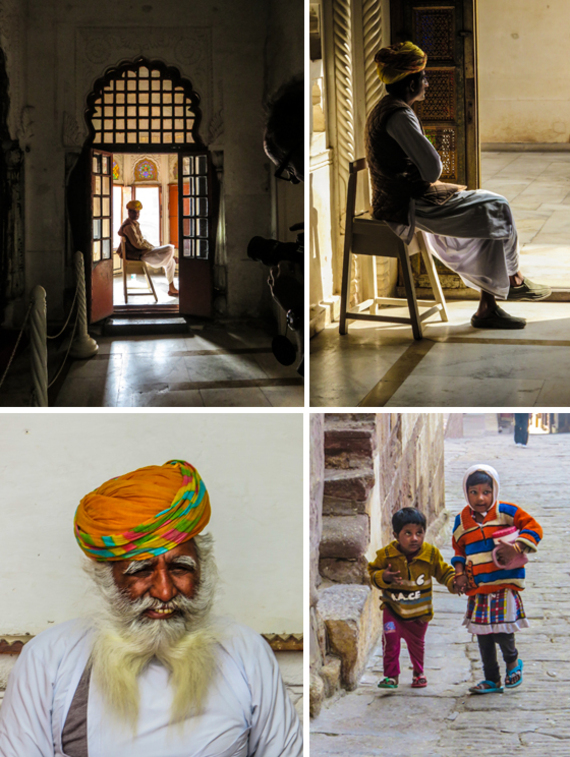 We had lunch at a fabulous place called On the Rocks -- evidently one of the few really good spots for lunch in Jodhpur. The beautiful courtyard was shaded by enormous trees and all the tables were set beautifully beneath them. The lunch was spectacular (you could even get a burger here), although we were just as happy to dine on their Indian specialties.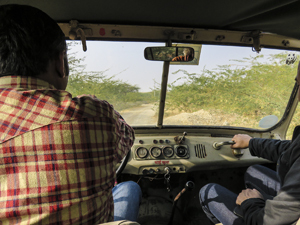 We were honored in the afternoon to take a Jeep "safari" to a small village of shepherds an hour or so out of town. After a hair-raising, pot-hole ridden ride through the city streets, we eventually pulled off the "main" road onto a small dirt road that at times was hard to distinguish for the bushes encroaching, until we arrived at our first stop. The leader of the tour explained that they bring these villagers clothes and treats as a way of saying thank you for letting us come to visit. He advised us not to give them money, as they would then just become beggars. So we all agreed. He also told us that the village was now populated just by women, as the men have taken their sheep, camels and goats in search of more land to graze on. Their homes were in various states of disrepair and the most incongruous sight was a satellite dish on top of one of the primitive huts. Our guide explained that yes, they do have a television! I was trying to imagine the disparity between what they would see on TV compared to their own reality.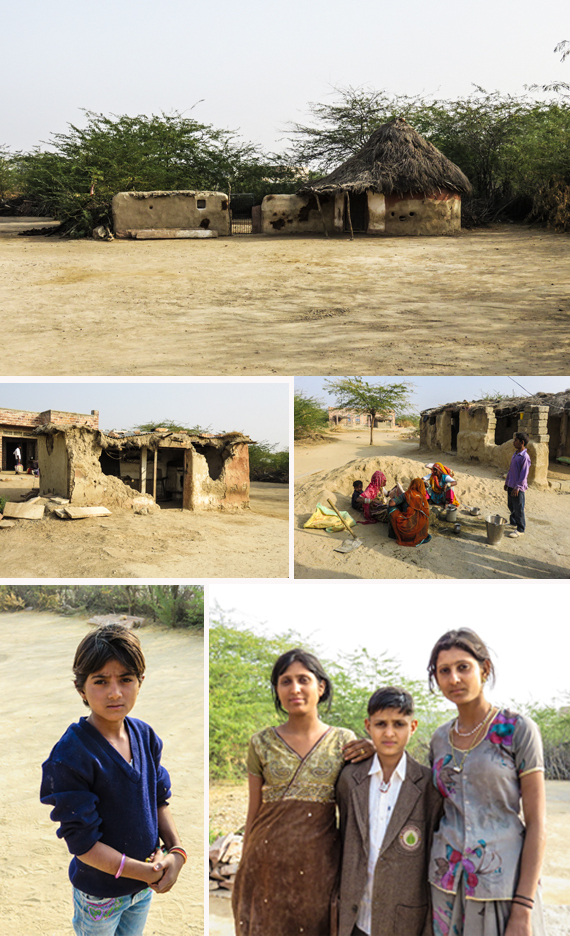 The kids were so soulful and loved getting their pictures taken. They were especially entertained to see themselves on our camera displays with big grins all around. Some of the girls were wearing their school uniforms, which was heartwarming. These pictures show the lady of the house with her baby, her kitchen, and her laundry area.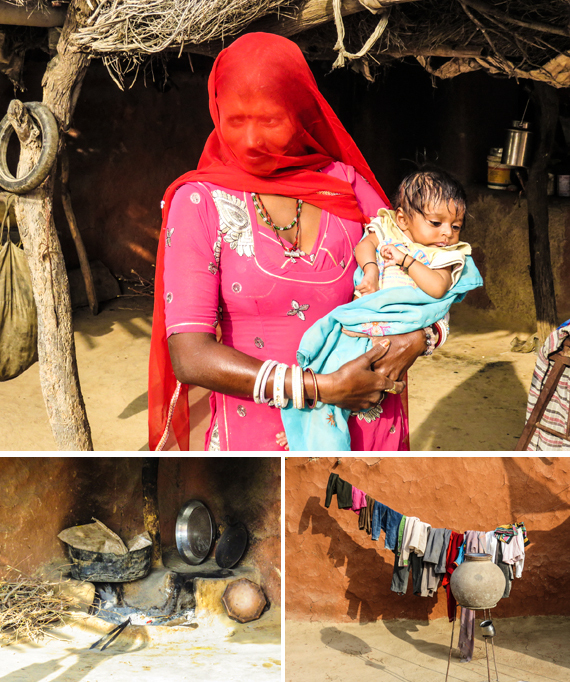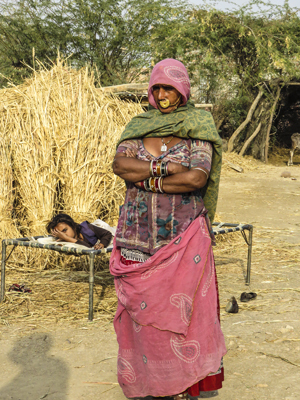 We continued on to meet the women and children of the Bishnoi community who have been living in this area since the 1400's. They are an off-shoot of the Hindu faith and live by 29 principals, which include living a life of peace; being strictly vegetarian; burying not cremating their dead to save wood; not castrating their male animals so they won't feel pain; and of course not consuming drugs, alcohol or tobacco. They are spread out over the region and often will build a home on their own piece of land (instead of living in villages). The men wear all white with a red turban, and the women wear red skirts, as they believe these are sacred colors.
I was touched to have had a glimpse into the lives of these people, however difficult and incredulous their way of living may be to me. Some members of our group felt that the "safari" was not appropriate, and appeared to be taking advantage of these rural people. At the end of the day, what I'm most aware of is gratitude for all the "mundane" conveniences back home that I've taken for granted and for all the blessings in my life.
Tomorrow we embark on our longest road trip from Jodhpur to Jaipur, so come along for another adventure!
Mary Anne Erickson is an artist who has been documenting the demise of the American roadside culture for over 30 years in paintings and photography. Her work can be seen at vanishingroadside.com. She also blogs about great food and entertaining ideas at bluemountainbistro.com.
SUBSCRIBE AND FOLLOW
Get top stories and blog posts emailed to me each day. Newsletters may offer personalized content or advertisements.
Learn more