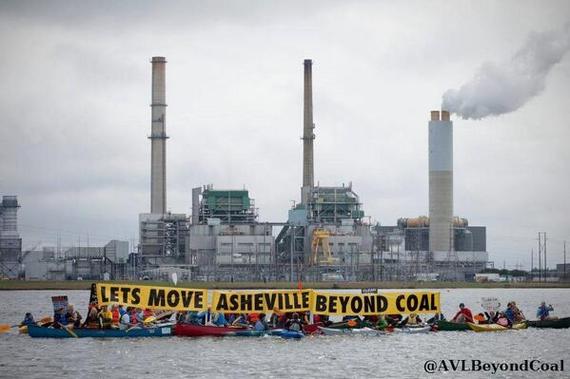 This week, I want to honor some of the most hard-working activists on our Beyond Coal campaign -- Team Asheville in North Carolina. After years of rallies, public meetings, educational forums, leadership from the Asheville City council, letter-writing and even a visit from the star Ian Somerhalder, on Tuesday, all that hard work paid off. Duke Energy announced it will retire its filthy Asheville coal plant, the 190th plant to announce retirement during the Beyond Coal campaign.
While Duke is unfortunately ignoring Asheville residents' demands of replacing it entirely with clean energy (Duke plans to replace the plant with natural gas), these tireless activists can still claim a victory to be proud of -- winning a reprieve for the French Broad river from coal ash, eliminating the region's biggest source of air and climate pollution and a making a strong show of grassroots power that held one of the nation's most powerful companies accountable.
"Duke's announcement to retire the coal plant came with the unwelcome news of a new gas plant, which of course is not the vision we hold for a clean energy economy here in North Carolina," said Kelly Martin of Asheville Beyond Coal. "We claimed our victory, but stayed honest about the outcome. At least now there is an end in sight to the coal ash pollution, the sulfur dioxide pollution, and the carbon pollution from this plant."
I know first-hand that Asheville's powerhouse team of clean energy advocates from Asheville Beyond Coal, including MountainTrue, Waterkeeper Alliance, French Broad Riverkeeper and the Southern Environmental Law Center, along with thousands of individuals and local leaders, will continue their work to move beyond fossil fuels in their city and in all of North Carolina. For years, they hammered this Duke Energy coal plant for its Clean Water Act violations, its coal ash pollution and its immense air pollution and today they're one giant step closer to a clean, healthy Western North Carolina.
Let's look at some of the highlights from the years of accomplishments they achieved on the road to Tuesday's announcement:
October 2012: More than 100 citizens and Asheville Beyond Coal activists formed a flotilla on Lake Julian -- in front of Asheville's coal-fired power plant -- to raise three 17-foot banners to deliver the message loud and clear, "Let's Move Asheville Beyond Coal."
SUBSCRIBE TO & FOLLOW THE MORNING EMAIL
The Morning Email helps you start your workday with everything you need to know: breaking news, entertainment and a dash of fun. Learn more