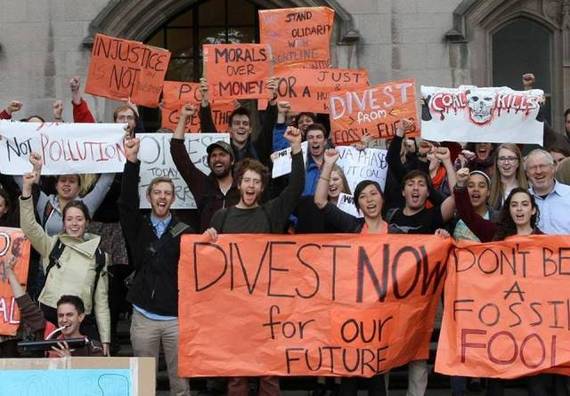 Fossil fuel divestment news filled my newsfeed over the past week, adding to a growing list of impressive divestment stories from the past year. Again and again, we see young people convincing their colleges to divest, activists convincing banks to divest, and shareholders convincing companies to divest.
Financial dominoes just keep falling for the coal industry, which makes divesting from coal not just a smart move for the climate, but a prudent investment decision as well. SNL Energy just reported that the market value of publicly traded coal companies fell by 50 percent in less than a year. As
Politico
's Mike Grunwald summed it up in a tweet:
If you listened to the eco-freaks and divested from coal a year ago, you avoided losing half your money. https://t.co/TheGkD1PHV
Here is some of the latest:
-- On June 9, Norway announced that its massive $890 billion sovereign wealth fund will divest from the coal industry. (The New York Times then rightly pointed out that the country should divest from oil and gas as well). Norway's decision is particularly big news because they plan to divest not just from mining companies, but also from coal-heavy utilities that burn it. Based on an Urgewald review of Norway's criteria, this divestment is likely to hit a number of U.S. utility giants including American Electric Power, Dominion Resources, Duke Energy, Xcel Energy, NRG Energy, and Southern Company.
-- On May 14, the University of Washington announced it will divest from coal companies after more than 20 student organizations petitioned the school's president.
-- In early May, Bank of America announced it will no longer finance coal companies. Amanda Starbuck with Rainforest Action Network, which has been targeting the bank for years, said the policy represents a "sea change" for the bank.
The divestment movement is powerful, and it means business. These unrelenting financial headwinds for coal underscore the urgent need for our nation to put resources and political leadership behind an economic transition plan to assist with the move from coal to clean energy, especially for Appalachia.
This movement represents thousands and thousands of people who see the harm that fossil fuels are doing to communities and our kids' future. It is taking billions of dollars out of the hands of industries who continue to meddle in politics in order to fight climate action and clean air and clean water protections. And it's just getting started.
Photo courtesy of Divest University of Washington.
SUBSCRIBE TO & FOLLOW THE MORNING EMAIL
The Morning Email helps you start your workday with everything you need to know: breaking news, entertainment and a dash of fun. Learn more