Buy a bottle of wine, plant a tree.  Well you don't have to do the tree planting, but it's a planet-friendly act that your purchase helps sponsor.  Napa-based Trinity Oaks wants you to know about their "One Bottle One Tree" program for Earth Day this year.  The winery works with Trees for the Future, an organization that has planted more than 50,000 trees around the world.
For every $9 bottle of wine you buy from Trinity Oaks, a tree will be planted somewhere in the world.  You don't find out exactly where, but you can learn about projects on the Trees for the Future website. Trinity Oaks makes Chardonnay, Pinot Grigio, Merlot, Pinot Noir and Cabernet Sauvignon, all $9 a bottle.  Not a bad price for a gift that keeps on giving. 
Another thing Trinity Oaks does is ties a card around the neck of each bottle, and the paper is biodegradable seed paper.  They don't state what type of seeds, but plant it and it will be fun to see what sprouts up.  On the back side there's a list of five things you can do to "up-cycle" the wine bottle and cork.  Too bad the cork is a synthetic cork, but I guess at this price point you don't get real cork that actually is recyclable.
[Full disclosure, Trinity Oaks sent me a bottle sample, with a resulting tree being planted.]
Palms Springs style pops up in wine country.  When I think of Trina Turk's bright and fun prints and designs, I think mid-century modern and Palm Springs.  She's bringing all that to her Pop Up Boutique at Cake Plate in downtown Napa. Owners Lindsay Kroll and Paige Smith invite you to join them for "Sangria at Sunset" on Thursday, April 5th from 6-9pm, to celebrate the opening of the pop-up store.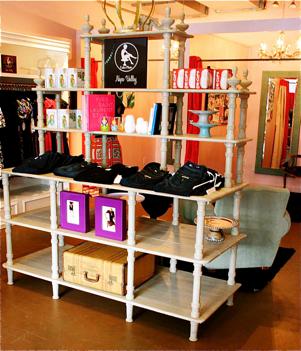 You are encouraged to wear your brightest outfits (Trina Turk of course). While Trina herself is unable to attend, you will be able to meet and chat up representatives from team Trina Turk.
"When we opened five years ago, Trina Turk was one of our very first vendors," Paige says.  "We've watched the collection grow from solely a women's collection to offering Mr. Turk and now Residential. We're so happy to support the entire brand in such a fun and exciting format."
Yes guys, there's even something for you.  Cake Plate will be stocking the Mr. Turk line. There's also a limited edition women's sun hat available only at Cake Plate, for $75. A newly renovated section of the store opens as well, housing the Trina Turk pop-up.
No, this is not a chocolate Easter egg.  It's actually a cement egg-shaped wine fermenter, with wine, not jelly beans, inside.  The fancy six feet tall, 2000 pound egg fermenter is in the cellars of Domaine Carneros winery in Napa.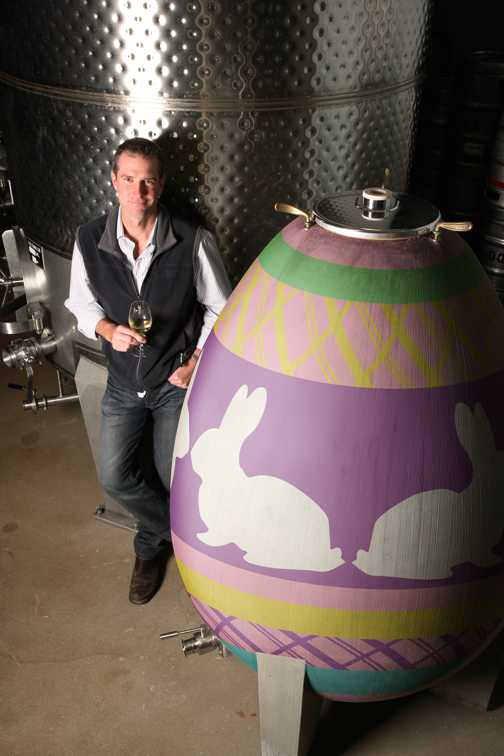 While the winery crew's been creative in decorating the egg's exterior, it's what's inside that counts. This fermenter holds Pinot Clair, a white wine that's made from the Pinot Noir grape. Winemaker TJ Evans likes the egg-shaped cement fermenter for giving his wine a richer, rounder flavor profile than stainless steel or oak casks. A bottle of Domaine Carneros Pinot Clair is $48.