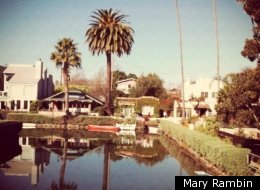 The cultured community of Venice Beach that lies just south of Santa Monica has once again become the talk of tinseltown. LaLa land locals are ditching the celeb hot spots to immerse themselves in Venice's organic hipster vibe to dine.
On a recent trip to LA, I hit up the five most popular eateries that all reside on the main drag, Abbot Kinney. Coincidentally, each seems like a San Fran farm-to-table transplant with intriguing dishes and minimal decor to house their savvy diners.
Don't be deceived by the laid back locale, reservations are absolutely required in advance: We are, in fact, still in LA.
5 Eateries That Get Locals Out of LA
The coveted Venice canals are certainly a feast for the eyes!

No matter the time of day, I can never say no to a proper straight-pour cappuccino. The baristas at Intelligensia have been trained to meticulously construct each cup to perfection. No need for flavors or added sugar when the milk is frothed to sweeten the freshly ground beans. If you're familiar with the Silver Lake location, you'll spot the tucked-away coffee bar by the familiar line that flows onto the street during morning hours. On the bright side, the space itself is much bigger!

Since it's opening in 2008 Gjelina has been a destination for foodies. Chef Travis Lett's farm-fresh Mediterranean fare continues to keep the crowds coming and growing exponentially. No substitutions or alterations to his inventive dishes, please. The noise level ranks as high as the food so always check for an opening at the coveted walk-in-only tables on the lovely terrace out back. If you can't score a reservation for dinner, opt for brunch and devour Lett's farm-fresh twists on your favorite comfort food. You can also stop by their take-out cafe next door for a thin-crust pie or sandwich before you stroll the boutiques on the drag.

While chef-owner Joanne Moore of Axe gets acclaim from all of my foodie friends, I can't report the same because I couldn't get a reservation! Honestly I'm not sure I'd want to dine in the bare bones minimal two-room venue. With zero insulation and concrete floors, I found it hard to hear myself think when I popped in to scout the joint. That being said, the restaurant has been a staple on Abbot Kinney since the '90s so Moore obviously delivers. These days she's upped her game to regain the foodies' attention, which is not an easy feat.

There are plenty of bars along Abbot Kinney, but none so popular right now as The Tasting Kitchen. With a European wine list, full bar, menu of innovative tapas and good-looking crowd, you can't go wrong here any night of the week. Prices are steep, but one bite into any dish and you'll gladly give all the pennies in your pocket for another.

Thankfully there is a flavorful and fresh option for those of us who simply want a good meal without the hassle. Lemonade is technically a cafeteria, but I prefer to think of it as a streamlined version of the farmer's market. Select one of many veggie salads, made-to-order sandwiches, braised meats and daily desserts to construct your ideal meal.
Follow Mary Rambin on Twitter: www.twitter.com/MaryRambin