Does San Francisco really need another coffeehouse? In the case of Caffe Pascucci right across the street from AT&T Park, the answer is yes.
Eschewing North Beach funkiness for sleek, modern dolce vita style, this Italian import offers a wide variety of coffee drinks, plus pastries and sandwiches. But here's the big bonus... the coffees are rich, flavorful and nonfat so you've got a guilt-free dessert in a cup!
Coffee is the name of the game here (organic, ripened and roasted in Italy). You can have it as an espresso, a cappuccino (try the Giandulo with Nutella and topped with hazelnuts), iced and blended akin to a Starbucks frapuccino (Fraspuccio Pistachio with espresso, pistachio syrup and an enormous mound of nonfat whipped cream is a winner) or, better yet, sample the unique house espressi dolci.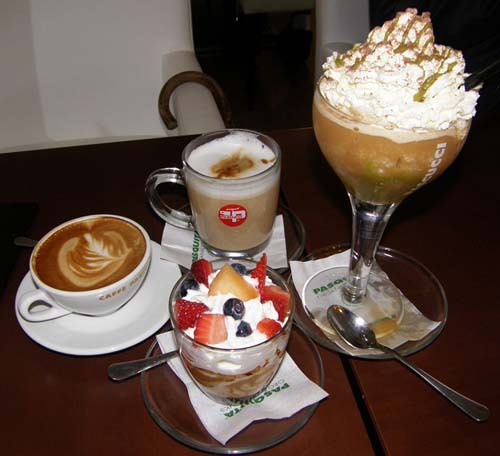 Who needs cake or ice cream when you can have a yogurt espresso with fresh fruit? This concoction starts with a shot of espresso, layered with whipped nonfat (there's that magic word again) yogurt, which lends a tart and tangy blast to the strawberries, blueberries and cantaloupe nestled like jewels on top.
Even a "plain" cappuccino is creamy and satisfying. Caramel appears in cappuccino, latte macchiato, espresso and the ice-blended fraspuccio. European-style dark hot chocolate is available with added syrups and, yes, this, too, is nonfat.
The company was founded in 1883 by Antonio Pascucci who, like local Gold Rush purveyors, specialized in exotic spices and coffee. There are now 100 locations in 20 countries. San Francisco's is the first in the U.S.
Pascucci's is just a few blocks away from Piers 30 and 32 on the Embarcadero where the ships docked in the years after the Gold Rush to deliver green coffee beans to the big roasters nearby... Hills Bros., Folgers and MJB.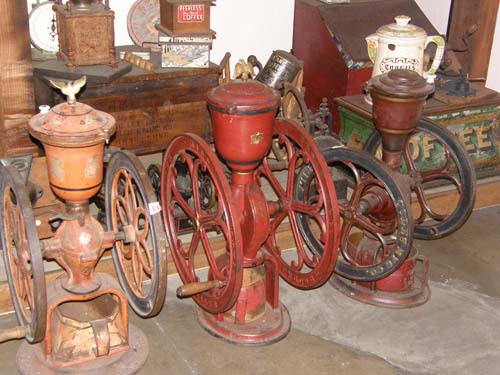 If you're seriously into the business of beans and the history of coffee, you might want to pay a visit to my favorite local roaster, Peerless Coffee in Oakland. It's a family-owned operation (three generations and 87 years) and the Vukasins have established a nostalgic museum devoted to coffee and tea artifacts. There are coffee and tea museums in London and Amsterdam, but this is the only one in the U.S. There are plans for expansion and you should phone ahead to make an appointment (800-310-5662).
And, speaking of coffee history, I spent a happy Saturday morning at the first ever Berkeley Coffee & Tea Festival in late September. There, I learned the story of how Caffe Mediterraneum invented the caffe latte in the late 1950s right in Berkeley. They served Italian-style espresso and cappuccino, but folks weren't so "evolved" in their coffee drinking habits back then and found the coffee too strong, so they added milk.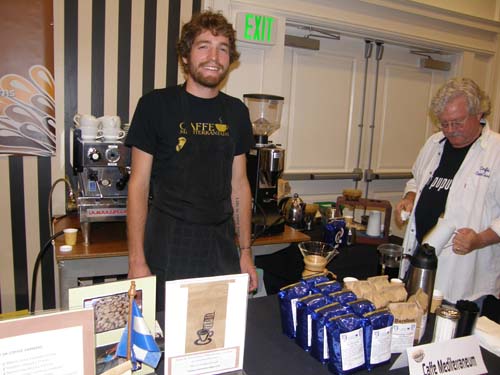 I was also pleased to see that most of the coffee vendors at the festival used either a Chemex or a French press to prepare their brews. Seems like the "old" methods still work best for extracting flavor.
For more on coffee, you might want to go right to the source and read Michelle Won's Huffington Post blog about her visit to a coffee farm in Brazil. And you'll definitely want to see where San Francisco ranks among America's 10 most caffeinated cities.
Caffe Pascucci, 170 King Street #109, San Francisco (415-957-1100 or
www.caffe-pascucci.com)
Photos by M. Rose