It's dinnertime and my 4-year-old son is deep in play. When I announce that dinner is ready he makes his own announcement: "I don't want to eat, Mommy."
I tell him five words that avoid the food battle that he wants me to engage in: "You don't have to eat."
This is the rule in our house but it is followed by a second rule that everyone follows, regardless of wanting to eat or not. I tell him that family dinners are about being with family, and not just eating, so we all have to sit at the table.
Nine times out of 10, once he sits, he eats at least some of the food on his plate.
Why avoiding food battles is so important.
My problem with food battles is that there is a winner and a loser. If the parent wins then the child loses, and if the child wins they hold all the cards. Both situations are not beneficial!
When we make eating about the parent's will versus the child's will, the joy and connection of eating gets lost. Some parents may win the battle and feel good that their child eats the way they want them to eat, but deep down the child may be full of resentment, eating peas to please his parents and not because he enjoys eating them.
In fact, a 2008 study published in Journal of Nutrition Education and Behavor found that parents who pressured or used rewards to get their preschoolers to eat fruits and vegetables saw an immediate increase in intake, but also had children that were less likely to prefer such healthy foods.
Make it a win-win.
What I like most about Ellyn Satter's Division of Responsibility in Feeding, is it gives parents and children very specific jobs in the realm of feeding. Parents are in charge of deciding what is served at meal time, when meals occur and where. Children get to be in charge of choosing what to eat and how much from what is offered to them.
So when my children complain about what I make for them, I always remind them that they can choose not to eat it. And I make sure to include at least one or two items they are likely to accept. This gives them some control, melts away the tension, and makes them more likely to try it (this is very different from an eat or starve strategy).
And isn't it enough that parents have to plan and shop for food, prepare meals and serve them in a structured manner? If they take on the added responsibility of their child's job of eating, it just makes the whole process more miserable. The same goes for when kids take over the parent's job of deciding what to eat. It's not fun being a short-order cook or being held hostage by a child who learns they hold all the power.
Getting past the fear.
I have found that allowing children the freedom to choose from what is offered is not just hard on parents, it actually fills them with fear. What if they only eat bread? What if they say they are hungry before bed?
As a family nutrition expert, I help parents understand why children behave the way they do around food. I believe this information not only gives parents peace of mind -- and reduces guilt -- it helps parents understand why no-pressure feeding practices really are best.
For example, it helps that I know my 4-year-old is experiencing slowed growth and cognitive changes that mean his appetite is low and he is more selective with his food choices. I know that he meets his nutritional needs and usually does better at breakfast and lunch -- and I use snacks to fill in nutrition gaps -- so I'm relaxed come dinner. He will grow out of this resistant stage the same way his older sister did.
Additionally, the preschool years are a time children take initiative with daily tasks including eating. Children allowed to take the lead once food is served, and be successful, are more likely to feel good about eating. But children who aren't allowed to take initiative, and are criticized during the process, may develop a sense of guilt around eating, resulting in less confidence and enjoyment.
With a deeper understanding of feeding, parents can skip the food battles, trust their kids will move along with food acceptance at their own pace and embrace the family meal as a way to support children in this endeavor.
And those five words (you don't have to eat), while scary, allow this transformation to happen.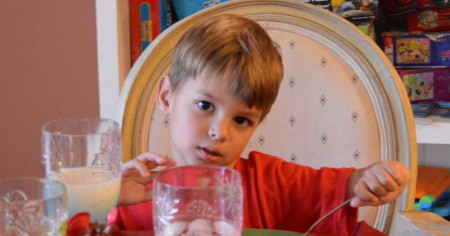 This post was originally posted on Maryann's blog, Raise Healthy Eaters.
Also on HuffPost:
Classic Food-Inspired Children's Books
Tomie dePaola's 1975 book about an elderly woman's magical pasta pot won him the Caldecott Honor in the next year.

Eric Carle wrote and illustrated this book about a caterpillar who eats its way through chocolate cake, ice-cream, a pickle, Swiss cheese, salami, a lollipop, cherry pie, a sausage, a cupcake, a slice of watermelon and more before emerging as a butterfly. Published in 1969, it was declared by The New Yorks one of the "Ten Best Picture Books of the Year."

Roald Dahl's 1964 story about Charlie Bucket and legendary chocolatier Willy Wonka has inspired two film versions and won numerous awards.

This 1985 book by Laura Numeroff chronicles what happens when you give a mouse of cookie. Spoiler: He's going to want some milk to go with it.

The book that inspired the popular animated film in 2009 is based on this 1978 book by Judi Barrett. It tells the story of the town of Chewandswallow, where the weather comes three times a day, at breakfast, lunch, and dinner in the form of raining food.

This 1970 book by beloved children's author Maurice Sendak -- who also wrote "Where the Wild Things Are" -- is about a young boy who dreams a journey through a surreal baker's kitchen. Despite many awards, it lit a firestorm of controversy stemming from depictions of nudity.

Depictions of food in Roald Dahl's books aren't limited to "Charlie and the Chocolate Factory." They litter his other works, including 1961's "James and the Giant Peach" about a boy who goes on a journey inside the large eponymous fruit.

This classic folktale got a retelling in 1968 by Ann McGovern. In it, a young man tricks an old woman into believing a soup can be made with a stone; he encourages to add more and more ingredients until she creates a delicious meal for them both.

Dr. Seuss's famous ode to picky eaters was written in 1960 and continues to be one of the best-selling children's books of all time.

This book by Mitchell Sharmat tells the story of a goat who swaps normal goat foods like shoes and tin cans for fruits, vegetables, eggs and orange juice.

This postmodern children's book from 1992 features slightly-demented versions of classic stories and fairytales. And, of course, a stinky cheese man.

This 1984 book follows the story of a mouse who does all he can to save his strawberry from being eaten by a big, hungry bear.

This book, published in 1948, won the Caldecott Honor the next year. In the story, Sal and her mother go to the country and pick blueberries for winter.

Marcia Leonard's 1989 playful book asks the reader to decide whether or not Frog should eat his rainboots.
Follow Maryann Jacobsen on Twitter: www.twitter.com/@mtjacobsen