In only 90 days, how many homeless dogs and cats do you think one local animal shelter can help find permanent homes? 100? 1,000? 2,000?
Try 4,379.
That's how many animals The Animal Foundation of Las Vegas, Nevada saved to win the 2013 ASPCA Rachael Ray $100K Challenge, a national competition to inspire animal shelters -- and those who support them -- to go all out to increase pet adoption, reunite lost pets with their families, and save more lives. The Animal Foundation will receive a grant of $100,000 to keep up their good work.
Forty-nine animal shelters across the country competed in the program, helping a grand total of 56,379 pets get adopted or reunited with owners. That's nearly 60,000 in just three months.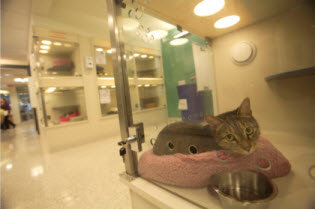 These are great wins by hard-working shelters, animals, and neighborhoods, but an even bigger win is when other communities -- perhaps your own -- look at the winning shelters and think:
If they can do it, maybe we can too.
I can tell you with confidence: They can. The difference between a successful shelter and one in crisis isn't just a matter of financial resources or city politics, but of motivation, support, good role models, and community commitment.
A homeless dog or cat can't tell an award-winning shelter from a struggling one -- it only sees caring hands reaching out in rescue to give it a second chance. Those hands can belong to any shelter anywhere, from Las Vegas to Laredo to Long Island. There are roughly 5,000 of them around the country; one of them is yours.
Here's how you can help:
To all shelter staff, volunteers, foster parents, and supporters within the range of these words: I'm very grateful for the work you've done, the work you'll do and the work you'll inspire. Day by day, animal by animal, town by town, you make a world of difference.

Matthew Bershadker is President & CEO of the American Society for the Prevention of Cruelty to Animals (ASPCA). Learn more about the ASPCA's mission and programs at ASPCA.org.