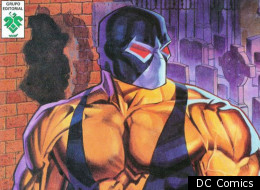 When fresh faced youngsters approach me, or I should say my alter-ego, supervillain mastermind King Oblivion Ph.D., and exclaim, "I want to be a success in professional super-evil! Where do I start?" I always tell them the same thing. Or I would if it ever really happened:
"Slow down, there, hot-shot," I'd say. "These things take time." Then I'd give 'em a quarter and tell 'em to scram. Later, the quarter would come to life, steal their parents' wallets and bearer bonds and so forth, and bring it all back to me. (A supervillain should have a plan for every scenario.)
Even though I'd gleefully be setting those kids up for some thievin', the advice I'd give them is spot-on: Rushing the process of becoming a comic-book bad guy is sure to set you up for a life of obscurity fighting D-list superheroes like the 3-D Man. You can't just wave your hand and be the top dog (unless you can, and we'll get to that in a minute). You've got to hit all the right (wrong) notes with your name, your costume, the location of your hideout, and maybe most importantly of all, your superpowers, if you choose to have them.
First, you figure out how you're going to acquire your powers. That's a topic I dig into deeply in my new book, The Supervillain Handbook [Skyhorse Publishing, $12.95]. For instance, have you considered taking a bunch of drugs all at once and seeing what happens? I understand that's how Jim Morrison acquired the ability to speak to reptiles for a short period.
Of course, Morrison went with one of the more esoteric powers. In your path to supervillainy, you may want to aim for a popular superhuman ability, and you know what? That's perfectly fine. They're popular for a reason, after all, though you should note that what's most-liked among the superheroic set isn't always what the evil community goes for. (Flight, for example. Bad guys don't need the ability to fly. They've got platforms and suits that can do that for them.)
In the following slides, you'll find 11 villain-friendly superpowers worth considering. Good (bad) luck!
Best Supervillain Superpowers
Who has it: The Leader, Brainiac, Dr. Doom Why it's handy: Sure, Iron Man and Batman may be brainy fellows, but there's a reason why supervillains are the ones who earn the appellation "mastermind." They are the planners. They are the ones who craft a plot or a scheme or a convoluted series of machinations and carry it out, only to be impeded by some flying, heroic loaf's fist. As such, enhanced intellect (or, in the case of your Lex Luthors and Green Goblins, just plain old high-falutin book smarts) are a key component for many supervillains. You can't turn Australia upside-down with just a high school diploma, folks.

Who has it: Doomsday, Bane, Juggernaut Why it's handy: Fisticuffs are generally the purview of the superhero set--seriously, look at how many punch-ups they get into with each other--but that doesn't mean the professional bad guy or villainess shouldn't be able to defend his or herself against megaton-sized punches or getting subway cars thrown at them. And it helps when brick walls or vault doors are less of an impediment. But be warned: Super-smart villains often take advantage of their stronger, often-dumber comrades (often referred to as "the muscle"). Get ready to be used as a cog in the machine of some grand plan you could never comprehend.

Who does it: Loki, Emma Frost, Mad Hatter Why it's handy: I'll admit, it isn't always the easiest thing to get people to see one's point of view when that point of view involves turning half the population of a major city into lizard people. So being able to control their actions with a special hat or magic or mutant brain-powers is a big help. And there's really no better PR move for the professional supervillain than to control the mind of a superhero and have them commit your crimes for you. It's just a big win all around: Your work gets done, the hero's name gets trashed, and you get to watch it all from your volcano lair.

Who has them: Mr. Freeze, Captain Cold, Killer Frost Why they're handy: With only a few notable exceptions, superheroes tend to have a handle on the element of fire, what with their Human Torches and Firestorms and Firestars. But it's more or less a fair trade, because bad guys have the cold stuff locked down (with the exception of Iceman, that little icy punk). That's probably some kind of metaphor for our cold hearts, but we'll take it. Fire's too expedient; one big flareup and everybody in the room's a pile of ashes. Supervillains are, after all, people who tie Batman up to giant piano strings. We take things slowly, which makes encasing someone's legs in ice a perfect match.

Who does it: Mystique, Clayface, Chameleon Why it's handy: Supervillains don't tend to be fans of the direct approach to things. And why should they be? Going at things head-on is no fun at all. Not when you could make yourself look like a security guard to work your way into the heart of a museum that houses the world's only diamond shaped like a dollar sign, grab it, get spotted by the curator, knock her out, disguise yourself as her, realize everything you did was just caught on camera, seduce the real security guard, destroy the evidence, revert back to the security guard disguise, walk out of the building and promptly get caught by a superhero who notices you're walking a little funny. Now that's fun.

Who has it: Amazo, Super Skrull, Absorbing Man Why it's handy: Superheroes don't fight fair. They team up. Take the Fantastic Four, for instance. They're always ganging up on individual bad guys, distracting them with their stretching and fire so their rock man can clobber them. Then they scoot away in their invisible bubble. One of the few ways to even the score in a fight like that is to have all the same powers as the heroes do, either by having them from the get-go, absorbing them into your body or learning them very quickly. I mean, that fight's still going to be totally unfair, but at least you can throw a rocky hand right back in The Thing's face.

Who has it: Electro, Livewire, Darkseid Why it's handy: Speechifying is a key component of any supervillain's day-to-day life, and one thing the super-bad like to pontificate about the most is our LIMITLESS! POWER! But, the thing is, a speech like that just doesn't pop the way you want it to unless you've got some sparks coming out of your fingers or light beams coming out of your eyes. Plus, it's just fun to watch Spider-Man dodge bolts of electricity flying towards his feet. Look at him go!

Who has them: Magneto, Dr. Polaris Why they're handy: Sometimes, you're going to go to jail. This is a fact. You cannot change it. If you're lucky, though, you can change the metal bars that the prison door is made of into scrap. Of course, you can probably only do that once. After that, they'll build big plastic prison cells for you where you have to eat all your food with chopsticks or picnic utensils for the next time you drop a bank vault on a few people. But a guard's got to come in there sometime, and people have fillings. Or iron in their blood. You know what? Just watch X-Men 2. It's a pretty good primer for magnetism-related plastic prison escapes.

Who does it: Dr. Doom (with a machine), Kang the Conqueror, Chronos Why it's handy: Because, let's be real here, lots of people with access to literally billions of dollars worth of equipment and man-hours can take over a city or a country in the present, but what about Arthurian England or the hyper-evolved-flamingo-run Brazil of the 26th Century? There's only one way to get your iron fists on those, and that's to travel through time. Or, well, I guess the other way to do it would be to be immortal like Vandal Savage, but really, who has the patience for that? (Side-note: Remember the thing I said earlier about not taking the direct approach? That's why we don't go back and kill superheroes before they become superheroes. It's just the way it works).

Who has them: Thanos (with Infinity Gems), Red Skull (with Cosmic Cube), Mr. Mxyzptlk Why they're handy: It's nice to be able to level the playing field, isn't it? Of course, when I say "level," I don't mean it in the sense of "make equal," I mean it in the sense of, "knock everyone in your way to the ground, or perhaps make them the ground." From semi-harmless mischief (making Superman wake up in a world where everyone but him has a mustache) to more serious endeavours (rearranging Metropolis' molecules so that everything is made of Kryptonite), the possibilities of altering reality are basically endless.

Who does it: Galactus Why it's handy: If you're not so much into taking over planets as much as you are very expediently destroying them, and you're not like those of us who like to take our time with things, you can't do much better (worse) than being a globivore.