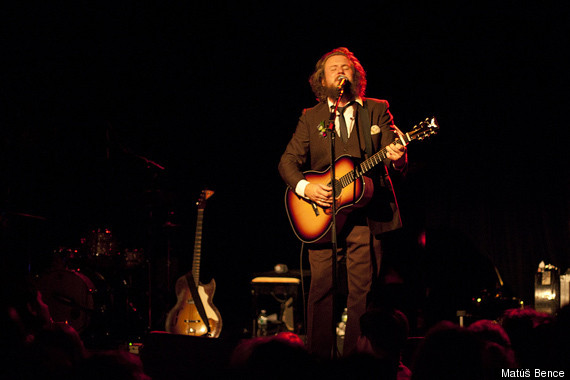 The surroundings were decidedly Brooklyn, but Friday's Appalachian Voices show at the Music Hall of Williamsburg sounded like a good old-fashioned trip across the heartland with a detour through the bayou.
The Appalachian Voices Tour, featuring Kentuckians Ben Sollee, Daniel Martin Moore and Yim Yames (better known as Jim James of My Morning Jacket), stopped in New York City as part of a nine-city trip to celebrate the heritage of Appalachia and raise awareness about mountaintop removal, a devastating form of coal mining in the central and southern Appalachian Mountains.
The tour came about as an extension of Dear Companion, an album featuring Sollee and Moore that was produced by James. United in their concern about mountaintop removal, the three joined forces to create music and spread the message. James suggested they turn the songs into a full album, and a superb 11-song record followed (with all proceeds going to ilovemountains.org).
In addition to improving visibility to the environs of Appalachia, the Brooklyn show increased awareness about another regional treasure: the music of New Orleans, as exemplified by the opening act, the Preservation Hall Jazz Band.
Dressed in sharp black suits, the eight members of PHJB who traveled to the Music Hall of Williamsburg kicked off the evening with an hour-long set of jumping jazz that moved from cajun-infused swing to horn-driven soul. While the entire set had the crowd bobbing and swaying, songs featuring James and Moore on vocals were particular highlights.
James made his way to the stage early for "Louisiana Fairytale," a Fats Waller song from the 1930s that he recorded with PHJB on its most recent album, Preservation. James, who looked the part of an old crooner in a brown three-piece suit, unleashed a marbled voice that sounded as if it were radiating from the mouth of a phonograph. (Fittingly, he has performed the song with a megaphone throughout the tour.)
Continuing the theme, Moore came out to sing "Between the Devil and the Deep Blue Sea," a classic jazz tune originally recorded by Cab Calloway. The band led the way with an old-time melody that chugged alongside Moore's crisp vocals. It was certainly an interesting stage arrangement; as Moore's lanky framed towered over a vintage microphone, three older PHJB horn players sat on folding chairs while the rest of the group played upright, all effortlessly maintaining a tight, light groove that floated throughout the venue's two levels.
Not to be outdone, PHJB showcased its vocal chops. Clarinetist Charlie Gabriel and trumpeter Mark Braud lent their booming pipes to several songs, which elicited a huge roar from the sold-out crowd of 500+ fans who hooted and hollered between verses. James concurred, saying, "the meaning of joy is the Preservation Hall Jazz Band."
After the musical trip through New Orleans, the headliners -- including Sollee (vocals, cello), Moore (vocals, guitar), James (vocals, guitar, keys) and Dan Dorf (drums) -- sent the show north toward the sounds of Kentucky and West Virginia.
Starting with "Something, Somewhere, Sometime," the opening song off Dear Companion, the band quickly established the sound of Appalachia: vocal harmonies over strings and guitars. "If I wounded you, I'm sorry," sang Moore alongside Sollee's dreamy cello, which also added a rich layer to the next song, a delicate version of My Morning Jacket's "Golden."
James paused between songs to thank the crowd -- which skewed late 20s to early 30s -- and remind everyone that the show was about the people and landscape of Appalachia. Several songs from Dear Companion followed, including soaring harmonies on "My Wealth Comes To Me," and a soulful rendition of "Flyrock Blues," which Moore performed solo with a tender croon reminiscent of a young Paul Simon. Moore explained that the song was about enormous boulders that, as a result of mountaintop removal, end up where they don't belong.
"Every time we're flipping lights we're knocking down coal mines," said Moore, adding that even the Music Hall of Williamsburg received its energy from an Appalachian coal mine.
Sollee later took his turn sans band, putting on a cello clinic that had all eyes fixed on the singer-songwriter. Sollee, seated, alternated between rich bass strokes and rapid-fire plucks, manipulating the cello like an oversized slide guitar.
Other set highlights included a blazing version of My Morning Jacket's "Smokin' From Shootin'," and "Bring Me Little Water, Sylvie," a Leadbelly cover that James retrofitted with an angelic, Roy Orbison-style vibe.
The evening rounded out with "Dear Companion," a mountain-angst anthem made primal by the horns and drums of the PHJB, and, upon screams from the audience for an encore, a horn-driven take on The Drifter's "Save the Last Dance for Me" featuring both bands.
Many concertgoers were unsure about what to expect from the lineup, but Mountain Voices proved to be a fantastic musical trip through time and the heartland. From New Orleans to Appalachia, the show offered a mix of rollicking jazz and rich folk with a good balance of group and solo material (similar to James' Monsters of Folk tour). And while many of the lyrics evoked images of hardscrabble backcountry, the music it inspired couldn't have sounded sweeter.
Appalachian Voices At Music Hall Of Williamsburg
FOLLOW HUFFPOST