"By giving people the power to share, we're making the world more transparent," said Mark Zuckerberg, CEO and founder of Facebook. It's that kind of vision and ambition that put Mark in an elite group of technology entrepreneurs.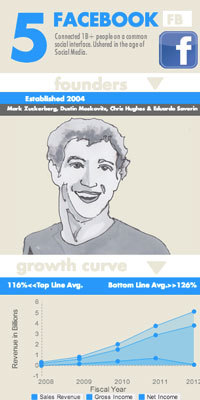 The best tech entrepreneurs and inventors reach into the future by thinking big and imagining possibilities. It's the kind of thinking that leads to not just profit, but impact on a global scale. But, what other traits do top tech entrepreneurs put into practice?
Instead of creating a biased qualitative list, the growing team at Verge set out to research more than 900,000 startups and companies that could have been considered a startup at one point in time. We culled through the companies to create The Top 20 Startups of All Time, based on profitability, market cap, impact on society and culture, and innovations in technology. Watch the short video at the top of the infographic below for more insight into Verge's research.
You'll see that Facebook only reached the number 5 position. So, there's some tough competition at the top. Take a look, and see if you can find any patterns behind these entrepreneurs' thinking. Or, if you think Verge missed some companies, drop a comment below.
If you "Like" the list, please share it on twitter and Google+. You can even embed it on your own blog using this embed code from the original post found here on Verge. See infographic/video below: