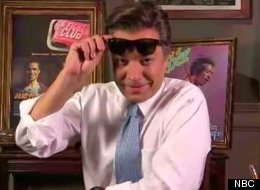 It's official. This week, the Republican National Convention will nominate Mitt Romney as their candidate for president. Since Romney first announced his "exploratory committee" back in April of last year, he's had more than his share of embarrassing gaffes.
Over the last year and half, Mitt Romney has declared that "corporations are people," tried to make a $10,000 bet with Rick Perry, claimed that he "likes being able to fire people", admitted he's "not concerned about the very poor" and made many, many more unfortunate statements.
All along the way, comedians have been right behind him, offering their own impressions of the man who desperately wants to lead his party and the country. This week's GOP convention will do everything it can to help "define" Mitt Romney for the American people, but based on the videos below, we already know far too much about him.
More comedy videos at: GotchaMediaBlog.com
The 30 Funniest Mitt Romney Parodies
Back in April 2011, before the country knew (almost) everything about Mitt Romney, Conan O'Brien zeroed in on his Presidential good looks. [WATCH VIDEO]

Mitt Romney is the only politician to have more than one "Bad Lip Reading" video, but the original is probably still the best.

Mitt Romney manufactures sex scandals and verbal gaffes to help his poll numbers. [WATCH VIDEO]

Mitt Romney is ready to offer $10,000 to just about anyone for just about anything.

When he's not brutally mocking Mitt Romney on Twitter, Rob Delaney is portraying him for "Live Funny or Die." [WATCH VIDEO]

Mitt Romney makes one of his final pleas to the American people before voting begins in Iowa through the Late Show Top Ten list. [WATCH VIDEO]

MoveOn.org targets Mitt Romney's love of firing people in this online video.

John Lithgow narrates the first ad from the re-branded Definitely Not Coordinated With Stephen Colbert Super PAC, which goes after Mitt Romney's Bain Capital record, calling the candidate a "serial killer." [WATCH VIDEO]

David Letterman brings back his classic segment "Cool/Not Cool" to judge the singing ability of President Obama and Mitt Romney.

The Daily Show's Al Madrigal tracks down the Georgia man who is the most enthusiastic Mitt Romney supporter in the country. [WATCH VIDEO]

Mitt Romney's peculiar speech about his home state was just a little too much like Steve Carell's best scene in Anchorman.

This highlight of Rick Santorum's ad campaign inspired its own parodies by Jon Stewart, Jimmy Kimmel and David Letterman. [WATCH VIDEO]

Chris Matthews uses Oscar Sunday to show why Mitt Romney is "better off mute."

Martin Short and Paul Shaffer publicly endorse Mitt Romney with a rousing version of "It's Raining Mitt" on the Late Show with David Letterman.

The whole Romney gang meets Shepard Smith on SNL. [WATCH VIDEO]

Hugh Atkin creates the ultimate Mitt Romney campaign theme song.

In a bold move, Mitt Romney will travel back in time to kill the liberal versions of himself.

Mitt Romney aims to finally take out the one man standing in his way. [WATCH VIDEO]

The Gregory Brothers auto-tune Mitt Romney for the New York Times.

In honor of Mitt Romney's new iPhone app, Stephen Colbert sings "Amercia the Beatiful" for Ronmey 2102. "SUA! SUA! SUA!" [WATCH VIDEO]

Barely Political gives Mitt Romney his own iPhone Siri ad.

Bain Capital's head of PR sets the record straight on Mitt Romney's former home. [WATCH VIDEO]

To counter the Birthers, Bill Maher launches "Wiferism." Where's Mitt Romney's original marriage license?

In the book trailer for Dog on the Roof!: On the Road with Mitt and the Mutt, Lewis Black lends his voice to a very angry Seamus. [WATCH VIDEO]

In this Gotcha Media original, Mitt Romney takes on the role of Bane in The Dark Knight Rises trailer.

Jerry O'Connell as Mitt Romney searches for his tax returns on Funny or Die. [WATCH VIDEO]

One of Adele's catchiest songs is re-fashioned to be all about Romney. [WATCH VIDEO]

Back when the Romney brothers were on Conan, Team Coco put together this campaign ad featuring some old home movies.

Jimmy Fallon scores the exclusive debut of Mitt Romney's new "Rom Bomb Video Vlog Blog." [WATCH VIDEO]

The most recent trailer parody about Mitt Romney comes straight from the Obama campaign.
Follow Matt Wilstein on Twitter: www.twitter.com/TheMattWilstein