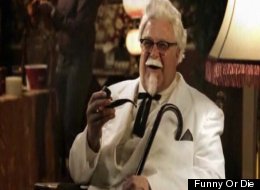 If 2011 was the year of the 99%, 2012 was all about the 47%. Once the video of Mitt Romney dismissing just under half of the country leaked, that number would prove to haunt the rest of his short political career. Not only did Romney end up winning just 47% of the popular vote, but as of this week it's also his post-election approval rating.
So it only seemed fitting to look back at the 47 funniest political videos of the year. From the best political bits on late night, to web videos by Funny or Die, The Onion and other lesser-known producers, to a few unintentionally hilarious moments from the politicians themselves, 2012 was a great year to laugh at politics in America.
More comedy videos at: GotchaMediaBlog.com
The 47 Funniest Political Videos Of 2012
President Obama helps celebrate Betty White's 90th birthday.

Obama's anger translator Luther made sure America knew how the president really felt about everything that went down this year.

The real Larry King moderates a debate of fake GOP candidates, including Rob Delaney as Mitt Romney and Mike Tyson as Herman Cain.

From this Lady Gaga classic to hits by Carly Rae Jepsen, Justin Bieber, One Direction and more, YouTube's baracksdubs was the year's hardest-working video editor.

At the "Rock Me Like a Herman Cain" Rally in South Carolina, Stephen Colbert tries to convince the crowd of thousands that a vote for Herman Cain is a vote for Stephen Colbert and Herman Cain maintains that everyone should vote for "we the people".

At a press conference for the UK premiere of The Muppets, Kermit the Frog attempts to be diplomatic about the accusations from Fox News about the film brainwashing children with Communist propaganda. Then Miss Piggy has to open her big mouth.

Funny or Die turns Newt Gingrich's dream of a permanent American moon base into a Sesame Street-inspired song.

Sacha Baron Cohen's The Dictator was the most overtly political comedy of the year, and this was Admiral General Aladeen's finest moment.

Joe Jamal-Biden steals to show on the White House version of The Cosby Show.

Mitt Romney's history of changing positions get the ultimate tribute with this video from Hugh Atkin.

First Michelle Obama destroyed Ellen DeGeneres in a push-up contest, then she took her "Let's Move" initiative to the next level with Jimmy Fallon.

Mitt Romney aims to finally take out the one man standing in his way. [WATCH VIDEO]

President Obama locked up the young people vote early by taking Brian Williams' place and slow jamming the news with Jimmy Fallon.

President Obama's 2012 White House Correspondents' Dinner speech was arguably funnier than Jimmy Kimmel's, but this special edition of Unnecessary Censorship was a highlight of the night.

In the most gimmicky Today Show episode of 2012, guest host Sarah Palin pretends to read newspapers and jokes about Tina Fey.

Kate Beckinsale, Judy Greer and Andrea Savage are Republican women who want the Government in their vaginas.

In honor of Mitt Romney's unfortunate iPhone app typo, Stephen Colbert sings "Amercia the Beatiful" for Ronmey 2102. "SUA! SUA! SUA!"

Conan O'Brien introduces the new puppet mascot for Chick-fil-A. "There's only one great chicken sandwich, and only one way to love."

Lord Barack takes on Sir Romney of the Northlands in this Game of Thrones parody from CollegeHumor.

Rush Limbaugh's worst nightmare comes to life in this trailer parody of The Dark Knight Rises starring Mitt Romney as Bane.

Bill Maher premieres a Mitt Romney ad that shows how the candidate attempted to connect with his base. "Put vote for Mitt Romney on your bucket list today."

f Sheldon Adelson gives the $100 million intended for Mitt Romney to President Obama, Sarah Silverman will let him scissor with her to completion.

John Goodman as Colonel Sanders tells you why you should eat his chicken instead of Chick-fil-A's.

Before Jay-Z rapped this updated version of "99 Problems" for President Obama in Ohio, Iman Crosson (AKA Alphacat) performed it on YouTube.

Jimmy Fallon scores the exclusive debut of Mitt Romney's new "Rom Bomb Video Vlog Blog."

Singer-songwriter Taylor Ferrera sings a catchy tribute to Todd "Legitimate Rape" Akin.

The Onion News Network reports on President Obama's latest effort to appeal to young voters.

None of the parodies of Clint Eastwood's rambling speech to an empty chair could come close to matching the hilarity of the speech itself.

The newest member of 2012's late night line-up W. Kamau Bell proves that Barack Obama is the POBA, even if he doesn't want to be.

After Mitt Romney criticized David Letterman in his leaked fundraiser video, Dave launched a full scale assault, urging his viewers not to vote for the candidate unless he agreed to appear on the Late Show. Once it became clear the Romney would not be appearing on the show, Letterman enlisted Jack Black, Matthew Broderick and Billy Crystal to impersonate him.

After 23 years, The Simpsons remained as relevant as ever this election season with this video of Homer casting his vote as well as messages from Mr. Burns endorsing Romney and explaining the fiscal cliff.

She debuted her impression on SNL's Weekend Update Thursday, but one of the SNL's newest cast members finally got the breakout role she deserves with this spot-on Beyonce-loving Ann Romney impression.

In their historic Rumble in the Air-Conditioned Auditorium, Jon Stewart and Bill O'Reilly prove that if they can get along, anyone can.

At the Center for Reproductive Rights Inaugural Gala, Tina Fey made the year's definitive comments on the Republican party's obsession with "legitimate rape."

The Gregory Brothers auto-tuned all four of the major general election debates, but none topped the first match-up from Denver.

In its final season, 30 Rock injected itself into the political conversation with moments like this ad produced by Jack Donaghy.

The most catchy Paul Ryan tribute song of the year. "If anyone can tell me what to do with my body, it's you."

New Girl's Schmidt should have been born a Romney.

After a lot of hype and speculation, Donald Trump's $5 million October surprise for President Obama was a major letdown. The same cannot be said for Stephen Colbert's response.

Lena Dunham capped off her triumphant year of Girls by starring in the most controversial Obama ad of the 2012 election.

For Joss Whedon, President Mitt Romney is the key to the zombie apocalypse he's always dreamed about.

A few days before the election, Chris Rock wants the nation's possibly racist undecided voters to know that President Obama is whiter than they think.

Bobby Moynihan's Drunk Uncle is not pleased with the outcome of this year's election.

The Second City Network brings the #DrunkNateSilver Twitter meme to life.

SNL waited until after the election to air one of the most politically charged (and funniest) segments of the year.

We had to wait until after the election, but Parks and Recreation's Leslie Knope finally came face to face with her hero Vice President Joe Biden.

After Mitt Romney expressed his post-election theories about Obama's "gifts," Jon Stewart showed America what they would be receiving from the president.
Follow Matt Wilstein on Twitter: www.twitter.com/TheMattWilstein