METRA MESS CONTINUES Patronage, clout, hush money, misuse of public funds... there are so many ways the events surrounding the departure of former Metra CEO Alex Clifford have exploded into the biggest Illinois scandal of the summer. Now a preliminary audit shows that the $718,000 paid to make Clifford go away and keep quiet about it may have been avoided entirely had the Metra board done due diligence before acting. Read the audit here and see how easily a careless board can throw away your tax dollars.



________________________________________
RAUNER STARTS TERM LIMITS EFFORT Republican candidate for governor Bruce Rauner has made imposing term limits on legislators and statewide office-holders a big part of his campaign. Now he's making the effort its own campaign. He's started a political action committee devoted to getting a term limit constitutional amendment onto the ballot in November 2014. PACs aren't subject to contribution limits as are political campaigns, so Rauner and his supporters can put unlimited resources into it. They'll need to: placing a citizen-driven constitutional amendment on the ballot in Illinois is tremendously difficult. Find out the details and the ways this could benefit Rauner as a candidate on my blog.

________________________________________
MAD AS HECK Ever tried to do the right thing only to get a swift kick from Big Bureaucracy? Reboot Illinois Chief Operating Officer Madeleine Doubek had it happen twice in less than a week. First came the over-zealous Chicago tow truck driver who turned a one-digit error into a ticket to tow. Then came the tree fire and ensuing damage that happened because ComEd didn't respond to a call about a branch that the whole block knew was going to cause big problems when it broke. And it did. A week after ComEd got a call about this particular branch. Please read Madeleine's rant, er, blog post about this. Hostility loves company.

________________________________________
DURBIN ON DEMS Last November, Illinois Democrats made history by achieving veto-proof majorities in both the Illinois House and Senate. Nine months later, the Democratic leaders of the General Assembly are suing over their pay being vetoed by Gov. Pat Quinn, who is facing a serious primary challenge from Bill Daley. Despite all this, the state's top Democrat -- U.S. Sen. Dick Durbin -- likes the party's outlook for the 2014 elections, especially in contrast to the opposition. Click to hear what Durbin has to say.

________________________________________
DePAUL ARENA AND TAXPAYERS South Loop resident and longtime banker Larry Young was excited to hear about plans for an arena for DePaul University basketball and hotel development planned for his neighborhood, To Young, it meant investors believe the market will support these facilities, which is good news to homeowners in the area. Then he found out that he -- and all taxpayers in Illinois -- are the investors. He doesn't like the idea of public funding for this project and he makes a good case why you shouldn't either.

________________________________________
OUTBOUND TRAFFIC ONLY? Chicago Tribune cartoonist Scott Stantis wonders if the new Illinois highway speed limit is one-way.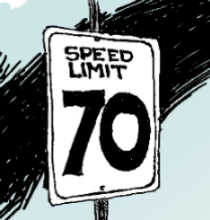 ________________________________________
FAIR MAP As noted above, Bruce Rauner has his work cut out for him getting a term-limits initiative onto the ballot in 2014. We know because we're part of a similar effort aimed at giving the voters of Illinois fair legislative district maps that aren't drawn up by party bosses intent on keeping their incumbent colleagues in office for as long as they please. We'll need to gather hundreds of thousands of signatures to make this happen and we'll need your help. Getting politics out of the map-drawing process is the biggest reform there is. Click here to find out how you can help.

________________________________________
TOP 5 Here are links to 5 key Illinois news and opinion items you should check out today. You'll find links to and summaries of many more in the Daily Tip-Off section of our website.
• 5. The GOP chose a Kendall County sheriff's deputy to replace Pam Roth in the House. (State Journal-Register)
4. Opinion: Illinois needs to consolidate the government units in the state. (Northwest Herald)
3. Mayor Emanuel defended the hiring of an indicted ex-aide despite red flags surrounding him. (Chicago Tribune)
2. The Class of 2013 posted the biggest ACT score drops in Illinois in a decade. (Chicago Tribune)
1. Opinion: The Metra board said it didn't have an option other than the severance package they offered Alex Clifford. It was wrong. (Chicago Tribune)
Visit our website and make a difference.
What are we all about? Find out in our video!
SUBSCRIBE TO & FOLLOW THE MORNING EMAIL
Start your workday the right way with the news that matters most. Learn more